Agreement gives BRCC students seamless transfer to SU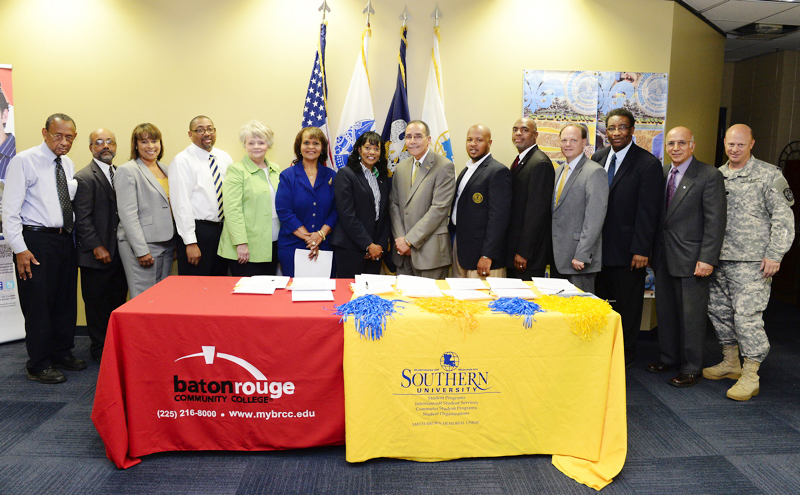 Baton Rouge Community College students are now able to seamlessly transfer to Southern University thanks to the new "Bears 2 Jaguars" academic partnership that was signed Thursday.
During a ceremony held at SU, BRCC Chancellor, Dr. Andrea Lewis Miller, and SU Acting Chancellor, Mr. Flandus Mclinton, along with other administrators, signed a Memorandum of Understanding (MOU), setting the "Bears2Jaguars" into action.  
The "Bears 2 Jaguars" agreement will provide greater educational resources for students of the community by creating a seamless transfer from BRCC to SU.
Upon completion of BRCC's political science, psychology, history, criminal justice, business, and military science associate degrees, students can be admitted to SU with junior status.
BRCC Chancellor, Dr. Andrea Lewis Miller, is excited about the new partnership. 
"It makes perfect sense for our institutions to come together to make sure our students are furthering their education by receiving their bachelor's degrees, master's degrees, and Ph.D.'s," said Miller. "This is just the beginning, and we intend to expand on what we have started here today."
SU Acting Chancellor, Flandus McClinton, is equally as excited.
"We know this is an important start in the right direction," said McClinton. "The sky's the limit with what we can do with this program."
Students in the "Bears 2 Jaguars" program will also gain access to many of SU's resources, such as the library. Students will also have parking privileges, and will be allowed entrance into certain sporting events. 
For more information, call LaTonya Scott at (225) 216-8106 or Edward Pratt at (225) 771-4545.