Southern Art: Reflections of History, Culture and Lifestyle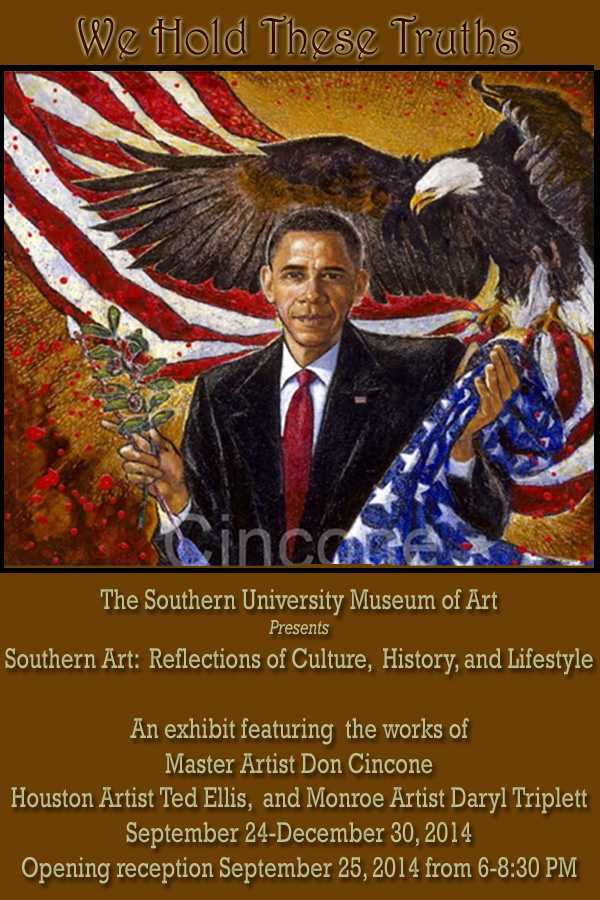 The Southern University Museum of Art, (SUMA) will celebrate the 100th Anniversary of Southern University with its exhibit, Southern Art: Reflections of History, Culture, and Lifestyle, featuring the works of Master Artist Don Cincone from Monroe, La.; Houston, Texas artist, Ted Ellis; and Monroe, La., artist Daryl Tripplett. 
The exhibit will open on Thursday, September 25, with a "Meet the Artists Reception" from 6 p.m. until 8:30 p.m. The artists will also be featured at the museum's "Homecoming Open House" on October 3 and a "Gallery Talk" on Saturday, October 11 at 11:30 a.m. The musuem is free and open to the public.
The three artists are nationally recognized for their works depicting African American history and the culture, life and times in the south. Their work captures the essence of southern culture through subjects that represent the many facets of life in southern cities and rural areas.
"Having three artists of this stature for our final exhibit of the 100th Anniversary Celebration of Southern University is the perfect way to end the year," said SUMA executive director, Vivian Kerr.  "The provocative images and poignant scenes of life featured in the paintings in this exhibit represent a tribute to the legacy of Southern University," she added. 
Selections from the museum's permanent collection as well as the work of young artists from the Baton Rouge public schools (a Baton Rouge Chapter of The Links, Inc. project), complement the 100th Anniversary Exhibit. "The young artists are from pre-Kindergarten through fifth grade and are excellent examples of our effort to encourage young artists," said Kerr. The exhibit will remain at SUMA through December 20 after which it will open at the Southern University Museum of Art at Shreveport.
The mission of the Southern University Museum of Art (SUMA) is: To assure that the art, artifacts, and other treasured works of Africans, African-Americans and their descendants are accessible to the community in an organized and cherished collection, in a place of historic significance on Southern University System campuses.  Founded on March 9, 2001, SUMA is the realization of a dream for Southern University System (SUS) President Emeritus and Board of Supervisors member, Dr. Leon R. Tarver II.  Dr. Tarver, President of the SUS until 2005, began collecting African artifacts during his travels to Africa developing a passion for the art of his ancestors and his few artifacts quickly became a vast collection.
SUMA's  hours of operation are Monday - Friday from 10:30 a.m. - 4:30 p.m. and weekends by special appointment.  For additional information or to schedule a group tour, call 225.771.4513 or 225.771.4691.