HBCU National Quiz Championship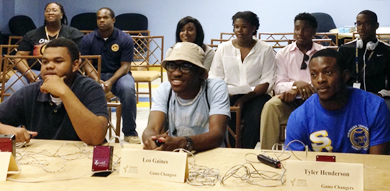 Baton Rouge, LA-- Southern University is trying to choose their national Quiz Bowl team for the Honda Campus All-Star Challenge competition for next spring.
Deadra Mackie, Team Coach, and Eric Pugh, Assistant Coordinator, held a Quiz Bowl on Wednesday, October 7, 2015 in the Smith Brown Cotillion Ballroom.
"These students are from various disciplines and they've decided that they want to be a part of the national team," said Mackie. "Therefore, we're trying to see who the highest scorers are and who we'd like on the team."
15 teams consisting each of three members participated in the first level of the competition. After all four rounds, "SU Historians" was the winning team.
However, this does not exclude other team members from progressing to the next level.
"Players are called back who scored high on each team and then we have an elimination process to select the best players for our national team," said Pugh.
The final team will consist of five players. Three will be real players and two will be alternative players.
"The best minds will outshine and will lead our university ahead...," said Pugh.
###
Written by Imani Williams