LAUNCHING A GLOBAL DIGITAL SCHOLAR PROGRAM (DSP)
MERLOT and its outreach program to Africa (MERLOT Africa Network) launched a 2014/2015 Digital Scholars Program (DSP). The MERLOT/MAN DSP is a community of faculty and graduate students who serve as mentors, innovators, project leaders, and liaisons communicating the interests and innovations of educators in the area of E-Learning and E-Health to the larger MERLOT and MAN global communities. The organizations certified in April 27, 2017, during the Louisiana Annual E-Learning Conference held in Baton Rouge Louisiana, the first cohort of Digital Scholars 2015. The MERLOT/MAN DS 2015 is composed of 13 scholars from the Doctoral Program in Science/Mathematics Education (SMED) at Southern University in Baton Rouge (SUBR), Louisiana. Please join us in congratulating our 2014/2015 Scholars.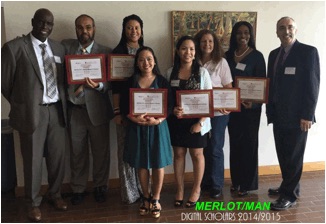 Prof. Moustapha Diack, Director of MAN and Program Leader SMED at SUBR; Mr. Fathi Elijaan, SMED Graduate Student SUBR; Ms. Ni'Shawn Stovall, SMED Doctoral Candidate SUBR; Ms. Jane Pablico, SMED Doctoral Candidate SUBR; Ms. Ingrid Cruz, SMED Doctoral Candidate SUBR; Dr. Julia Ledet, SMED Alumni and Louisiana State University; Dr. Sundee Warren, SMED Alumni, Louisiana Dept. Public Health; Dr. Gerry Hanley, MERLOT Executive Director and Associate Vice Chancellor, California State University
Other Digital Scholars (not pictured) include Dr. Ajibike Olubunmi Itegboje, SMED Alumni, University of Lagos, Nigeria; Dr. Teresa Mutahi, SMED Alumni, Kenya, University of Nebraska at Omaha; Dr. Brittany Martin, SMED Alumni; Ms. Amreen Ajaz, Pakistan, SMED graduate student; Ms. Lisa Hayes Smothers, SMED graduate student; Ms. Phyllis Okwan, SMED graduate student and Southern University at New Orleans (SUNO); Ms. Kimyata Dilworth, SMED graduate student and SUNO.
MERLOT AFRICA NETWORK - Digital Scholars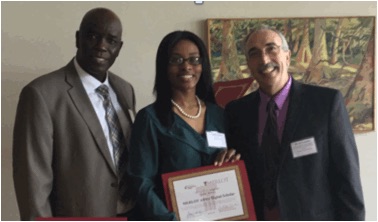 Dr. Moustapha Diack, MAN Director, SMED, SUBR; Dr. S. Warren, DS Coordinator; Dr. Gerry Hanley, MERLOT Executive Director
Gather faculty, graduate students, community college students and teachers with discipline expertise in STEM and health education
Share exemplary practices, brainstorm solutions with their counterparts on their campus and across the higher education in Africa and globally
Develop and implement plans for sustaining the program
Serve as an online professional network, create avenues for collaborative research and curriculum development
Act as a unified hub of educational technology resources and academic perspectives from faculty and graduate students across the MERLOT and MAN communities and globally
We partner with LodeStarTM,a leading global eLearning provider. LodeStarTM provides Scholars with its online learning authoring tool to create engaging Open Education Resources (OER) made available through MERLOT.
Links of Interest: