SUBR Honors College scholars present, win at NAAAHP annual conference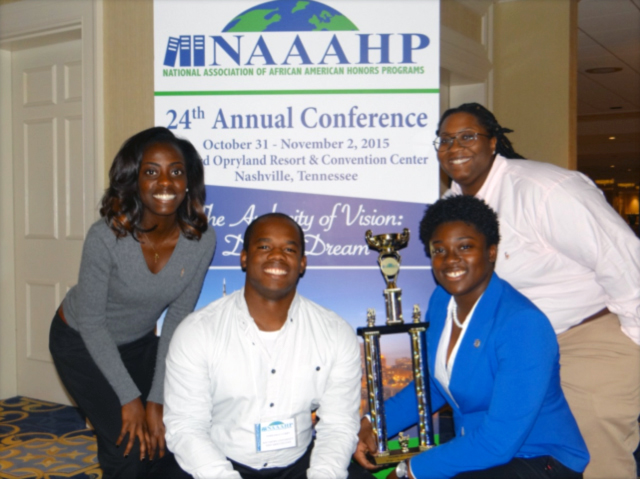 For the first time in 10 years, scholars from the Delores Margaret Richard (D.M.R.) Spikes Honors College represented Southern University Baton Rouge (SUBR) and the SU System (SUS), at the National Association of African American Honors Programs (NAAAHP) Annual Conference. A team of SUBR students earned third place in a Quiz Bowl competition and several made technical presentations at the October 31, 2015 event.
Ten students, along with Diola Bagayoko, SUS distinguished professor of physics and interim dean, and Valery Jones, administrative assistant, D.M.R. Spikes Honors College, attended the 24th NAAAHP conference in Nashville, Tennessee. SUBR is a founding member of NAAAHP and had been unable to participate in the conference due to budget reasons.
"Despite our absence for over a decade and the related lack of familiarity of our scholars with the genres of questions in the Quiz Bowl competition, four scholars of the D.M.R. Spikes Honors College won third place among 10 teams," said Bagayoko.
The students who participated in the Quiz Bowl included Myeisha Webb, Nsombi Roberts, Paula Mensah, and Terrence Curry. The head coach of the Quiz Bowl team is Deadra James Mackie, assistant professor/academic advisor, D.M.R. Spikes Honors College.
Four SU scholars, Vernell Banks, Andre' Spears, Megan Thomas, and Keona Daniels, made technical presentations on their frontier research findings.
Bagayoko enthusiastically congratulated all 10 scholar-Jaguars for their performance.
He said, "...the Quiz Bowl team trophy is a prelude to our quest for first place in 2016."
Students Darylon Walters and Alana Stevenson sang an inspiring song that earned them full-house applauses.