SU senior, former HBCU All-Star, is a college marshal for fall graduation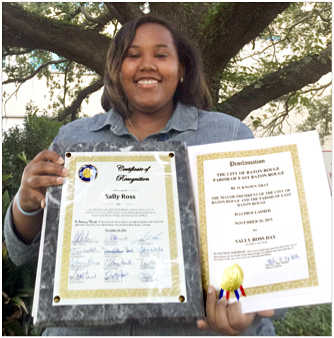 Sally Ross, a 2015-2016 HBCU All-Star, will graduate at the top of the College of Sciences and Agriculture's class for Southern University's fall graduation, this week.

Ross has the highest grade point average (GPA) ranking in the College of Sciences and Agriculture.

West Palm Beach, Florida native, Imani Martina Williams, will lead the 2015 fall graduating class as chief student marshal. She has the highest of 498 students who will also receive their diplomas at commencement.

"Being honored student marshal of my college is a superb feeling," said Ross. "Although I may not be a perfect student, my intelligence, responsibility, and positive attitude have made me a successful student. I'm looking forward to graduation and to start the next chapter of my life."

Ross recently was one of 83 students, selected out of 450 applicants, by the White House Initiative on HBCUs to represent her University in Washington.

The White House Initiative on HBCUs was looking for students that demonstrated excellence in scholarship, leadership and civic engagement. "So, given that set of criteria, I believed that I would be suitable for the program and could best represent my university," she said.

"Being selected as the 2015 HBCU All-Star to represent Southern University [was] a tremendous honor and one that I [was] proud to hold," said Ross. "As an HBCU All-Star, I [was] able to showcase the advantages of an HBCU education, represent the interests of HBCU students and encourage other students nationwide to lead, serve and strive for success and academic excellence."

Ross, a Baton Rouge native, attended Glen Oaks High School and graduated in the top half of her class.

Upon graduating high school, she was introduced to SU through the Upward Bound Program where she developed interests in environmental research, and was later offered an opportunity to enroll in the Urban Forestry and Natural Resources Program, College of Sciences and Agriculture at SU.

Throughout the program, Ross maintained an "enthusiastic, friendly, and positive attitude," according to Kamran Abdollahi, program leader and graduate director, Urban Forestry Program.

As an urban forestry student at SU, Ross has served in many leadership roles such as president of both the Urban Forestry Club and the MANRRS (Minorities in Agriculture, Natural Resources and Related Sciences) Organization.

"Sally Ross is highly educated and trained in the urban forestry and natural resources conservation field," said Abdollahi.

She will graduate with a bachelor of science degree in urban forestry Dec. 11, 2015, and will immediately pursue a master of arts degree in urban planning and environmental policy.
# # #