LS-LAMP students from SU attend national research conference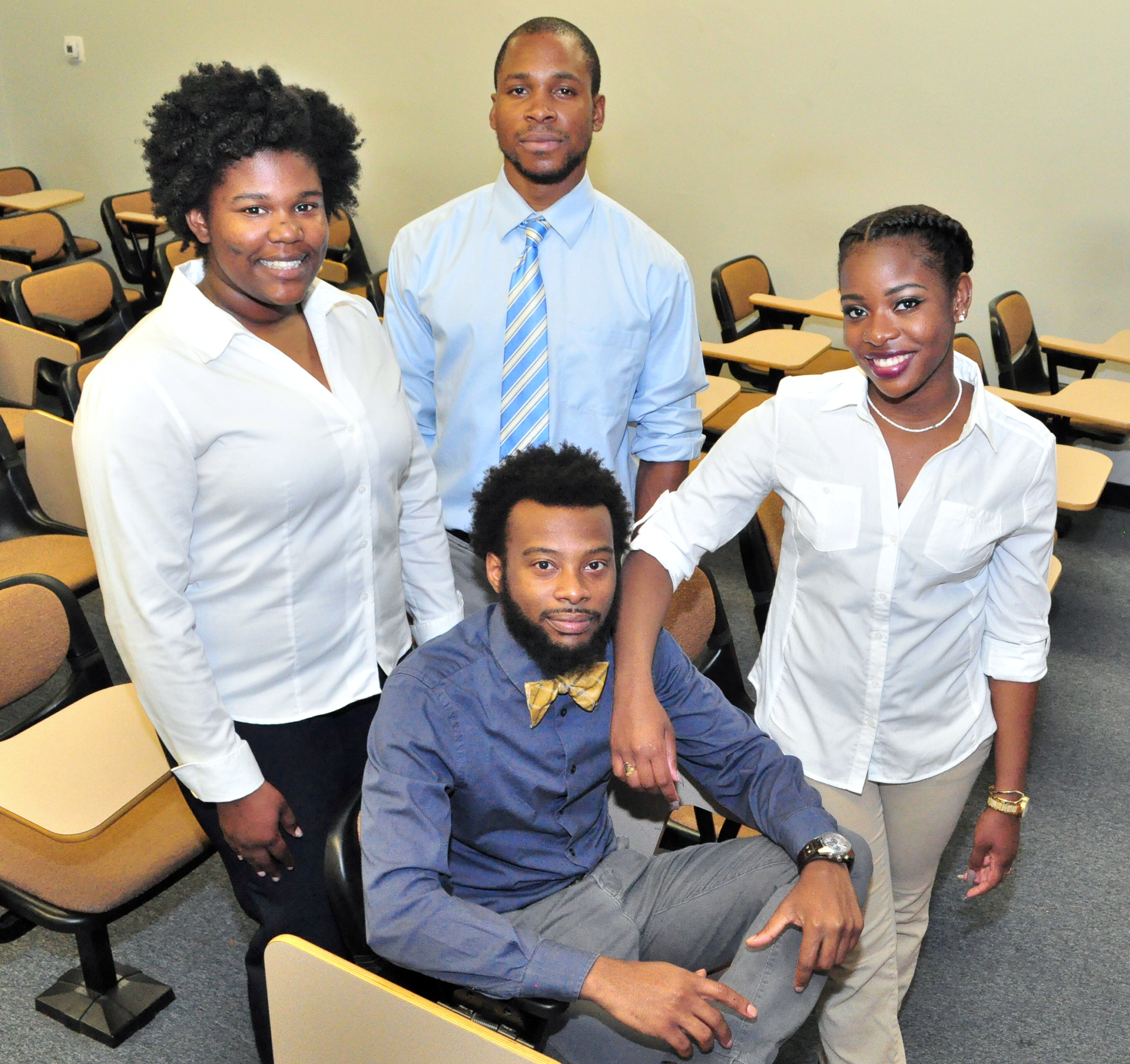 Four Southern University and A&M College Baton Rouge (SUBR) students in the Louis Stokes Louisiana Alliance for Minority Participation (LS-LAMP) attended the LS-LAMP Research Symposium in National Harbor, Maryland, February 22-24, 2016. The theme of this National Science Foundation (NSF) conference was, "A TRUE GAME CHANGER - Aiming High and Making a Difference: Recognizing 25 years of Excellence in the LS-AMP Program." The event honored the late Representative Louis Stokes for his achievements and his lifetime of public service.
Diola Bagayoko, dean, Dolores Margaret Richard Spikes Honors College, director, Timbuktu Academy, and LS-LAMP statewide program director, and the students, participated in the conference. The SU scholars attending were Lamar Burton, a senior agricultural sciences major, Jasmond Tucker, a junior biology major, Jonalyn Fair, a freshman mathematics and physics major, and QuoVadis Savoy, a freshman electrical engineering major. Burton and Tucker showcased their technical research during the poster presentation session. The title of Burton's presentation was "SU-IRES Sustainable Water Filter Design for Bongo District, Ghana Africa." Tucker gave a presentation on "Antimicrobial Efficacy of Different Roselle Hibiscus Extracts Against Escherichia Coli." 
Bagayoko acknowledged how proud he was to showcase this group of students who were representing the Louisiana Alliance and SUBR well.                
LS-LAMP (www.subr.edu/lslamp) is a statewide, comprehensive, systemic mentoring, and institutional transformation program. Its central objective is to substantially increase the number and quality of minority students enrolling in and completing baccalaureate degrees in science, technology, engineering, and mathematics (STEM), and subsequently going on to pursue graduate studies in STEM disciplines. The Alliance is composed of 12 Louisiana institutions of higher education and the Louisiana Universities Marine Consortium (LUMCON), a research facility. The Louisiana institutions include Dillard, Grambling State, Southern (Baton Rouge and New Orleans), Xavier University, University of Louisiana at Lafayette, McNeese State University, University of New Orleans, Tulane University, LSU, and community colleges (Southern University Shreveport and Nunez Community College). Southern University and A&M College serves as the lead institution for LS-LAMP.
"For over the past 25 years, LS-LAMP has made its mark to encourage and cultivate scholars of STEM disciplines at the 12 LAMP institutions and into the future workforce of tomorrow.  LS-LAMP continues to impact STEM education in Louisiana," said Bagayoko.
#     #     #
LS-LAMP CONTACT:
Diola Bagayoko, Ph.D.
Dean, Dolores Margaret Richard Spikes Honors College
Director, the Timbuktu Academy and LS-LAMP
Southern University System Distinguished Professor of Physics
P.O. Box 11776
Baton Rouge, LA  70813
(225) 771-4845 (office)
(225-771-2730 (office)
(225) 205-7482 (cell)
Email: bagayoko@aol.com
MEDIA CONTACT:
Henry Tillman
Southern University
Office of Communications
(225) 771-5497
henry_tillman@sus.edu