SU setting stage for large fall freshman class
SU freshmen orientation sessions offer lively, valuable campus previews for students, parents
A large incoming class of new students at Southern University Baton Rouge is expected for Fall 2016 based on significant increases in applications from new freshmen and on the number of freshmen applicants admitted so far to Southern University Baton Rouge.
According to the SUBR Office of Student Affairs and Enrollment Management, more than 7,600 applications have been received from new freshmen, 25 percent more than this time last year. More than 1,700 new freshmen have up to now been admitted for the Fall 2016 class. More than double compared to last year's numbers at this time - a 103 percent increase. More than 1,500 students are expected to enroll as freshman this fall at SU Baton Rouge.
With the projected numbers SUBR's enrollment will increase for the second year in a row.
Last fall, enrollment numbers showed the overall enrollment for the SU System flagship campus in Baton Rouge increased by more than 200 students over the previous year - a 31 percent increase. SUBR continued its spring enrollment growth with a nearly five percent increase in student enrollment for the Spring 2016 semester compared to the previous year.
"The promising projections for a sizable fall freshmen class continues an upward enrollment trend for the University due in large part to strategic and innovative efforts of our dedicated staff and faculty working along with faithful alumni. We are committed to investing resources to support efforts to increase access for all students seeking educational opportunities," said SU System president-chancellor Ray L. Belton.
According to Brandon K. Dumas, SUBR vice chancellor for student affairs and enrollment management, several initiatives and efforts contribute to the upswing in enrollment.
The Division for Student Affairs and Enrollment Management's multifaceted approach to recruiting students has paid dividends he explained. The Division invested heavily in the recruitment office, leading to the hiring of four new recruiters - the largest the office staff has been in recent years, conducting a regional search for a new director and assistant director for recruitment to bring an experienced, yet innovative approach to identifying and recruiting students. We have reexamined and refined the admitted students materials designed to build upon the excitement students feel when being accepted into the Jaguar Nation, among other things. Also, regional recruiters continue their work in various regions across the country.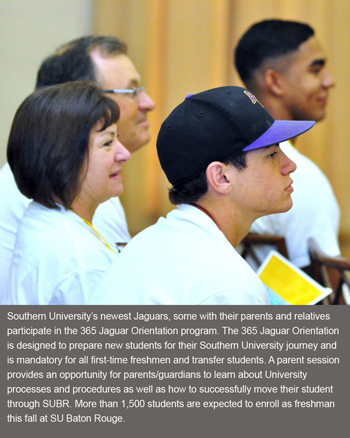 "One of the most fruitful efforts by the Division of Student Affairs and Enrollment Management has been recruitment tours that have taken the Southern University experience to prospective students and families all across the country. Over the past year, we've visited high schools and events in dozens of cities. Participating students had the chance to meet current and former students, get admissions information and learn about opportunities afforded to graduates and students. This tour created an energy around Southern University's name that has led to our offices' inundation with applications and inquiries," said Dianna Gilbert, executive director of admissions and recruitment, SUBR.
"With the support of President-Chancellor Belton, we are also finalizing revisions to our out-of-state fee structure to attract more out-of-state students, prevent financial hardships associated with tuition and fee increases, and incentivize high student performance while in high school and at Southern University," Dumas added.
To prepare for the likely larger than normal new-freshmen class, SUBR is continuing the tradition of hosting mandatory orientation sessions that are designed to help students facilitate a smooth transition to campus life and to acclimate parents to the University.
According to Dumas, the 365 Jag Student Orientation program breaks down barriers of anxiety in students' minds and reinforce a smooth passage into life at Southern University through coordinated activities which allow students to meet their fellow new Jaguars, complete enrollment processes, learn about student organizations, network with faculty, staff, and alumni, and experience college life in a controlled and fun environment.
"The 365 Jag Program is our first opportunity to harness the anticipated large class. We use the program, in part, as a chance to get ahead on the logistical requirements of enrolling that many students. We aim to begin and, where possible, complete the processing of student applications, financial aid, course scheduling, and other enrollment processes so that, upon arrival to campus, students can focus on making their own preparations for their new college lives. Our staff within the Division has also made ample preparations for the students, and are ready to embrace them, provide any necessary assistance, and help them become acclimated to their new environment," said Dumas.
Jaguar 365 also focuses on parents. SUBR offers Parent University to introduce parents/guardians to Southern University and to college life.
"Parents benefit from tailored programs which give them a view of the University that assures them that their children are safe physically and mentally while in the caring hands of Southern University. Upon completion of the program, students and parents leave energized and confident in their decision to attend the greatest university in the world and join the Jaguar Nation," said Dumas.
Parent Kina Bullock shared, "My daughter and I attended 365 Jaguar Orientation as a transfer student and we really appreciated the organization of the program and the friendly atmosphere, as this was our first time actually visiting the campus. It was great to see the campus so busy and vibrant during the summer semester. I highly recommend 365 Jaguar Orientation to any new student and parents as it is a great way to become familiar with the University in such a short period of time."
For more information on Southern University visit www.subr.edu.
Register for Jaguar 365 Orientation and for Parent University at: http://www.subr.edu/index.cfm/page/1558/n/1359
# # #
CONTACT:
Henry Tillman
Southern University Office of Communications
(225) 771-5497 or (225) 771-4545
henry_tillman@sus.edu