Southern University Commencement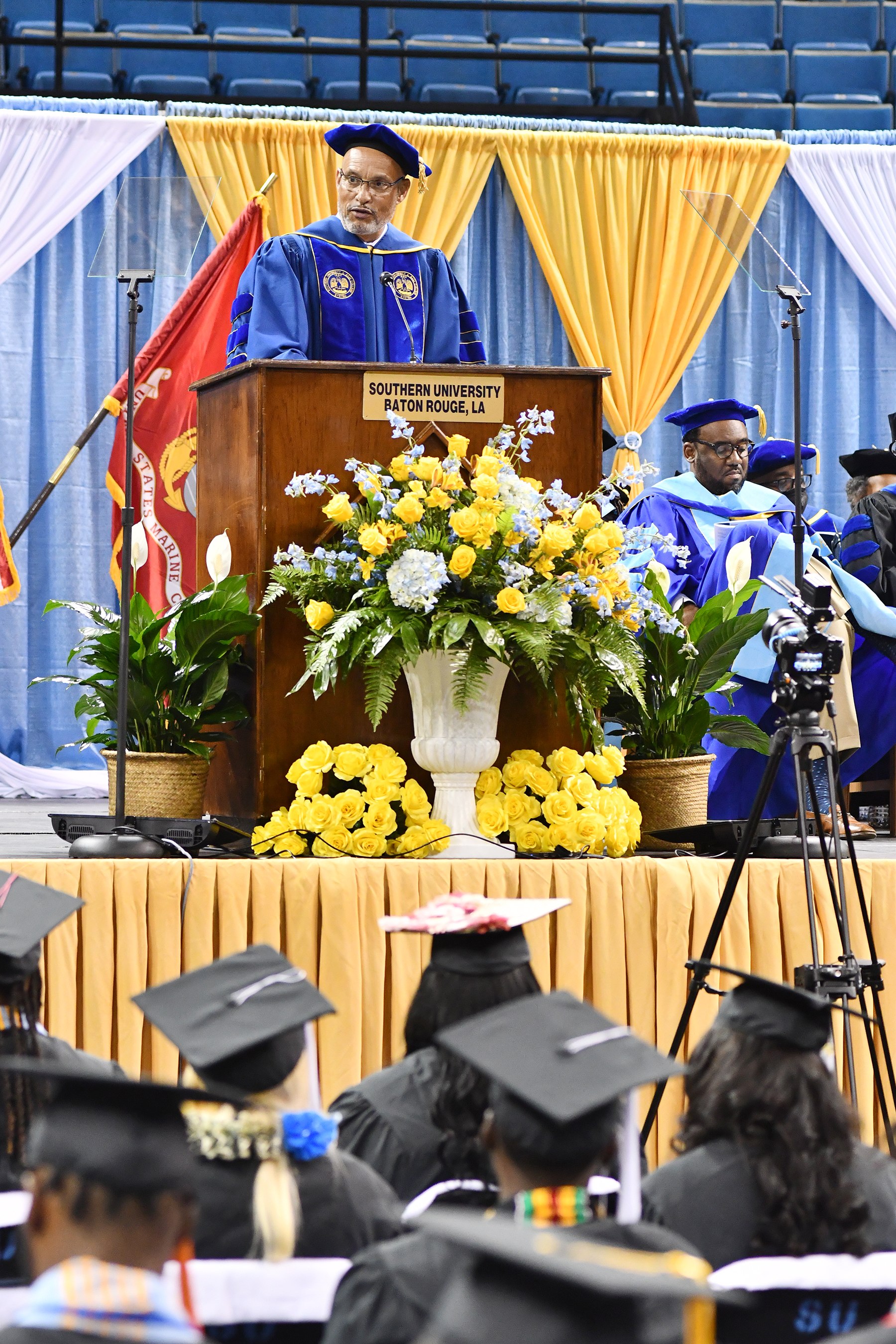 President-Chancellor Shields shares personal journey during Summer 2022 Commencement
First cohort of executive Ph.D. program graduates
On Friday, August 5, the Jaguar Nation welcomed over 100 graduates into alumni status in the F.G. Clark Activity Center during the Summer 2022 Commencement. Southern University System President-Chancellor Dennis J. Shields presided over his first Commencement in this role and served as the commencement speaker.
The ceremonies included members of the first inaugural cohort of the executive Ph.D. in public policy program from the Nelson Mandela College of Government and Social Sciences. This is the first weekend-only doctoral program in the state of Louisiana that can be completed in two years. The executive doctoral degree in public policy was created to reach a broader base clientele and offers the same quality education in a rigorous, less time-consuming format to help professionals achieve their goals without sacrificing their careers.
Arlanda J. Williams, a graduate who is also a member of the Southern University System Board of Supervisors, applauds the program.
"Although the program was challenging, it met all of my expectations," Williams said. "This program helped expand my knowledge of public administration from a theoretical approach and I wholeheartedly recommend this program to anyone working in government, higher education, or healthcare."
Leuna Shenise Adea Johnson has defended the gold and blue since she received degrees from Southern University with a bachelor's degree in 2002, an MBA in 2008, and now a Ph.D. in public policy.
"Southern University is truly home," Johnson said. "I was awarded full scholarships to Iowa State University and Penn State University. However, I decided to remain in Baton Rouge. The academic rigor of the executive doctoral degree provoked critical thinking and provided opportunities to learn independently and collaboratively while submerging the cohort in an extensive exploration of issues impacting public policy in an effort to generate workable solutions."
This commencement was one of President-Chancellor Shields' first opportunities to share some of his thoughts and experiences with the Southern University family.
"Southern is a very special, sacred place. It is indeed a village that surrounds and nurtures its members," Shields said. "So, I say thank you to this wonderful village of family members, friends, faculty, staff, mentors, and other supporters who have contributed so much to the success of today's graduates."
Shields shared some of his personal journeys and upbringing as part of his efforts to become known within the Jaguar Nation. He grew up an orphan in predominantly white rural Iowa where he was introduced to Historically Black Colleges and Universities by his foster family. "
"Some of the first role models and examples of black excellence in my life came in the form of a foster family," he said. "Dr. Carney and his wife took me in and helped raise me — both of whom graduated from HBCUs. They showed me Black culture and a part of my identity that I had not previously known existed."
Eventually, he made his way to college and then to law school.
Shields, now president of the only HBCU system in the nation, closed by crediting his village and encouraging the graduating class to pay it forward the same way his foster parents exhibited.
"They were part of my village that opened my eyes to a world I never thought possible," he said. "No amount of words could ever say 'thank you' enough, but my actions of paying it forward will. Graduates, your village surrounding you here today — whether in-person, virtually, or in spirit — paid it forward to you. You now have the privilege and responsibility to pay it forward to someone else."
For the full recap of the Summer Spring 2022 Commencement, including photos and video, click here.