Southern University Foundation receives nearly $60,000 from ExxonMobil's Educational Matching Gift Program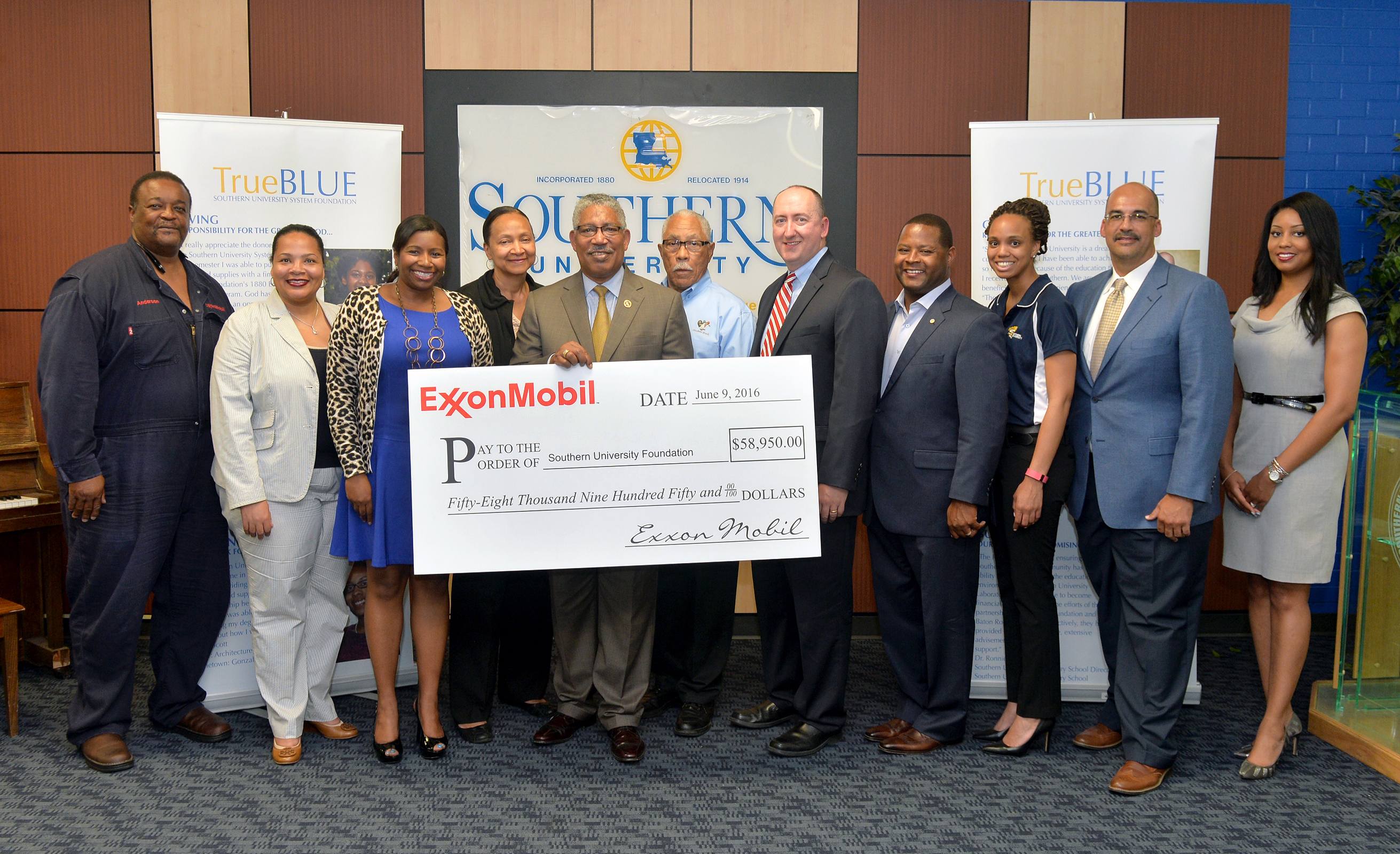 ExxonMobil presented a check for $58,950 to the Southern University Foundation as part of the ExxonMobil Foundation's 2015 Educational Matching Gift Program.
The gift, announced during an on-campus reception June 9, represents the ExxonMobil Foundation 3:1 match of 26 employees', retirees' and surviving spouses' donations of $19,650 to the university.
"ExxonMobil has always been there for this University, and we continue challenging ourselves on other ways we can collaborate and enjoy a great relationship. I just want to say thank you to the alums and the corporation itself as it understands the value of HBCUs, Southern University in particular, and the degree to which we have all been shaped by this University," said Southern University President and Chancellor Ray Belton.
The ExxonMobil Foundation Educational Matching Gift Program has provided more than $600 million to higher education since 1962. Under the program, the ExxonMobil Foundation provides 3:1 unrestricted, matching funds for donations to U.S. colleges and universities with which employees or retirees are affiliated.
"ExxonMobil employees and retirees have a long history of generous support for higher education," said Ben Soraci, president, ExxonMobil Foundation. "We are pleased to be able to build on their commitment and invest in the development of the next generation of leaders and innovators from Southern University."
About the ExxonMobil Foundation
The ExxonMobil Foundation is the primary philanthropic arm of Exxon Mobil Corporation (NYSE:XOM) in the United States. The foundation and the corporation engage in a range of philanthropic activities that advance education, with a focus on math and science in the United States, promote women as catalysts for economic development and combat malaria. In 2015, together with its employees and retirees, Exxon Mobil Corporation, its divisions and affiliates, and the ExxonMobil Foundation provided $268 million in contributions worldwide. Additional information on ExxonMobil's community partnerships and contribution programs is available at www.exxonmobil.com/community.
###