Carnegie African Diaspora Fellowship Program supports College of Business professor's work in Tanzania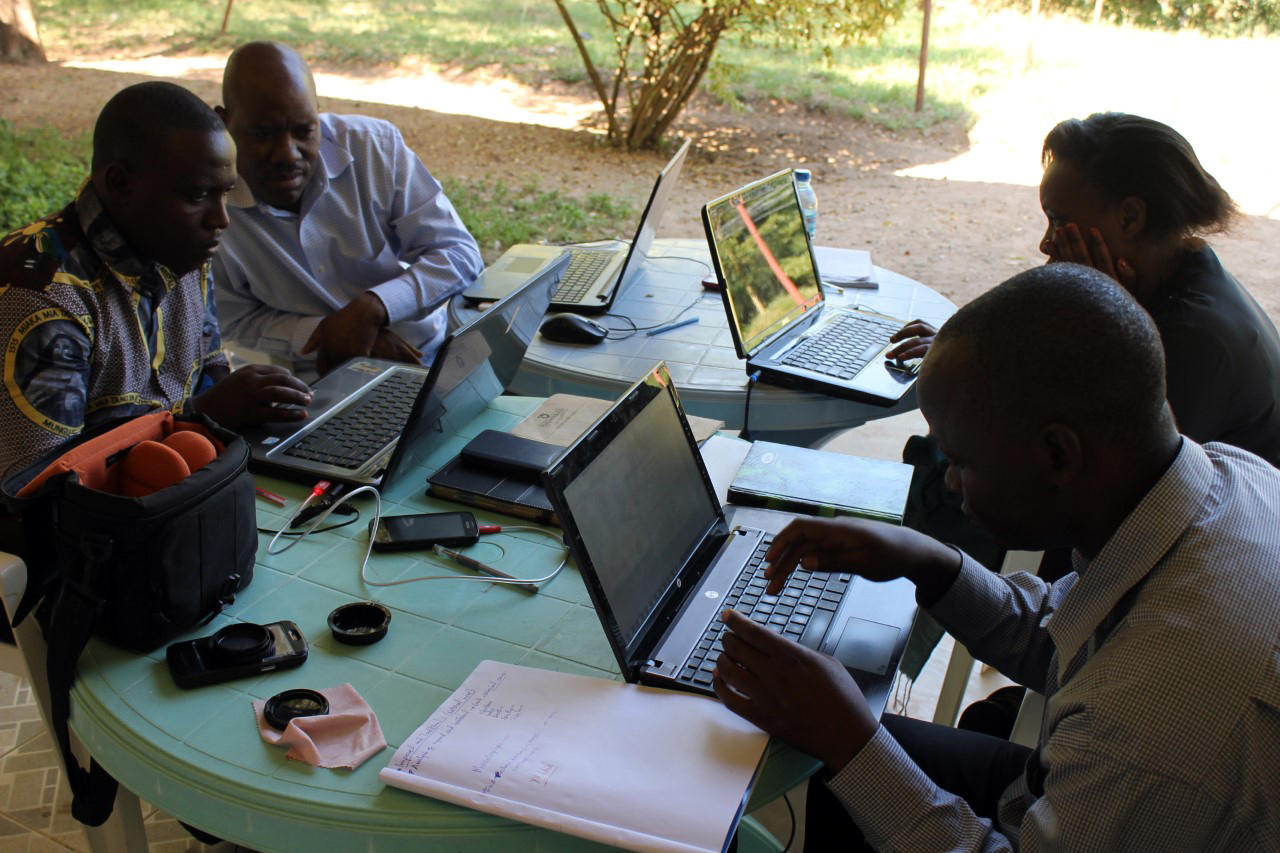 Aloyce R Kaliba, SU Baton Rouge College of Business professor of economics and statistics and Ben D. Johnson Endowed Professor in Business, was awarded a fellowship by the Carnegie African Diaspora Fellowship Program to travel to Tanzania to work with Anne G. Gongwe, dean of Faculty of Social Sciences and Communication at St. Augustine University of Tanzania, on collaborate research, graduate teaching, and young faculty mentoring.
Kaliba participated in providing intensive training in application of R Software in applied data analysis and visualization for graduate students and young faculty at the assistant lecturer and lecturer levels. The St. Augustine students and faculty were from the Faculty of Social Sciences and Communication. In addition to training and mentoring activities, Kaliba worked with different faculty at the University to explore opportunities for further collaboration, including writing joint research proposal and scientific journal articles and devising mechanisms for faculty-student exchange between the two Universities.
"I feel extremely honored and appreciative for receiving this significant fellowship," Kaliba said. "This award is an important impetus for me to continue international collaborative research during my career at Southern University and beyond. I am enthusiastic about my affiliation with St. Augustine University of Tanzania where both faculty and graduate students are eager to learn under difficult learning environment. The University is bringing together top professionals to train future entrepreneurs and leaders with limited resources and I will be proud to be part of it. In particular, the fellowship has strengthened my ambition of developing a collaborative research program with African Scholars based in Africa. Thereby alleviating contribution of Southern University in developing Mother Africa."
Kaliba was one of 59 African Diaspora scholars who were awarded fellowships to travel to Africa to conduct a wide range of projects across disciplines, from agroforestry to e-learning modules for nursing, and from ethnomusicology to military mental health. The program has now selected and approved a total of 169 Fellows since its inception in 2013.
"Our institution hoped for a Fellow to come up with new knowledge about research methodology and economic analysis," Gongwe said. "Before the arrival of the Fellow, we did not have any idea about R. We were analyzing our data using mostly STATA that was not affordable and accessible to each and every one of us. The online version has very limited ability; now that R is introduced at least we know that we have an alternative to STATA. Also, our graduate students were struggling to complete their thesis on time simply because of limited access to reliable and flexible statistical software like R. Now, they are almost done and they have Prof. Kaliba's guidance; they do contact him freely and he is always there to help. Our institution will increase its visibility because of this wonderful program."
Another SUBR faculty member Fulbert L. Namwamba, professor, urban forestry, was also selected as a Carnegie African Diaspora Fellow. Namwamba traveled to the University of Kabianga (UOK), in Kenya working on a collaborative project to identify emerging spatial technologies, the prospective to increase technology opportunities to empower community as well as initiate master of science curricula development in urban forestry and in hydrology and watershed management. He was paired with UOK professor Zablone Okollah Owiti, School of Natural Resource and Environmental Management.
The Southern University projects were two of 57 projects that paired African Diaspora scholars with higher education institutions in Africa to collaborate on curriculum co-development, research, graduate teaching, training and mentoring activities.
About the Carnegie African Diaspora Fellowship Program
The Carnegie African Diaspora Fellowship Program facilitates engagement between scholars born in Africa who are now based in the United States or Canada and scholars in Africa on mutually beneficial academic activities. The Advisory Council selected 41 African universities to host the Fellows, based on collaborative project proposals submitted by faculty members and administrators at the African universities, to meet specific needs at their universities. This innovative program is managed by the Institute of International Education (IIE) in collaboration with United State International University-Africa (USIU-Africa) in Nairobi, through Dr. Paul Tiyambe Zeleza, who chairs the Advisory Council, and is funded by the Carnegie Corporation of New York.
Public and private higher education institutions in Ghana, Kenya, Nigeria, South Africa, Tanzania, and Uganda were eligible to submit project requests to host a scholar for 14 to 90 days; prospective hosts were invited but not required to name a proposed scholar in their project requests. Scholars born in Africa who live in the United States or Canada and work in an accredited college or university in either of those two countries were eligible to apply to be on a roster of available candidates. IIE maintains a scholar roster to facilitate matches, according to the discipline specializations, expertise, activities and objectives described in a project request. The Fellowship for the project visit includes a daily stipend, transportation, and visa funds and health insurance coverage.
About the Fellow and Host
Aloyce Kaliba is a Kansas State alumnus (Ph.D. and M.Sc.), Manhattan, Kansas, Sokoine University of Agriculture (B.Sc.) Morogoro, Tanzania, Moshi High School, Ihungo Secondary School, and Rugu Primary School all in Kagera Region, Karagwe District, Tanzania. Kaliba previously worked with the Aquaculture/Fisheries Center at the University of Arkansas at Pine Bluff (USA), Economics Department at the National University of Lesotho, and with Extension Program and Farming System Research (as a coordinator), with the Ministry of Agriculture and Livestock Development in Tanzania. Kaliba has experience of more than 30 years related to agricultural research and extension and 16 years of University level teaching. Kaliba has a research interest on using both qualitative and quantitative methods for policy analysis and program evaluation. He has published more than 50 articles in different peer reviewed journals. The topics range from productive efficiency analyses, profitability and risk analyses of agricultural enterprises and adoption and impact of agricultural innovations. Kaliba has received research grants from CIMMYT, ICRISAT, FAO, U.S. Department of Agriculture, U.S Department of State, U.S.A.I.D., U.S. Department of Commerce, Louisiana Board of Regents, and International Foundation for Science, Global Development Network, Research on Poverty Alleviation, and several others. Kaliba has working experience in Tanzania, Kenya, Liberia, Lesotho, through field research, supervising graduate students, and mentoring young faculty teaching in East and West Africa.
Anne G. Gongwe is an alumna of Colorado State University, Fort Collins, Color. She graduated in 2011 with a specialization in Regional Economics and Economics Development. Gongwe also holds a master's of science in agricultural economics from Wye College, University of London in UK. After completing her bachelor of science in agriculture from Sokoine University of Agriculture, Morogoro, Tanzania, Gongwe worked as an agricultural research officer at Naliendele Research Station in the Southern Zone of Tanzania from 1992-1999. During her tenure at Naliendele, Gongwe was zonal coordinator for the Farming System Research Program and her research focused on women participation in agricultural research. She was also a board member of Cashew Board of Tanzania and computer instructor for the Naliendele Training Centre. At Colorado State University, Gongwe was an instructor in the Department of Economics. She also taught at Front Range Community College from 2006 to 2012, when she returned to Tanzania and joined Saint Augustine University of Tanzania in September 2012 as a head of the Economics Department. Gongwe has visited several countries; in and out of Africa for conferences, short courses, and seminars on women empowerment and agricultural value chain improvement to empower women. Her research interest is quantitative research methods as applied to regional economic development. Her current research projects are related to economics of improved seeds and fisheries systems as related to food security and women empowerment in Lake Region and Western part of Tanzania.