SU nursing professor inducted in American Academy of Nursing 2016 Class of New Fellows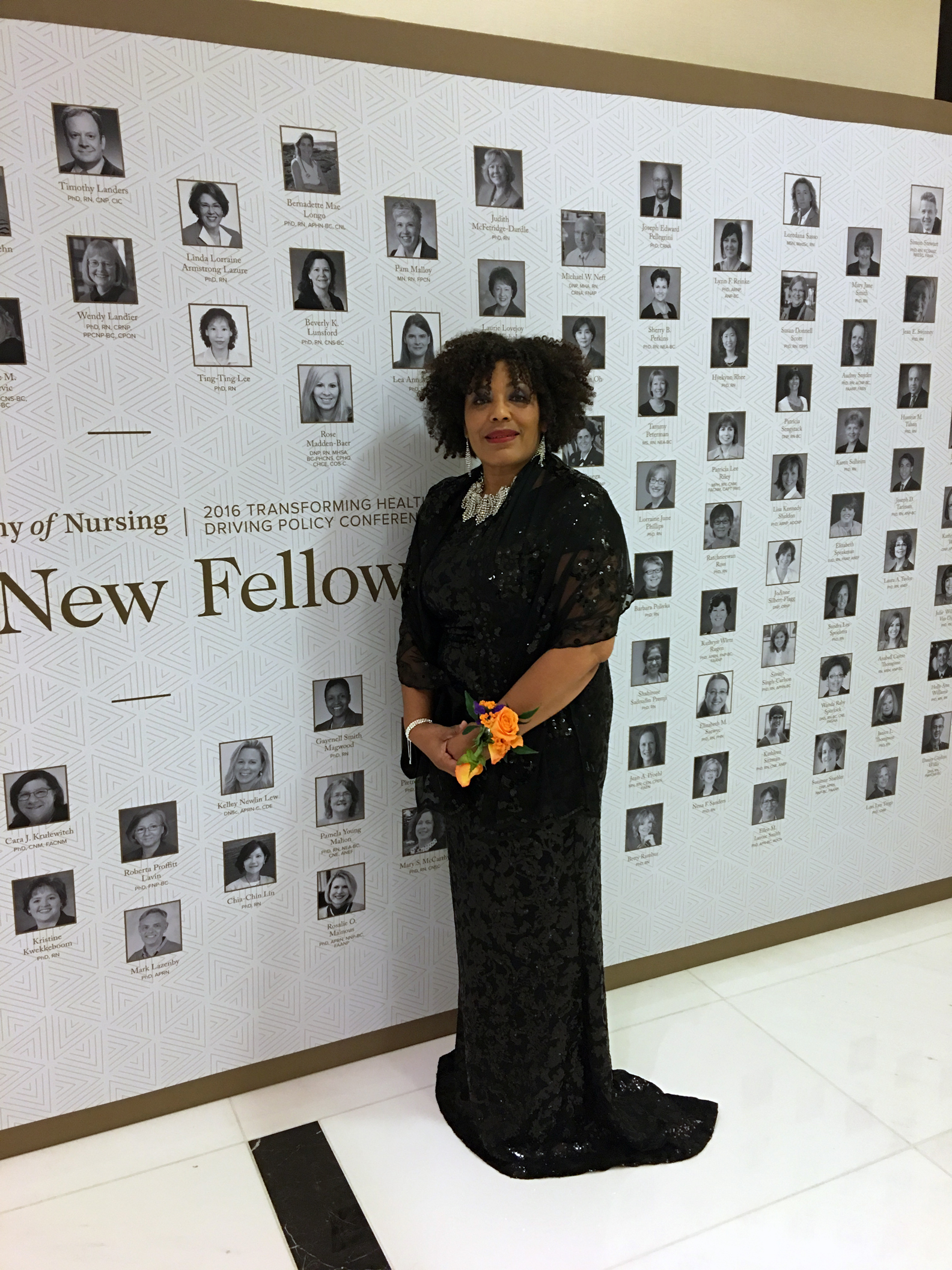 Southern University School of Nursing professor Wanda Spurlock, was recently inducted as a Fellow of the American Academy of Nursing. The induction ceremony was held at the Marquis Marriott Hotel in Washington, DC, October 22, 2016, in conjunction with the Academy's 2016 policy conference, "Transforming Health, Driving Policy."
Through a very rigorous selection process, Spurlock was one of 162 fellows selected from across the nation and the world, from approximately 300 applications that included nominees from academic, service, policy sectors, and blended roles. Academy Fellows are recognized for their extraordinary contributions to nursing, healthcare, and society. For the 2016 class, Spurlock was the only inductee from the state of Louisiana.
Fellows represent nursing leaders in education, management, practice and research.
Criteria for selection of Fellows include specific evidence of outstanding contributions to the improvement of nursing and/or health care at the national or international level or illustration of the extent to which state or regional contributions demonstrate potential impact at the national or international levels and membership in good standing with the American Nurses Association (ANA) or a constituent member organization for nurses residing in the U.S.
The Academy Fellows, with the addition of this newest class, represent all 50 states, the District of Columbia, and 28 countries. The Academy is currently comprised of more than 2,400 nurse leaders in education, management, practice, policy, and research. Academy fellows include hospital and government administrators, college deans, and renowned scientific researchers.
"I am delighted to welcome this superb cohort of talented clinicians, researchers, policy leaders, educators, and executives as they join the ranks of the nation's leading nursing and health care thought leaders," said Academy president, Bobbie Berkowitz, PhD, RN, NEA-BC, FAAN.
Spurlock is recognized as a nurse expert and leader in the care of older adults. She collaborates with local, state, and national organizations to improve dementia care in nursing home settings through the reduction in use of antipsychotic medications and through the use of evidence based non-pharmacological, person-centered interventions as the front-line approach to managing behavioral and psychological symptoms of dementia. Spurlock conducted state-wide educational interventions for nursing home staff and outreach to family members on non-pharmacological person-centered care strategies. She co-developed a web-based Dementia Knowledge Assessment Tool for registered nurses employed in nursing home settings across the United States and has served as a faculty panelist for nationally recognized MedscapeTM video roundtable panel discussions on "Practical Approaches to Managing Moderate-to-Severe Alzheimer Disease" and "Clinical Perspectives on Emerging Therapies for Early Alzheimer's Disease." MedscapeTM is one of the most widely used web-based educational resources for physicians, nurses, and other health professionals across the country. Dr. Spurlock has also co-presented a national webinar on Reducing Antipsychotic Use in Older Adults that is accessible through the National Hartford Center for Geriatric Nursing Excellence.
"By far, this is the most outstanding recognition prestigious honor that I have obtained in my 40 years as a registered nurse and over 20 years as a nurse academician. It's difficult to put into words. I have dedicated by entire nursing career to improving the quality of life of persons with Alzheimer's disease and their caregivers. It's both humbling and gratifying to have my life-long body of work as a registered nurse recognized at the local, state, national, and international levels," said Spurlock.
Spurlock has received numerous awards and honors. As past vice president and current Fellow of the National Gerontological Nursing Association, she was selected as organizational reviewer for the 2015 American Geriatrics Society Updated Beers Criteria for Potentially Inappropriate Medication Use in Older Adults. The Louisiana State Nurses Association selected Spurlock as the 2016 Nursing Educator of the Year for the State of Louisiana. Other awards include selection as one of eight Louisianans of the Year in 2015 by Louisiana Life Magazine, 2014 Helen Creemens Excellence in Teaching Award by the Baton Rouge District Nurses Association, 2012 Inductee into the Louisiana State Nurses Association Hall of Fame, 2012 Louisiana Role Model Award by the Baton Rouge Chapter of the LINKS, Inc., 2011 HITS (Health Information and Technology) Scholar, 2010 Distinguished Alumnus, College of Nursing and Health Sciences, Southeastern Louisiana University, 2009 Distinguished Alumni Award, Our Lady of the Lake College of Nursing, 2009 Nightingale Award for Outstanding Community Service by the Louisiana State Nurses Association, and the 2009 Rosemary Volunteer Award by the Alzheimer's Services of the Capital Area.
In addition to her certification as an Academic Nurse Educator through the National League of Nursing, Spurlock holds national certifications through the American Nurses Association Credentialing Center in both psychiatric/mental health nursing and gerontological nursing. Recognized as a dementia care specialist with the Alzheimer's Foundation of America, Spurlock works to ensure that national standards of dementia care are met in diverse care settings. She is also certified as a TimeSlips facilitator (a creative storytelling process for persons with dementia and other forms of cognitive impairments). Spurlock currently serves as the vice president of Louisiana's culture change organization, LEADER (Louisiana Enhancing Aging with Dignity through Empowerment and Respect).
Spurlock holds memberships in numerous professional organizations including the Tau Pi chapter of Sigma Theta Tau, International Honor Society of Nursing, the American Nurses Association, Louisiana State Nurses Association, Baton Rouge District Nurses Association, the National Gerontological Nursing Association, the National Black Nurses Association, and the Gerontological Society of America.
ACADEMY FELLOWS:
http://www.aannet.org/about/fellows
ABOUT THE ACADEMY:
http://www.aannet.org/about/about-the-academy