Community Service and Benefits Fair provides volunteer opportunities, valuable resources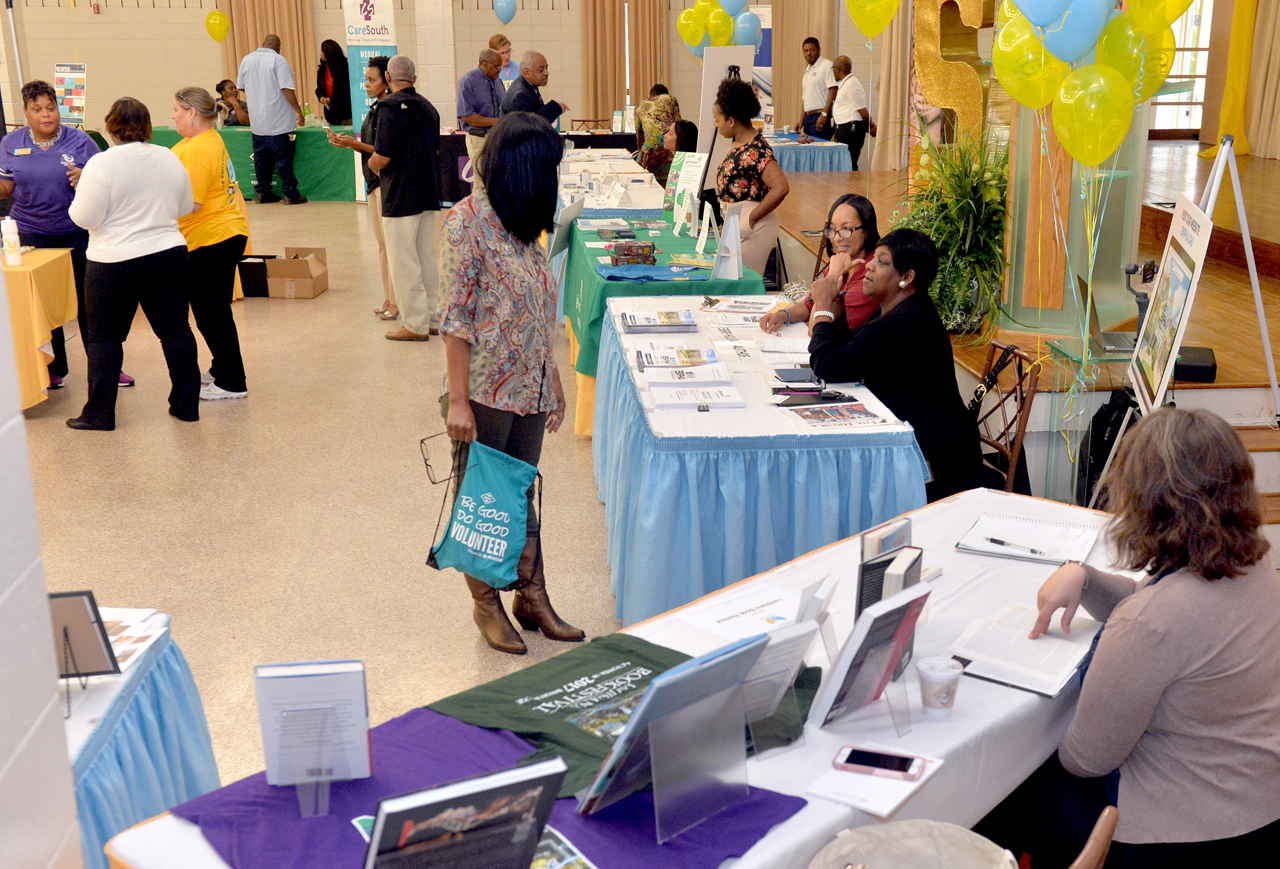 On Wednesday, Southern University faculty, staff and students engaged with several community organizations and received valuable Human Resources information at the inaugural Community Service and Benefits Fair held in the Smith-Brown Memorial Student Union. The event was sponsored by the Office of External Affairs, Division of Student Affairs, Center for Service Learning, and the Department of Human Resources.
"We at Southern University are committed to meaningful public service and community engagement, and one of our main goals is to increase participation in this area by our faculty, staff and students," said Robyn Merrick, vice president. "Today offered us a great opportunity to interact with local nonprofit organizations and learn more about the work they do and how we can support those efforts."
Participating agencies included:
The Southern University System Foundation, which provides financial support for each of the five campuses of the Southern University System and broader educational advantages for students; encourages faculty research; and advances the System's role in helping to build an increasingly functional Louisiana.
The Office of Baton Rouge Mayor-President Sharon Weston Broome, which highlights the importance of volunteerism through its community service sector.
The Purple Box Project, an organization that assists advocacy and support groups dedicated to ending domestic violence.
The BRidge Agency Inc., a multipurpose 501(c)3 organization that works to build and support our communities through service, advocacy, and empowerment.
UpStage Theatre Company Inc., a nonprofit organization that serves as a venue to nurture and expand the talents of aspiring artists working collaboratively with established artists.
SBP Inc., a local disaster recovery nonprofit organization still helping families recover from the August 2016 flood here in Baton Rouge.
Housing Authority of East Baton Rouge Parish, the Public Housing Authority responsible for providing housing assistance to low-income families.
Commuter Krewe of LA, an organization in partnership with the Louisiana Department of Transportation and Development that helps commuters find carpool partners.
Urban Restoration Enhancement Corporation, an organization that provides high quality social, economic and residential opportunities to low to moderate income families in the Greater Baton Rouge region.
Mothers Against Drunk Driving, a nonprofit organization that assists victims of drunk and drugged driving, and fights against underage drinking.
Louisiana Book Festival 2018, which will feature more than 250 authors and panelists discussing their books and more than 100 programs for all ages and interests.
Center for Social Research, an organization that conducts studies on experiences of low-to-moderate income community residents and their families.
CareSouth Medical and Dental, which provides medical, dental, behavioral health, OBGYN and other services.
Big Buddy, an organization that ongoing asset-based programming and mentorship for youth ages 5 to 18.
City of Baker School System, which includes Baker Heights Elementary School; Bakerfield Elementary School; Park Ridge Academic Magnet School; Baker Middle School; and Baker High School.
BREC, the agency that connects people to parks and nature in East Baton Rouge Parish.
Girl Scouts Louisiana East, part of the world's largest girl-led organization that provides girls with opportunities to gain life skills, leadership experience, community service knowledge, and more.
Meaningful Autistic Resources for Kids – MARK, a Baton Rouge area nonprofit that addresses the struggles of families challenged with the care of special needs children.
TRUCE, an organization dedicated to reducing violence by empowering youth to live safe and productive lives.
Unanimous Jury Coalition, the statewide effort to raise awareness about the practice of non-unanimous jury verdicts in Louisiana.
Volunteers in Public Schools, an organization that pairs one-on-one to tutoring for public school children in math or reading. It also partners with civic groups, faith-based groups, businesses, and community organizations to integrate and offer support to East Baton Rouge public schools, students and faculty.
Adult Literacy Advocates, an organization that provides a variety of educational programs to help adults in the Greater Baton Rouge area achieve personal, employment and family goals by improving their literacy skills.
Arts Council of Greater Baton Rouge, an organization that fosters the creative capacity and vibrancy of the Capital Region through advocacy, resources and education.
Carville Job Corps Center, which provides education and training to low income youth ages 16-24.