Southern University System to open LaVet Corps veterans resource centers on all campuses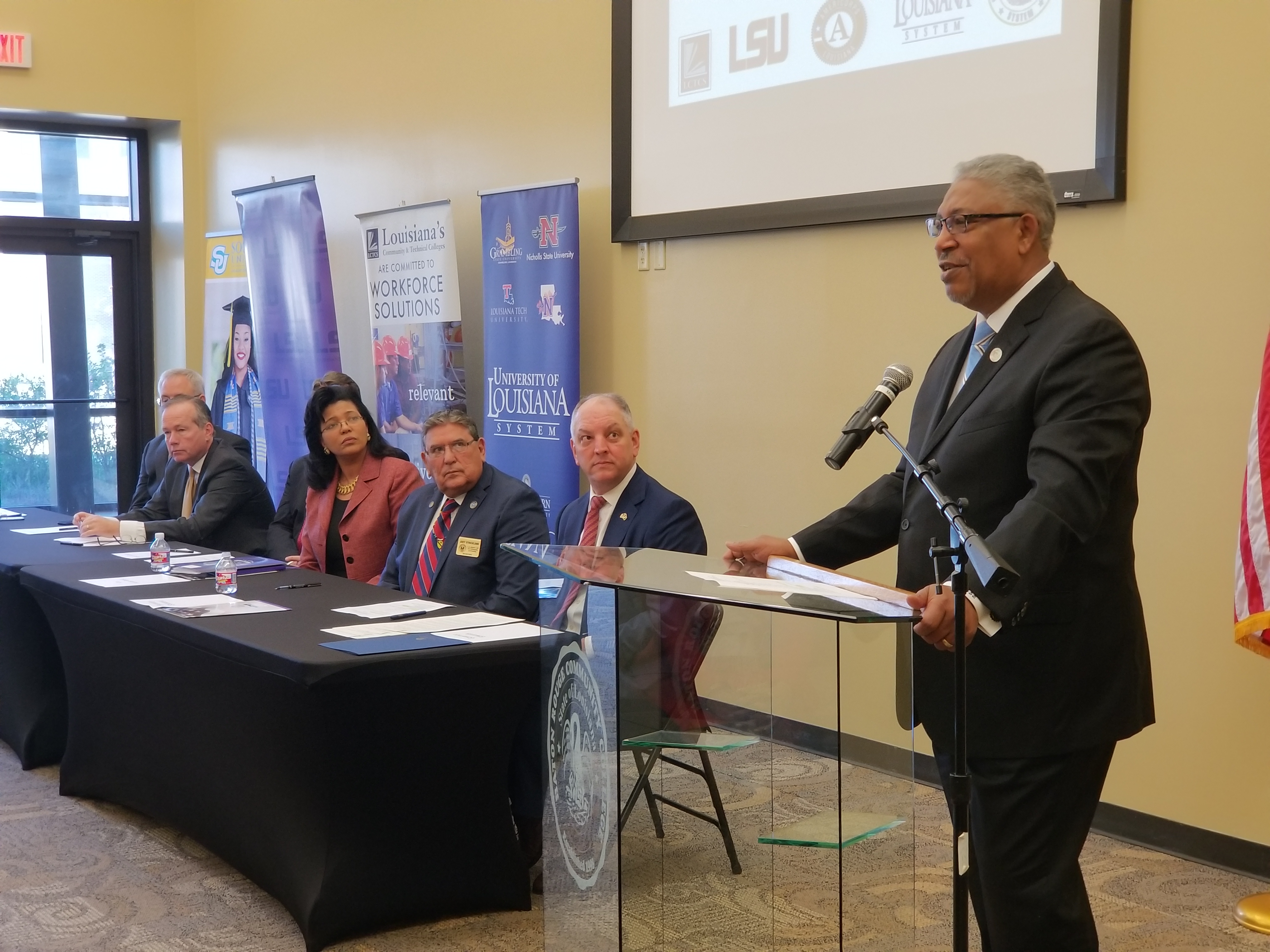 President of the Southern University System, President Ray L. Belton, on Wednesday joined Gov. John Bel Edwards and higher education leaders for a public commitment to Louisiana veterans. The LaVetCorps Program will open 30 resource centers on campuses across the state.
All of Southern University's main campuses — Baton Rouge, Shreveport and New Orleans — joined the University of Louisiana System, Louisiana State University System, Louisiana Community and Technical College System and Xavier University in the agreement.
"This venture is yet another opportunity to demonstrate our commitment to access and student success," said Belton during the signing held at Baton Rouge Community College. "The Southern University System campuses will have vibrant centers that will provide the necessary tools for veterans to contribute to this great society and achieve their goals."
The LaVetCorps mission is to empower veterans, families and campus communities to help veterans returning from active-duty military service to successfully transition home to college and their local community.
"The men and women who selflessly dedicate their lives to secure the safety and freedoms of our state and nation deserve every opportunity to prepare themselves for the transition to civilian life, and I'm proud of the partnerships that will help them continue to achieve their goals," Gov. Edwards said. "This initiative will benefit both veterans and communities and thereby our state."
Today, more than 8,300 Louisiana veterans and their dependents bring in more than $185 million in federal dollars to Louisiana's higher education campuses each year through GI Bill funding.
At each LaVetCorps veteran resource center, an LDVA-trained LaVetCorps navigator, who is an AmeriCorps service member, will serve as a peer mentor to student veterans in transition, increase student veterans' access to their earned federal and state benefits, and work to build a vibrant on-campus veteran community.
Currently, more than 840 LDVA employees devote each day to providing comprehensive care and quality service to veterans and their families with regard to education, benefits, healthcare, long-term care, and burial honors. Now, through LaVetCorps, Louisiana's student veterans and their dependents will have direct access to these services on campuses as well.
"To meet the needs of a changing economy, Louisiana must ensure its people achieve more than a high school diploma," said Kim Hunter Reed, Commissioner of Higher Education." We know students who have a sense of place, or someone who is their champion, are more successful than those who don't connect to someone on campus. Veterans are natural leaders and can undoubtedly assist one another in achieving the American dream of a college degree."
For more information on this initiative, go to www.vetaffairs.la.gov.