SU's Tyreiron Segue Headed to D.C. for Banking Internship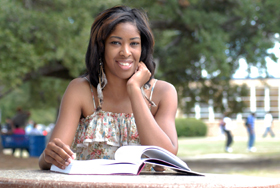 For many college students, the end of the fall semester means time to relax and enjoy the Christmas and New Year's holidays before gearing up for the spring semester.
But sophomore finance major Tyreiron Segue will be spending her break on an internship with the Import Export Bank of America in Washington, D. C.
The John McDonogh High graduate and New Orleans native, who is also a recipient of the Soledad O'Brien and Brad Raymond Foundation Scholarship, will spend two weeks learning the ins and outs of banking.
Segue said she learned about the internship through networking opportunities provided by the O'Brien scholarship.
"I went around asking if they offered internships and sent in my resume' and I got a call saying I got the internship," said Segue.
"I will be able to see if this (finance) is what I really want to do," said Segue. "I want to learn how everything works. What's the system there and what it would take to work there...I want to get insight into the field," add Segue.
She will also be heading to New York this summer for an internship opportunity offered through the O'Brien scholarship. Tyreiron will have the option of interning at television giant CNN or at an institution in her field.
Contact:
Edward Pratt
Southern University Media Relations
(225) 771-4545
LaKeeshia D. Giddens
Southern University Media Relations
(225) 771-2160