SU hosted Info, Communications Technology conference in Africa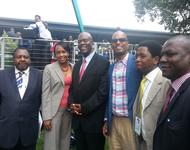 Southern University's International Center for Information Technology and Development recently hosted its Africa 2013 conference, in Harare, Zimbabwe. 
 Some 400 faculty members and students from over 30 countries participated in the event. This year's conference theme was "Consolidating Africa's Competitiveness through Bespoke ICTs."
The SUBR team was led by Professors Victor Mbarika, Chanika Jones and Oswald d'Auvergne.  The international event, funded by over a dozen organizations, the annual ICT for Africa Conference brings together stakeholders of the educational and industrial sectors in Africa.
Dr. Mbarika is executive director of the ICT and an Endowed Professor. Jones is a professor in Criminal Justice and d'Auvergne is a professor in Biology.
The focus of the conference is to determine how to transfer, diffuse and adopt the Information and Communication Technologies within the African context, the innovation and development of ICT solutions for and within this context, and the impact of ICT on society and of society on ICT.
There are other relevant normative, empirical, and theoretical concerns of ICT development, implementation, strategy, management and policy that are distinctive to Africa and associated developing economies.
For this year's conference, Zimbabwe's President Robert Mugabe was represented by his Deputy Prime Minister Professor Arthur Mutambara. Also in attendance was Zimbabwe's Minister of ICT, Nelson Chamisa, a major champion for Africa's ICT causes.
The ICT for Africa conference will be in Nairobi, Kenya in 2014.