SU celebrates 137 years, honors alumni elected officials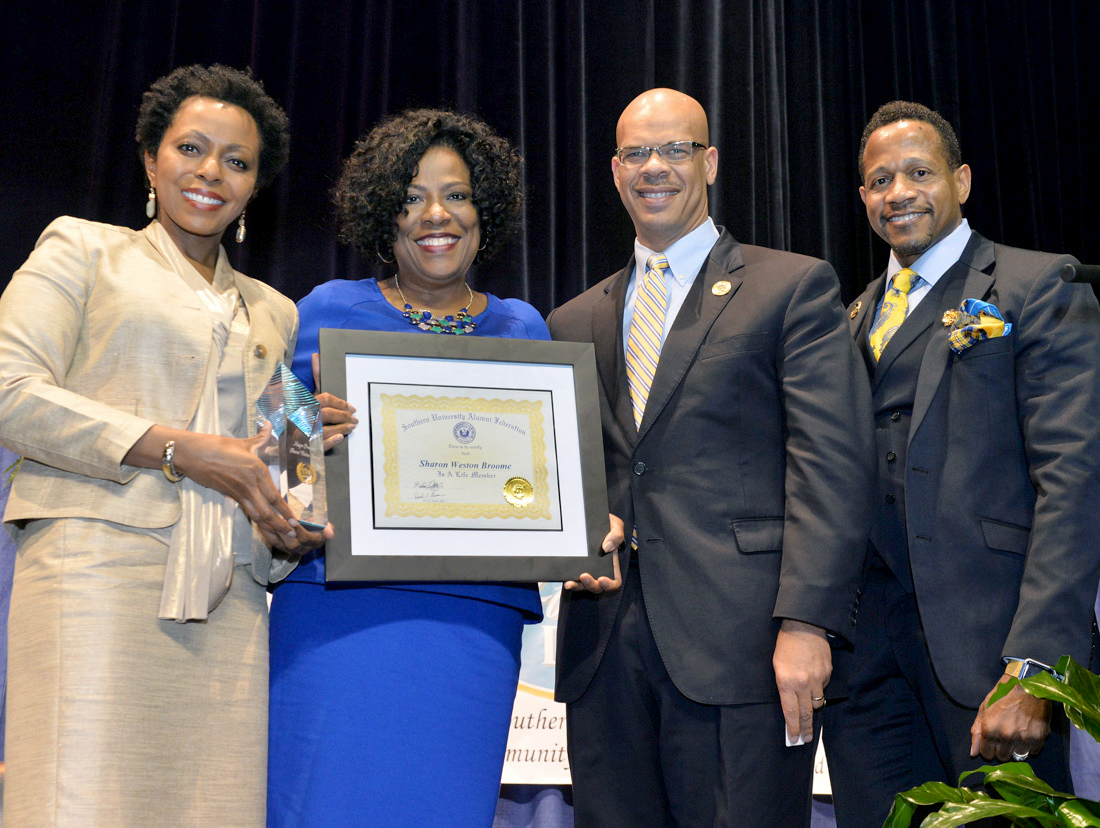 Southern University Baton Rouge, March 9, 2017, observed its annual Founders' Day to celebrate 137 since its establishment as university, and to honor employees celebrating 10, 20, 30, and 40 years of service, and to recognize Southern University alumni who are elected officials throughout the state of Louisiana.
The theme for the 2017 commemoration was "Southern University: Positively Impacting the Community, the State, the Nation, and the World."
The University was founded in New Orleans in 1880 and relocated to Baton Rouge in 1914. Events included the SU Laboratory School Pilgrimage to the Clarks' Gravesite, Founders' Day Prayer/Breakfast Convocation in the F.G. Clark Activity Center, and a SU Founders' Day Birthday Party in the Smith-Brown Memorial Student Union's Jaguar Square.
In keeping with the celebration of Baton Rouge's Bicentennial, the 2017 Southern University Founders' Day observance was one of the University's events to commemorate the founding of Baton Rouge. The city in January celebrated 200 years since its incorporation.
Sharon Weston Broome, the first female elected mayor-president of Baton Rouge-East Baton Rouge Parish, was the keynote speaker the mid-morning combination Community Prayer Brunch and Founders' Day Convocation.
The new Baton Rouge mayor began her remarks with a quote from Maya Angelou's poem, "Still I Rise."
Broome told the audience of students, faculty, staff, administrators, alumni, and friends of Southern University's strong history.
The University was founded with the core mission to educate Blacks in Louisiana. Jim Crow laws segregated universities, so Southern University was the sole hope for blacks seeking higher education two decades after the Emancipation Proclamation.
"Southern University provided opportunities for so many who couldn't find it elsewhere," said Broome,
She stressed the importance Historically Black College and Universities (HBCUs), especially Southern University.
"You are valued and needed," Broome said referring to SU and all HBCUs. "You've always been more than a choice and you must stick to the dreams, missions, and hopes of the distinguished founders," said Broome.
After her inspiring message, the Southern University Alumni Federation presented Mayor Broome with an Honorary Life Membership to the Alumni Federation.
During the convocation, more than 30 SU alumni who serve as elected officials were recognized and honored with a special certificate of appreciation.
Earlier in the day, pre-kindergarten through 12th grade Southern University Laboratory School students and guests gathered on the river bluff for its annual program. This year, SU alumnus, Dr. Rani G. Whitefield, who is also a member of the Southern University Board of Supervisors, was the speaker for the ceremony at the Clarks' gravesite.
For more photos from the day, Click Here!
Written by Alliyah Moore, Office of Communications Intern