SU Department scholarship supports MCAT fees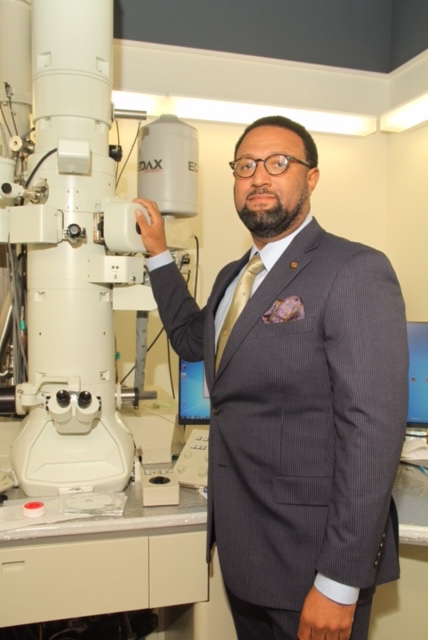 Southern University Baton Rouge chemistry professor Edwin H. Walker Jr. is championing a scholarship program that provides assistance to SU students taking the test for admission to medical school.
The Chemistry Program of the Department of Biological Sciences and Chemistry announces the availability of funding to pay for Medical College Admissions Test (MCAT) registration fees for a limited number of students who are interested in attending medical school after graduation. The scholarship, which is made possible by a Southern University System Foundation grant, is available to SU undergraduate or graduate level students and is open to all majors.
According to Walker, the BASF Endowed Professor of Chemistry, a small number of students apply for the MCAT and the Department's goal is to see the number increase, and the SU MCAT Scholarship is designed to do just that.
"This is a must have opportunity for students seeking medical school admission," said Walker. He explained that in many cases the registration fees are prohibitive and some students are unable to afford the costs. "Thanks to the SU System Foundation support, we can now offer our students some assistance for this prerequisite on their journey to a career in medicine."
The MCAT, developed and administered by the Association of American Medical Colleges (AAMC), is a standardized, multiple-choice examination created to help medical school admissions offices assess problem solving, critical thinking, and knowledge of natural, behavioral, and social science concepts and principles prerequisite to the study of medicine. Almost all U.S. medical schools and many Canadian medical schools require MCAT exam scores as part of admission applications.
Applications for the SU MCAT Scholarship will be accepted from now through Friday, March 31, 2017. Award notifications will be made on April 15, 2017, and funding will be available for test dates beginning in June. Students may access the application here: https://forms.office.com/Pages/ResponsePage.aspx?id=poU3rRAPZEihSyP469zhetpdiXG7TMlHpR75vpH2QL9UN1lKQlQ4Vk0yRlZUN0JPRElRM0c1T01DUC4u
For questions, contact the MCAT Scholarship Selection Committee by sending an email to chemistry@subr.edu.
MCAT Selection Committee Members:
Scott Wicker, Chair Biological Science and Chemistry
Edwin Walker Jr. Biological Science and Chemistry
Kinesha Harris Biological Science and Chemistry
Conrad Jones Biological Science and Chemistry
Byron Rogers Biological Science and Chemistry
Caroline Telles, Ph.D. Biological Science and Chemistry
Gloria Pendergras Student Affairs & Enrollment Management
Rachel Vincent-Finley Department of Computer Science