Businessman "C.J." Guidry makes $30,000 donation to SUBR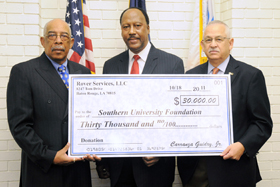 Local businessman Carranza "C.J." Guidry recently donated $30,000 to the Southern University-Baton Rouge campus.
Guidry, the owner of Rover Services, LLC and the popular Jaguar Journal sports radio talk show, said the donation is the first of several he plans to make in the coming years.
He said a portion of the donation is specifically designated to assist in providing scholarships for graduates from East Baton Rouge Parish public schools.



Contact:
LaKeeshia D. Giddens
Administrative Assistant
SU Office of Media Relations
Phone: 225-771-2160
Fax: 225-771-6262
E-mail: lakeeshia_giddens@subr.edu