SU campus featured on 2012 Baton Rouge YP REAL YELLOW PAGES companion DIRECTORY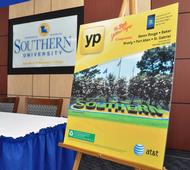 Southern University along with YP, formerly the Real Yellow Pages, today unveiled the 2012 Baton Rouge YP Real Yellow Pages companion directory cover showcasing Southern's mound at the Harding Boulevard entrance to the Baton Rouge campus.
A press conference, to unveil the phone directory cover, was held in the Magnolia Room of Mayberry Dining Hall.
"We are very excited to have Southern University featured on the cover of the 2012 Baton Rouge YP Real Yellow Pages companion directory," said Baton Rouge campus Chancellor James L. Llorens. "As we continue to grow and recruit students to our university, this will be of tremendous value. This recognition will not only remind people about our wonderful university, but can be extremely important to those still weighing their future educational opportunities."
The YP Real Yellow Pages companion directory, which features the mound with its hedges that for the letter Southern, is a smaller, more portable version of the traditional print directory designed for on-the-go consumers. About 171,500 of these have been produced for distribution. Delivery of this directory is also underway and continues through Oct. 8.
"Every year, we look for an image of an event or landmark that reflects this wonderful community and this year we have one of our most beautiful and important landmarks," said Dennis Dube, YP general manager-sales. "We are very pleased to feature this fine institution of higher learning on our directory cover. Not only is it a beautiful campus, but this university is tremendously important to the continued growth of Baton Rouge."
Southern has been recognized as one of the top 10 highest producers of bachelor's degrees awarded to African-Americans in the United States. Its graduates sit in the boardrooms of Fortune 500 companies, are successful entrepreneurs, educators, and work as scientists and engineers at major laboratories and industries around the world.
Remarkably for a small urban campus, 10 of its students have become generals in the United States military.