SU football alumni organization donates shirts to football team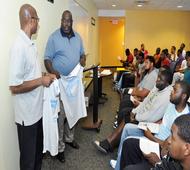 The Southern University Football Alumni Association (SUFAA) presented the Jaguar football team with workout shirts on May 2 during a team meeting.
Head Coach Dawson Odums turned to SUFAA for help to provide the team with the shirts to bring uniformity to the team's weight-room workouts. In the past, the players would come dressed in whatever they had which often included a hodgepodge of sweatshirts and t-shirts.
SUFAA President and former SU and NFL great Pastor Kenneth Ellis presented the new workout shirts at the team meeting. "The uniform shirts give the players a feeling of camaraderie while working out, making them one," said Ellis, a pastor at Bethany World Prayer Center.
Last week SUFAA invited Bethany WPC Associate Pastor Hank Henagan to speak to the team about living debt free and prosperous. One of SUFAA's goals is to help educate Southern players about life and what comes with being an athlete as a professional.
SUFAA was organized a year ago by SU football alumni who wanted to give back to the football organization and SU athletics. One of the organization's goals is to connect past, present, and future SU football players by providing social, academic, and professional assistance, as well as financial resources.
"We are building a solid foundation for the program," said Ellis. "Where they (the football program) see a need, we try and fill it for them."
SUFAA is currently raising money through its "$60K in 60 Days" campaign for purchase technology – laptops, software and licensing - for the football program.
For information on how you can help and about SUFAA, visit www.sufaa.org.