Retired SU bandleader Jackson to be honored at Honda Battle of the Bands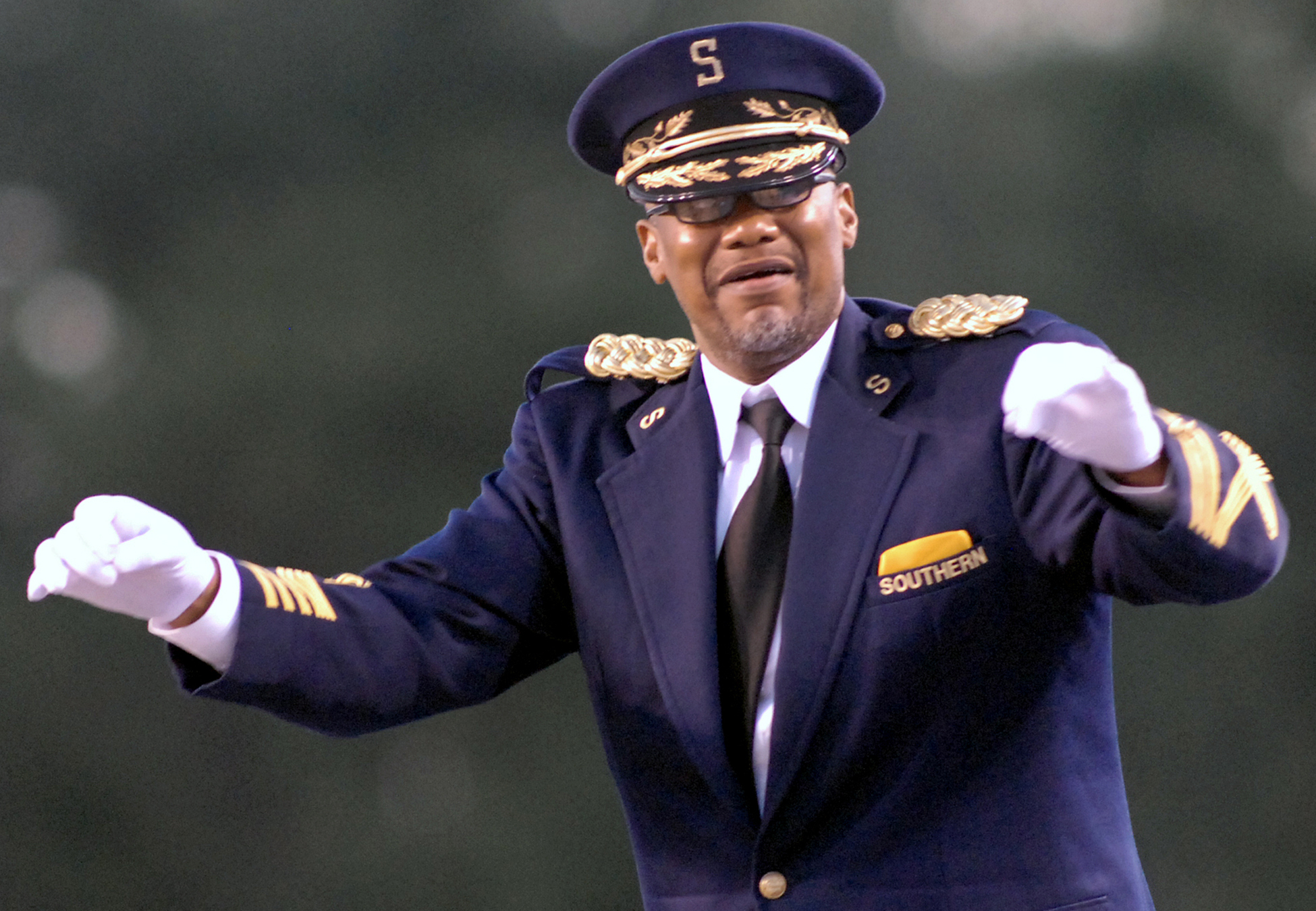 Recently retired Southern University Director of Bands Lawrence Jackson will be on the big stage Saturday when he becomes the 2015 Honda Battle of the Bands Invitational Showcase "Honoree."
"This is such a great honor, I don't know what to say," said Jackson. "This is both an honor and a blessing for me and for Southern University. And, it is an added plus that the Human Jukebox will also be performing."
The Honda Battle of the Bands, an 8-school band competition that includes SU's "Human Jukebox," begins at 3 p.m., January 24 in Atlanta in the Georgia Dome.
Jackson was among possible honorees nominated by current band directors representing the eight historically black college and university (HBCUs) performing bands. They also vote on the nominees. SU's Director of Bands Nathan Haymer nominated Jackson.
"I am so happy for Mr. Jackson. "He deserves this selection for what he has done for our marching band and for HBCU bands in general," said Haymer, who was assistant director of bands under Jackson.
Before the band competition starts on Saturday, Jackson will lead the mass band, a group of all participating bands, in performing the "Star Spangled Banner" and "Lift Every Voice and Sing."
"This is going to be awesome. Can you imagine leading more than a thousand musicians?" Jackson said. "This is so humbling."
"I felt that being able to lead the Human Jukebox as its director was the crowning achievement in my career. So many people made it worthwhile," he said. "To be chosen for this honor by my contemporaries means the work that our band has done over the years has been appreciated."
Jackson, who worked with Southern's band as assistant band director under the legendary Dr. Isaac Greggs, praised his former mentor and boss. "What can you say about his leadership? He was one of the best and he taught me well."
SU's band joins seven other schools in the Honda event, including Alabama State University, Bethune-Cookman University, Howard University, Jackson State University, North Carolina A&T University, Talladega College and Tennessee State University.
Haymer said, laughing, "You know it puts more pressure on us knowing that he will be there watching us. So now we really have to show up and show out,"
Jackson was director of bands at SU from 2006 to mid 2014. Jackson played in SU's band from 1971 to 1975. Nicknamed "Crowley" after his hometown in Louisiana, Jackson would win several band awards including, most outstanding, top grade point average and he was a section leader.
Under his direction, the band won several performance competitions, was selected by the U.S. State Department to represent the country abroad and performed at the 2013 Super Bowl in New Orleans.
At the end of the 2013 football season, the National Collegiate Athletic Association (NCAA) named its top college marching bands and the Human Jukebox finished second behind The Ohio State marching band
John Morris, the vice president of operations for Urban Sports Entertainment Group, had high praise for Jackson's selection. Urban Sports is a marketing company promoting the Battle of the Bands.
In a handwritten letter to Jackson, Morris said, "Thank you so much for all that you have done and the lasting impressions that you have made to the HBCU marching band community."
Jackson said he will enjoy his day at the Georgia Dome. "This is a blessing that involves so many people, including Dr. Greggs, my family, Southern University and student band members I have been fortunate enough to meet over the years. They all share in this."