SUBR College of Sciences and Agriculture students, chair earn honors during October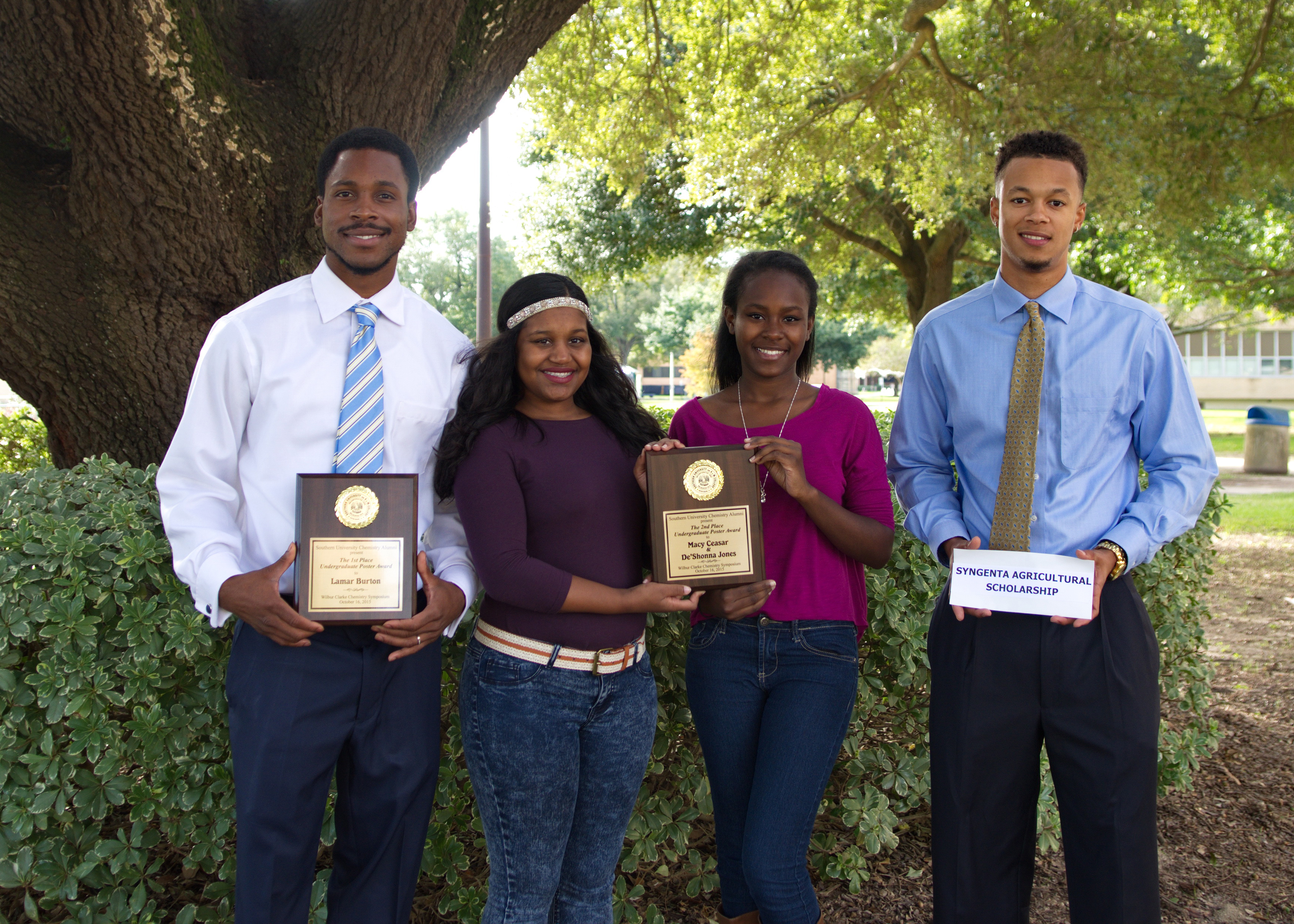 Lamar Burton, a senior in animal science major in the Southern University Baton Rouge (SUBR) College of Sciences and Agriculture (CSA), recently won first place in the undergraduate poster session at the First Annual Wilbur B. Clarke Chemistry Symposium held at SUBR last month.
His poster demonstration was entitled, "SU-IRES Sustainable Water Filter Design for Bongo, Ghana, Africa." At the same symposium, Macy Caesar and De'Shaunna Jones, CSA freshmen in animal science, placed second for their poster entitled, "Trash or Treasure: Chemical Composition and Value of Crawfish and Burnt Corn Gluten Meal."
Another CSA student Alonzo Harris Jr., a senior in agricultural sciences with a concentration in plant and soil sciences, was recognized as one of four recipients of a $1,000 Syngenta Agricultural Scholarship last month. Harris advances on to the national round where he will be eligible to receive $6,000.
C. Reuben Walker, chair of the Department of Agricultural Sciences and Urban Forestry, CSA, was recognized for five years of service on the USDA National Organic Standards Board (NOSB) October 29, 2015.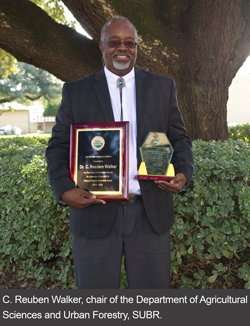 During his tenure, Walker served as secretary of the NOSB, chair of the Materials and GMO Subcommittee, and vice chair of the Livestock and Policy Subcommittee.
Some of his noted accomplishments included his contributions in developing improved animal welfare standards for organic livestock and support for organic aquaculture. These two standards should be codified implementation in the United States in 2016. Walker said he is appreciative of USDA Secretary of Agriculture Tom Vilsack for the appointment.
Also last month, Walker was a national recipient of a USDA National Institute of Food and Agriculture (NIFA) Innovative Projects and Programs Award. He and his team ("Bayou Recyclers") won in one of five national award competition categories. As a winner, USDA/NIFA paid for Walker's expense to Washington, D.C. to the awards ceremony October 22, 2015.
Through Walker, NIFA provided certificates of appreciation to a number of farmers, research associates, private industry entities, SUBR, and SU Ag Center individuals whom have assisted in the recycling and utilization of aquatic waste (AW) and burnt corn gluten meal (BCGM) in various animal and plant production systems.
Some of the measureable and innovative outcomes of AW are inclusive of SUBR and SU Ag Center first patent (#6777542) entitled, "Method and Apparatus for Reducing the Calcium and Phosphorous Ratio and Increasing Crude Protein in Shellfish Waste."
Walker is now focused on a second patent for the electric drying of AW.