Human Jukebox band member shares inspiration behind music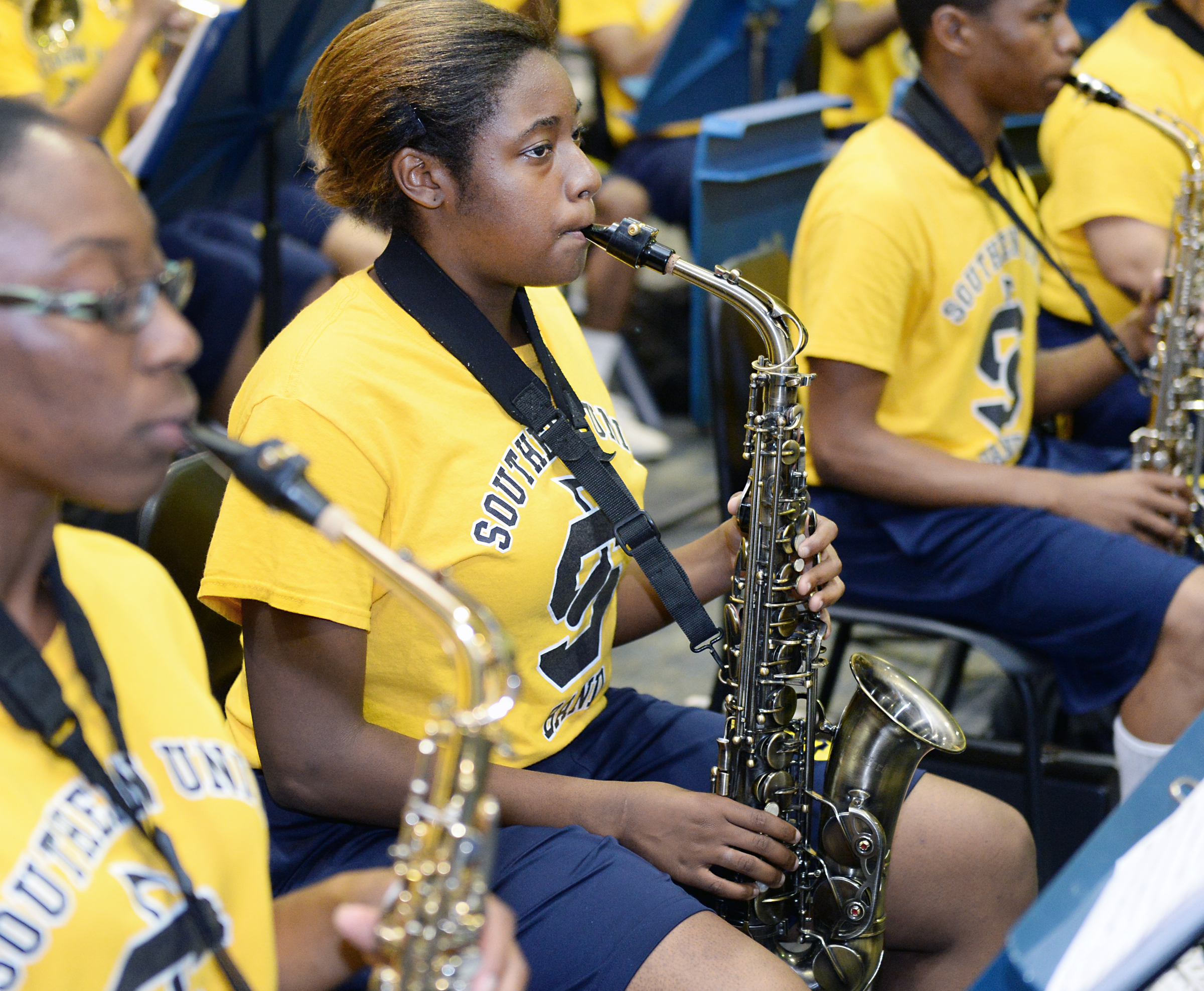 Baton Rouge, LA- Music is the essence which motivates some aspiring musicians. The influence often comes from musicians who have made their mark in the world of music and who are willing to give back to youth who wish to pursue the same dream as them.
A popular artist inspired Jasmine Batiste, a Southern University "Human Jukebox" Marching Band member. "It was Troy 'Trombone Shorty' Andrews," she said.
Andrews is a well-known trombonist and trumpeter from New Orleans. He has traveled the world on tour, performed on live stages, and made a guest appearance on the field for halftime along with the "Human Jukebox" during the 2012 Bayou Classic.
Batiste, assistant saxophone section leader in the SU band, has had a rapport with Trombone Shorty since she was 10 years old. Their relationship began during his work with a New Orleans jazz band known as the "Preservation Jazz Band," which Trombone Shorty was a part of when he was younger.
Andrews was the director of the band and was intrigued on how well Batiste played her instrument as a young girl.
The youngest member of the Preservation Jazz Band at the time, "Trombone Shorty" immediately requested permission of Batiste's parents to bring her on the road with them.
Batiste experienced performing with the band at Carnegie Hall in New York City, numerous Jazz Fests, and Voodoo Fest performances, to name a few.
Before her freshman year at SU, Andrews brought her to a local music store to purchase her own saxophone as a gift of recognition and motivation.
"Pick out what you like, because in order to get better, you have to have your own," said Andrews. "I know you will do well in the 'Human Jukebox,' I can't wait to see you perform; and whatever you need, just let me know."
Batiste and "Trombone Shorty" know how to keep their mentoring relationship afloat the best way they can. Although he is usually on tour, she knows that he will make a way for them to communicate.
"I have a lot of respect for him because he always motivates me to be more productive on my instrument, and stresses how important it is for me to practice," said Batiste.
Although "Trombone Shorty" is touring now, Batiste is looking forward to speaking to her mentor soon.
###
Written by Keith Joseph Morgan, II, SU Media Relations & Publications Intern