SU Homecoming Art Exhibition honors alum, former SUSLA art chairman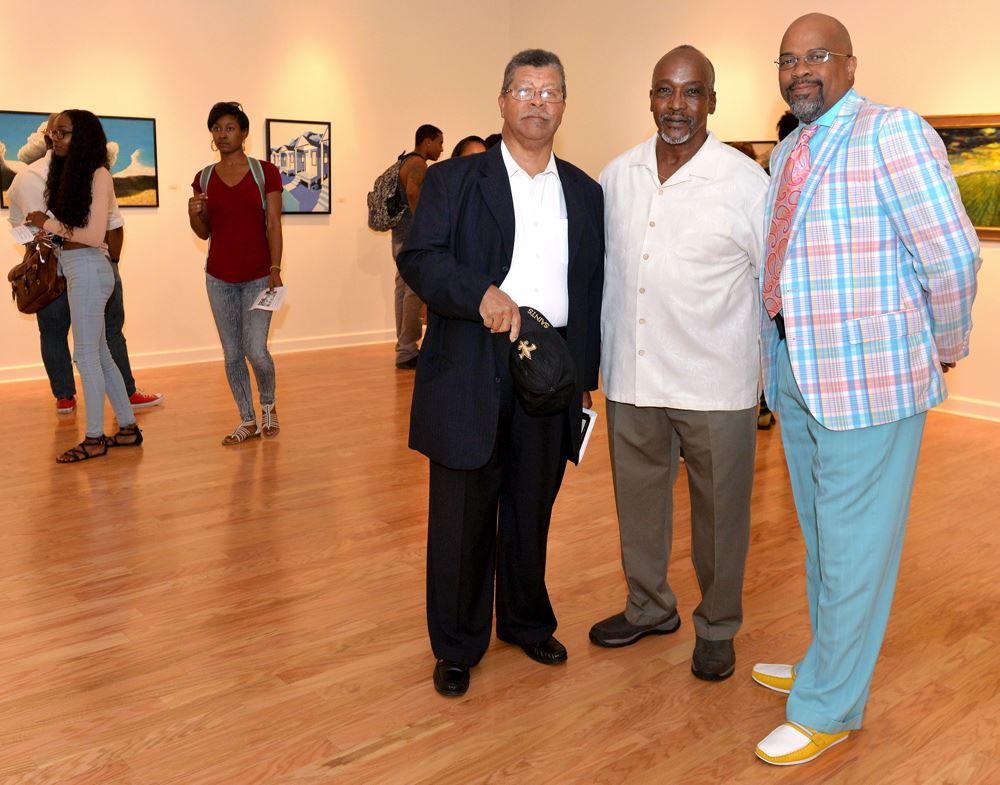 On display in the Visual Arts Gallery in Frank Hayden Hall at Southern University Baton Rouge is the 8th Annual Homecoming Art Exhibition. The exhibit features works from seven members of the Roosevelt Daniel Art Guild. The Guild is group of artists from Shreveport who studied with and is paying tribute to the late professor Roosevelt Daniel. Daniel was the founding chairman of the Fine Arts Program at Southern University Shreveport (SUSLA).
The SU Baton Rouge Department of Visual and Performing Arts hosted an opening reception for the annual exhibition Monday, October 17. Click here for photos.
According to Claude L. White Sr., president of the Guild, it was Daniel's desire to bring artists within the community together to promote their continued work in drawing and painting, and in the creation of art to inspire progressive development while preventing regression and long "dry spells," when artists do not practice the creation of art at all.
To do this, he [Daniel] wanted to encourage as many artists as he could to begin painting at least two or three works a month and to come together to critique each other's work in order to promote continued personal growth as artists. By this, he believed that everyone who earnestly participated would be helped to grow and improve in their work.
"Having discovered as Leonardo da Vinci that drawing and art are the doorways to education and seeing, Roosevelt Daniel began to discover that he could excel in all the academics. He graduated from high school with honors and went on to college at Southern University Baton Rouge on a scholarship in the sciences (chemistry). However, it was not long before he met the head of the art department at Southern, professor Jean Paul Hubbard. Daniel's love for art and drawing became obvious to Hubbard and others. The art instructors as well as the science, all recognized that Roosevelt's calling was in the fine arts and art education. . .."
"During the last three years of professor Daniel's life, I was blessed to spend a great deal of time with him and during that time we talked about many things and we worked on several works of art, the last of which was my painting of Roosevelt Daniel - The Artist at Work (Included in the exhibition)," said White.
The mission and purposes of the Roosevelt Daniels Art Guild are: to raise awareness of visual arts locally and globally; to encourage the development and growth of local artists and the creation of visual arts; to enhance and promote educational, recreational, and economic opportunities for local artists; and to increase and strengthen artists' collaboration and communication among local artists.
One of the Guild's several goals include training young artists in the community and to give them tools that will enhance their artistic capabilities.
Special to the exhibit is a painting by Daniel, entitled Sunday Service, lent by his wife.
The exhibition extends beyond homecoming week. The last day to view it is, November 17, 2016.
Gallery hours are Monday through Thursday, 10 a.m. - 4 p.m. Contact Robert Cox, associate professor and gallery director, 225-771-4103, robert_cox@subr.edu.