Southern University to host AIDS Memorial Quilt exhibition, events this week beginning with National Black HIV/AIDS Awareness Day on Tuesday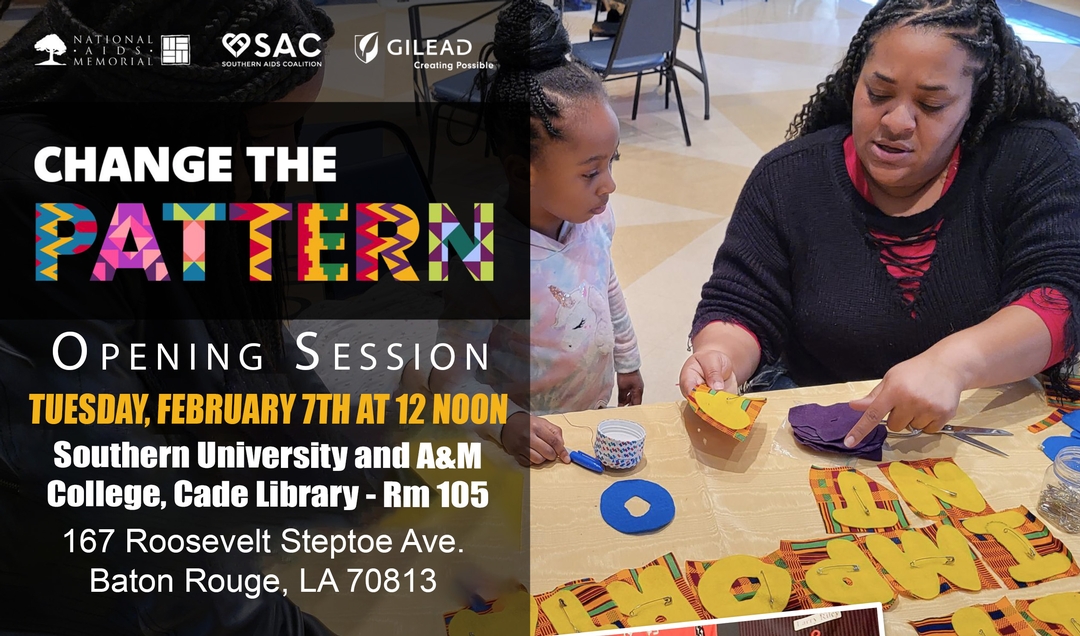 On Feb. 7 -11, the National AIDS Memorial, Southern AIDS Coalition (SAC), and Gilead Sciences will showcase the AIDS Quilt and hold HIV/AIDS awareness events at Southern University and A&M College. Nearly 175 panels will be displayed, including one sewn by Civil Rights icon Rosa Parks. The opening session will be held in the John B. Cade Library at noon on Tuesday, Feb. 7. Speakers will include Louisiana State Rep. Barbara Carpenter and David Wyley Long of the Southern AIDS Coalition.
The multi-day AIDS Quilt displays and events, taking place during Black History Month. Events include quilting workshops, educational forums, and student activities.
"We are so honored to partner with these two distinguished HBCUs to bring the AIDS Memorial Quilt to Louisiana during Black History Month," said Dafina Ward, executive director of the Southern AIDS Coalition. "The Black community faces systemic struggles that we can no longer ignore, not just in the fight to end HIV, but across numerous health and social justice issues. We will 'change the pattern' by having honest conversations about these issues, demanding change through our voices and raising awareness through education, and sharing our own stories without shame."
Visitors of the AIDS Quilt displays — one of the largest ever in the state — will see hand-stitched panels honoring Black and Brown lives lost to AIDS, many of which were made by Louisianans to honor and celebrate the stories of their friends and loved ones. Newly crafted Quilt panels recently made by residents and HBCU students will be displayed publicly for the first time, introducing the Quilt's importance to a new generation while spreading awareness of how HIV affects lives across the South.
Throughout the week at Southern, students and area residents are invited to come together in fellowship and celebration for quilting workshops to make new panels for the Quilt for Louisianans who have been lost to HIV and AIDS so that their stories are forever shared and remembered within the fabric of the 54-ton national treasure. Free educational forums, movie nights, and health information will help spark conversation to reimagine the fight to end HIV/AIDS in Louisiana and reach communities that continue to be most impacted today.
In addition to Gilead Sciences as the presenting partner, Louisiana community partners include Dillard University in New Orleans, Southern University, Chevron, and Blue Cross and Blue Shield of Louisiana. The Quilt event will also have a presence at Dillard University.
Events at Southern include:
February 7-11
10 a.m.-5 p.m. Quilt Display
11 a.m.-3 p.m. Quilting Workshops (excluding Saturday)
Tuesday, February 7
National Black HIV/AIDS Awareness Day
Opening Session with Student Conversations about HIV/AIDS and Quilt Exhibition Noon-1 p.m.
Friday, February 10
Change the Pattern on the Yard
Student event with DJ and other entertainment
John B. Cade Librar
3-5 p.m.
Surviving and Thriving Voices: The Black Community and AIDS
Film Screening and Conversation
John B. Cade Library
5:30-6:30 p.m.
To participate in quilting workshops at Southern, register at eventbrite.com/e/523135862447. To volunteer, register at CTP Louisiana Volunteer Registration. For all events in Baton Rouge and New Orleans, go to changethepattern.org/LA.