Doggett earns First-Team All-SWAC, Beltran goes Third-Team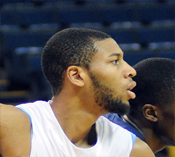 Senior forward Quintion Doggett was selected to the First-Team All-SWAC for the 2011-12season.  Doggett, a Richmond, Va. native, averaged 12 point and nearly 8 rebounds per game. The 6-8 forward's play was key to the Jaguars win in their final game of the season on March 3 when he scored 22 points and grabbed 10 rebounds.
He led the Jaguars in their rebirth this season as they finished with a 17-14 record and a 13-5 record in conference play.
Doggett's teammate, Derick Beltran, also earned All-SWAC third team honors, helping to lead the Jaguars to a surprising second place finish under first-year head coach Roman Banks.