Slave narratives are now available online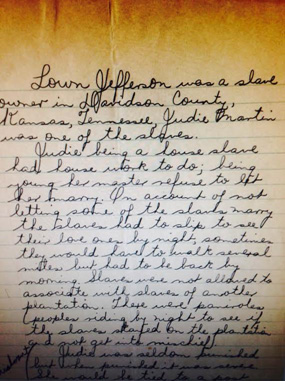 Have you ever wondered about the thoughts of men and women who were enslaved in America? How did they feel about the forced separation of their families, the brutality of slavery and living with no hope of freedom?
If so, you can delve into accounts of those African Americans in the "Slave Narratives," a series of letters and documents of interviews with slaves, that are now available on the Southern University John B. Cade Library website.
"Prior to the narratives being available on the school library's website, they were virtually inaccessible to those who did not work in the library," said Eddie Hughes, Head of Special Collections. "Although they did exist physically, the narratives were archived, yet unorganized, in boxes on the third floor of the library until the fall of 2015."
In order to access files, visit www.lib.subr.edu, and click on the "Slave Narratives Collection" graphic on the right side of the page. Next, click "opinions regarding slavery: slave narratives."
From there, choose a specific narrative based on state and or date. At that point, the viewer should be able to view information about specific time periods and places presented by slaves in selective narratives.
You can see documents that focus on the thoughts of slaves about slave owners, abuse, clothing, religious life, superstitions and religion in their communities.
###
Story by Judson Meshack