Lacumba Speaks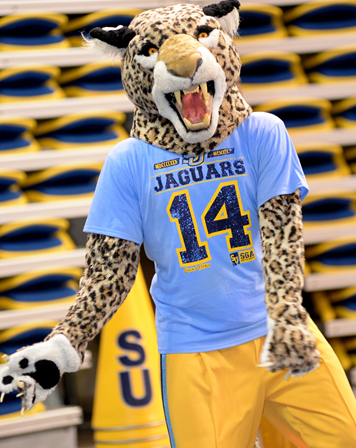 Baton Rouge, LA---Southern University's mascot, Lacumba, is thrilled to be a part of this fall's football season.
SU's mascot is ready to enhance the school spirit at Southern University. "My goal is to be the forefront of spirit," Lacumba said.
Lacumba is known for her involvement around the community. Along with performing with SU's cheerleaders at football games, she also visits high schools in the Baton Rouge area to show her Jaguar pride.
Although Lacumba was voted "Best Mascot" last year, she feels like she still has big shoes to fill this season. "A lot of people are coming for my spot," she said.
To be selected as SU's mascot, candidates must audition with a 2-minute skit with props. Mascots also audition before the cheerleaders, so they set the tone.
This past Saturday, Lacumba got to experience SU's first home game against Jackson State University.
"The Jackson State game was really exciting. Being on the visitors side was my highlight because I got to antagonize their fans," Lacumba said. This set the tone for how she believes the rest of the season will go.
Lacumba receives the same uniforms as the cheerleaders. She said her favorite uniform is the faded blue and white one with the word Jaguars across it.
Lacumba loves when the "Human Jukebox" performs. Look out fans; she may have a surprise for you this upcoming Bayou Classic.
Lacumba's favorite part about being the mascot is being able to freely dance, since no one knows her identity. She said that being the mascot is a personality thing. "Your personality on the outside must match your true personality on the inside," she said.
Lacumba is looking forward to this Saturday's UGA vs. SU game at Sanford Stadium.
"I just have to come with that mentality that we're the best," Lacumba said. "We're here to win and we cannot accept anything less than greatness."
###
Story by Imani Williams