College Goal Sunday
Office of Student Financial Aid tries to prepare incoming Freshmen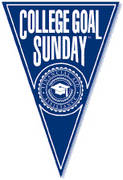 Baton Rouge will host Louisiana's College Goal Sunday which will be held on February 16, 2014, from 2-4 p.m at the P.B.S. Pinchback (Engineering) Building, High Tech Room (Room #123), Robert E. Smith Drive.
The purpose of College Goal Sunday is to provide students and their families with free professional assistance in completing the primary student financial aid form, the Free Application for Federal Student Aid (FAFSA).
Completing the FAFSA is the first step to take in order to receive most forms of federal student aid including Pell grants, low-interest federal student loans and to participate in the federal Work Study program. In addition, several state student financial aid programs, including the Taylor Opportunity Program for Students (TOPS) scholarship program and the Louisiana Go Grant need-based aid program, require completion of the FAFSA in order to qualify and access funds.
College Goal Sunday is a national program designed to help students navigate the paperwork barriers that stand between them and the money they need to attend college. Completing the form correctly with detailed income, tax and other information can be a difficult task. On College Goal Sunday, financial aid professionals from Louisiana colleges and universities will be on hand to provide free line-by-line assistance.
As an added bonus for participants, education scholarship funds have been donated to further aid in the funding of a student's education. Louisiana College Goal Sunday participants can submit their names for a drawing that will award one such scholarship per location.
Anyone, from soon-to-be high school graduates to returning non-traditional students, who is planning to attend a two or four-year college or university or community or technical college during the 2014-2015 academic year can benefit from attendance.
Pre-registration for the event is encouraged to ensure that each site has the resources needed to assist all participants. To pre-register, log on to www.osfa.la.gov and "click" on the Louisiana College Goal Sunday link. The website will also provide detailed information including specific records and documentation that participants will need to bring to the event.