Center for Regenerative Agriculture and Bioenergy
Center for Regenerative Agriculture and Bioenergy (CRAB)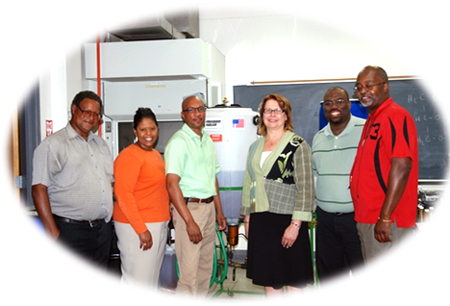 History
The Center for Regenerative Agriculture and Bioenergy (CRAB) was formed in the former College of Agricultural, Family and Consumer Sciences (CAFCS) in 2010. The Center is now located in the College of Sciences and Agriculture. The Center's "full force mission" has been slowed due to the director being appointed to serve a five year term on the USDA National Organic Standards Board (NOSB) by the Honorable Secretary of Agriculture Vilsack in 2011. The director's last official meeting on NOSB will be October 24-28, 2015. An array of activities that are inclusive and pertains to the CRAB mission. It is often said that, "sustainable agriculture maintains, while regenerative agriculture renews and regenerates our agricultural resources (soil, plants, and animals) on our farms, local environments, communities, and world."
The use of science, technology, engineering, and mathematics (STEM) is being parlayed in science, technology, engineering, agriculture, and mathematics (STEAM) as a central theme of the Center's activities. The Center's activities are stakeholder driven and heavily student centered. The Center seeks to establish an Endowment Fund honoring P.B.S. Pinchback (legislative founder of Southern University and A & M College), Dr. George E. Robinson, Jr. (a pioneer seeking and securing 1890 USDA land grant funds in the early 1970's), and Frank Stronach (founder of Magna Corporation whom is credited for inspiring the project director organic agriculture interest during and since the Canadaville (Magnaville) project.
Mission
To build Southern University and A & M College capacity in regenerative agriculture and bioenergy for the benefit of an array of stakeholders inclusive of students, farmers, private industry, federal/state agencies, and 1890 and 1862 partnerships of collaborations and cooperation's.
Goals
The goals of CRAB are:
1. To provide teaching, research, and outreach activities pertaining to regenerative
(inclusive of conventional and organic) agriculture and bioenergy,
2. To establish a solar organic farm on campus,
3. To research and demonstrate mutually beneficial coexistence farming approaches, and
4. To provide a pipeline of students to USDA and private sector.
Contact Information
Dr. C. Reuben Walker
Chairman of Agricultural Sciences, Urban Forestry, and Natural Resources
Fisher Hall, Rm. 118-A
Southern University and A & M College
Baton Rouge, LA. 70813
Phone Numbers: 225-771-3206(O)
337-344-8634(CP)
Emails: calvin_walker@subr.edu
reuben33c@aol.com