Southern physics student wins national ETS scholarship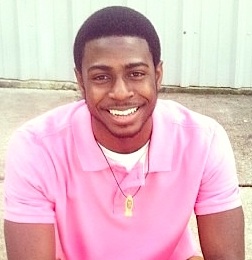 Southern University's André Spears has been named a recipient of the 2014 ETS Presidential Scholarship for HBCU students.
Spears, a junior physics major, is one of only eight recipients of the national award. He is the fourth SU student since 2011 to receive the award in competition with students from historically black colleges and universities across the nation.
The Princeton, N.J.-based ETS (Education Testing Service) scholarships recognize rising juniors and seniors who have established a record of outstanding academic performance, both overall and in their major field. They must also be recommended by their college president or chancellor.
Spears met all criteria with a 3.5 grade point average while being involved in co-curricular activities such as research, internships and volunteerism.

The awards are merit-based full-tuition scholarships for the 2014-15 academic year.
The Kenner native is currently participating in a 10-week internship sponsored by the Minority Serving Institutions Partnership Program at Los Alamos National Laboratory, in Los Alamos, N.M. He is conducting fuel cell research in the Materials Physics and Applications Group at Los Alamos.

"I was overwhelmed when I learned that I was a recipient of the award," Spears said. "I feel blessed and honored to receive such a prestigious and coveted award."

Spears said a number of people at SU have played critical roles in his success, including former Chancellor Dr. James Llorens, Interim Chair of the Physics Department Dr. Diola Bagayoko, Bagayoko's assistant Lashounda Franklin, and Interim Associate Vice Chancellor Dr. Ella Kelley.

He said being involved in SU's nationally recognized Timbuktu Academy, which emphasizes the STEM (Science, Technology, Engineering and Math) subjects, "has made many opportunities available to me that I would not have been aware of otherwise."

"I am very thankful to the faculty and staff of my department and all the work they do to help students," he said.

###