Rev. Wright: Your help doesn't come from guns, government. It comes from the Lord.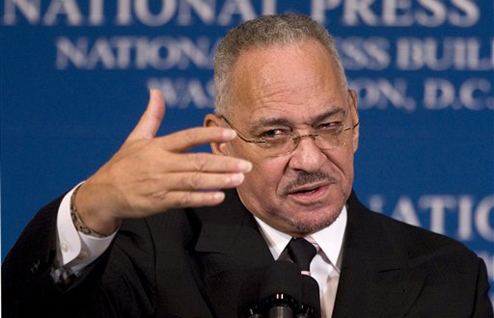 The Rev. Jeremiah Wright, the former pastor of President Barack Obama, spoke Thursday, Feb. 19, in the Smith-Brown Memorial Union on Southern University's campus.
"Your help doesn't come from the government and guns. It comes from the Lord," the Rev. Jeremiah Wright told a standing room audience today at Southern University.
Wright, the former minister of President Barrack Obama, told the crowd in the Cotillion Ballroom, that they should be more prayerful and take care of their own problems without depending on a government that may never help them.
He recounted injustices heaped on blacks from biblical days, through slavery, forced segregation, the civil rights movement and through the present. He pointed out the recent killings of young unarmed blacks by police and other killings of blacks by whites where verdicts have been challenged by the African-American community.
Dr. William Arp, dean of the College of Social and Behavioral Sciences, said Wright was invited to speak because "I think Pastor Wright will deliver a very interesting and powerful message."
Wright was Barack Obama's minister until Obama's 2008 run for president. Then-Illinois Sen. Obama distanced himself from Wright after comments from the minister's 2003 sermon surfaced. Wright said, in part, "The government gives them the drugs, builds bigger prisons, passes a three-strike law and then wants us to sing 'God Bless America.' No, no, no, God damn America..."
Obama distanced himself from Wright, calling the minister's comments "divisive and destructive."
His supporters say three-minute clips were taken out of context and shown by the media to mar a lifetime of sermons filled with inclusive messages. Others say the uproar also shows a misunderstanding of Black theology and the Black church.
Wright comes from a family of pastors. His father, the Rev. Jeremiah Wright Sr., his grandfather and an uncle were pastors.
After high school, Wright entered the seminary at Virginia Union University because he felt that the church wasn't doing enough to support the civil rights movement.
Wright left school for six years to serve in the Marines and the Navy. He was a cardiopulmonary technician in the Navy.
After military service, Wright continued his education at Howard University. He would go onto to become pastor of Chicago's 87-member Trinity United Church of Christ in 1972. The church's motto was "Unashamedly Black and unapologetically Christian." By Wright's retirement 2008, Trinity had more than 8,000 parishioners, including Oprah Winfrey and the rapper Common, and operated dozens of outreach ministries.
The College of Social and Behavioral Sciences is partnering with the Department of History and PICO - Louisiana to put on the event. PICO, or People Improving Communities through Organizing, is a national faith-based organization focusing on creating solutions to problems facing urban, suburban and rural communities.
Wright's appearance was paid for by private donations.