College of Business Center wins best practices award at national conference
Recently, the Southern University College of Business Center for Economic Development Administration (EDA) won the Judges Award for Overall Best Practices at the University Economic Development Association (UEDA) National Summit in Milwaukee, Wisconsin. The competition included higher education, private sector, and community economic development stakeholders. During the competition, 80 universities in five categories competed to bring the best innovative program to make a difference in economic opportunity. Southern University competed in the summit as the only HBCU with an EDA grant with the U.S. Department of Commerce.
"This program has been provided by the University as an outreach to the community," said Donald Andrews, dean of Southern University's College of Business. "We have put on the neighborhood developers program, which includes 10 instructional sessions that cover topics related to economic development, real estate, financial literacy, and project management. It serves as an opportunity for North Baton Rouge to participate in the development of their own communities."
The award-winning research project, Creating Neighborhood Developers, is an accredited program through the College of Business at Southern University. Presented by Sung No, assistant professor, Andrews, and Eric Porter, senior managing partner of ComNet, LLC, the project is a public and private partnership through a cooperative endeavor agreement between the University, EDA University Center, and ComNet, LLC. It has been adopted as a model by many communities across the state to decrease the high number of blighted properties, create developers and homeowners that decreases crime rates and improve neighborhood climate, and create economic development.
"In creating this project, it was modeled after a previous program that was used during recovery efforts of Hurricane Katrina in New Orleans," said Porter. "As a Southern University alumnus, I wanted to co-partner with the University to spur economic development and create an 'entrepreneurship ecosystem' within North Baton Rouge."
The goal of the UEDA is to expand economic opportunity in our communities by leveraging research, community resources, campus planning, talent development, and technology commercialization. UEDA's mission is to serve its members by advancing knowledge and practice in economic engagement by institutions of higher education.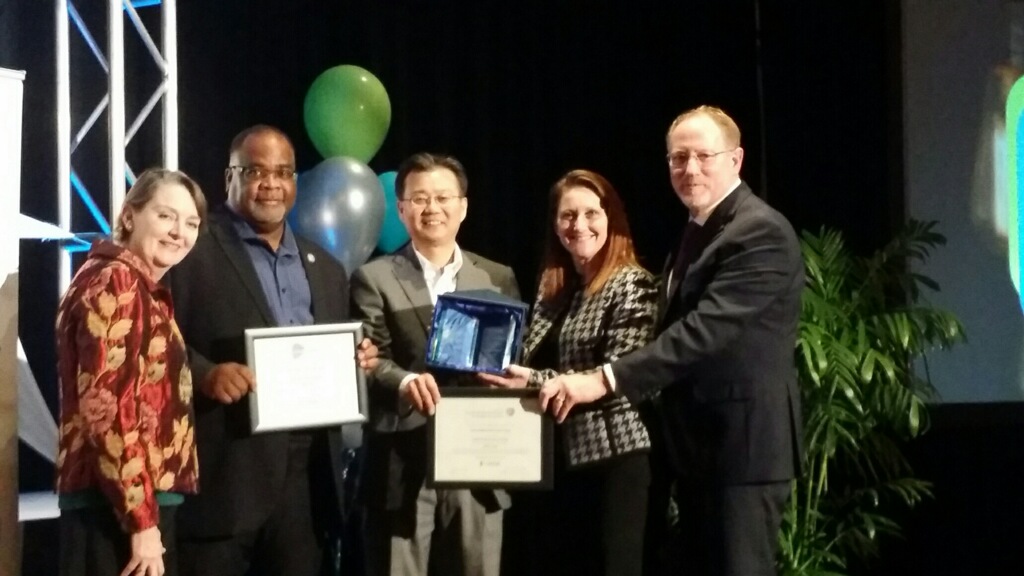 Eric Porter, second left, and Sung No, middle, pictured with UEDA representatives.