Eleven-year-old prodigy commits to Southern University, associate vice chancellor of Enrollment Management appointed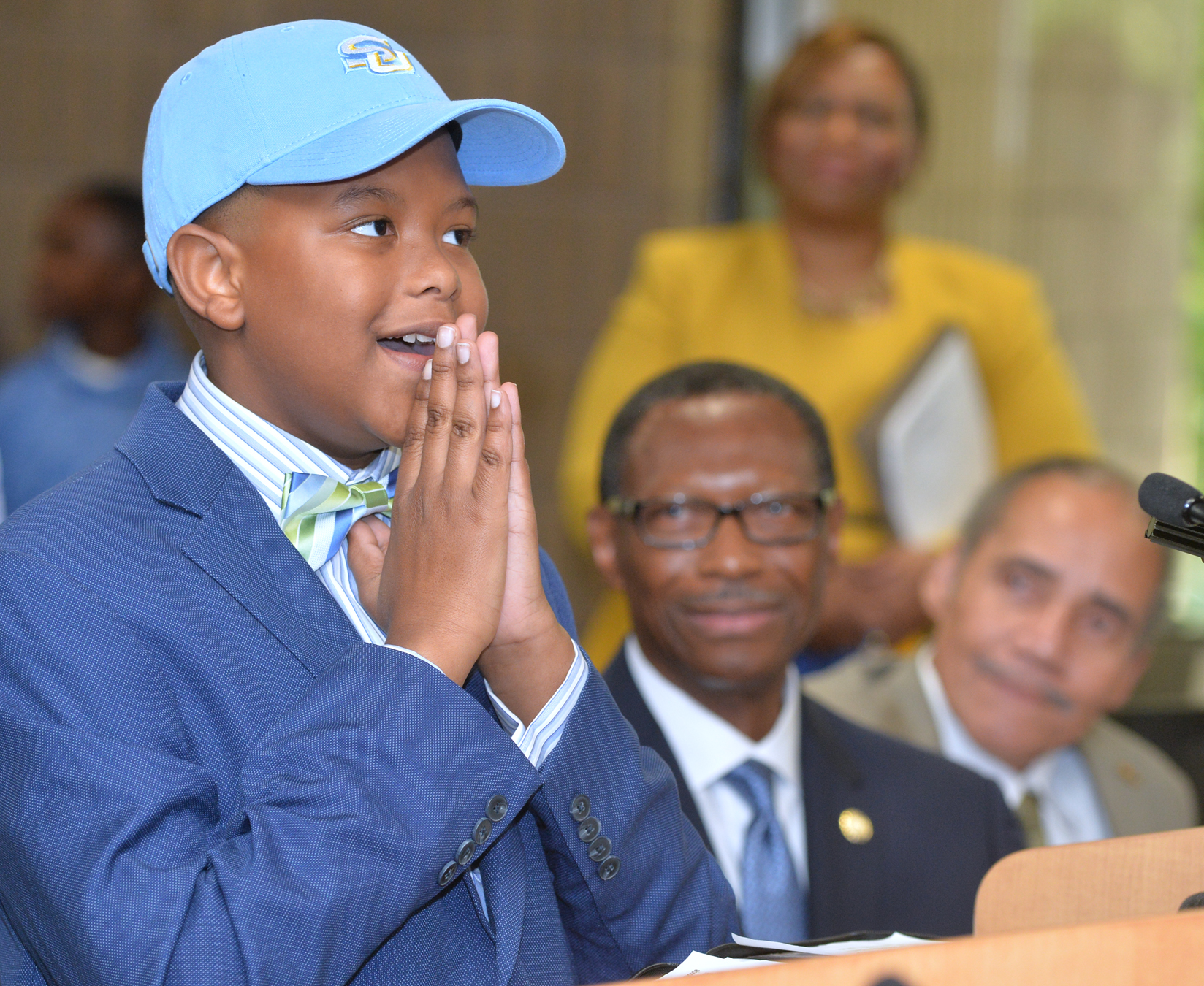 "It's great to be a third generation Jaguar. I am really happy for this opportunity," exclaimed Elijah Precciely, 11-year-old incoming physics/mechanical engineering student at Southern University.
At Friday's board meeting, Precciely officially committed to Southern University and will receive the J.S. Clark Presidential Scholar Award, which is provides a full scholarship.
Elijah, along with his parents, Pamela and Stephen Precciely, expressed their gratitude for this opportunity and their love for Southern University with comparisons to the fictitious country of Wakanda from the popular movie, Black Panther.
"Southern University's vibranium is in the soil of the Bluff," Stephen Precciely said. "The university truly produces greatness."
"When I reflect upon this award, it means legacy," Elijah said amid a standing ovation.
The new Jaguar continued to thank and show appreciation for professors, mentors, and family members that have supported and propelled him to this moment.
Another addition to Southern University is Manicia Finch, newly approved associate vice chancellor of enrollment management. Finch has more than 11 years of experience in enrollment management and student affairs at other institutions. She is currently the director of admissions of Bethune-Cookman University. Previously, she has held appointments at Stillman University and Alabama A&M University.
Other appointments are Bijoy Kumar Sahoo, senior associate vice-chancellor for academic affairs, Edward Willis, assistant vice-chancellor for Student Success, and Morkeith Phillips, was appointed director of the Honoré Center for Undergraduate Student Achievement at Southern University New Orleans. The Center, with support from the Kellogg Foundation, the state and other entities, aims to reverse the trend of fewer black males graduating from college while also increasing the number of male classroom teachers in urban settings. The program recruits seniors from New Orleans area high schools to received support and resources to complete their college education at SUNO. Each candidate agrees that, in return for the support and resources invested in him, he will serve at least two years as a local classroom teacher. The Center is named for retired Lt. Gen. Russell Honore, decorated military strategist and Southern alumnus.
Armond Duncan, 2017-2018 student government president and board representative, was recognized for his achievements and given well-wishes by various board members. Duncan will be relocating to Washington, D.C., to work at the corporate headquarters of Lockheed Martin in the human resources department. He will then pursue his master's in business administration.
In a special presentation, the Board of Superviors' May "Above and Beyond Award" was presented to Clourth Wilson, assistant director of Information Technology and Resource Management, Alice Douzier, Information Technology Project manager, and Marcus Brown, video multi-media specialist, who are all staff members of the Southern's Division of Information Technology.
"These individuals go the extra mile each month. They continue to keep us connected to the digital age," expressed Ann Smith, Board chairwoman.
Wilson was very appreciative of this award. "We do all we can to ensure the technology is up and running during each meeting," he said. "Whenever our services are requested, we make sure that Southern University looks good on all fronts."
The Board approved the contract for medical marijuana services with Advanced Biomedics. Southern joins Louisiana State University as the first institutions to in the U.S. — per Louisiana Legislature action in 2017 — to research and grow medical marijuana.