Green Enterprise 'College to Career' cannabis industry tour launches at Southern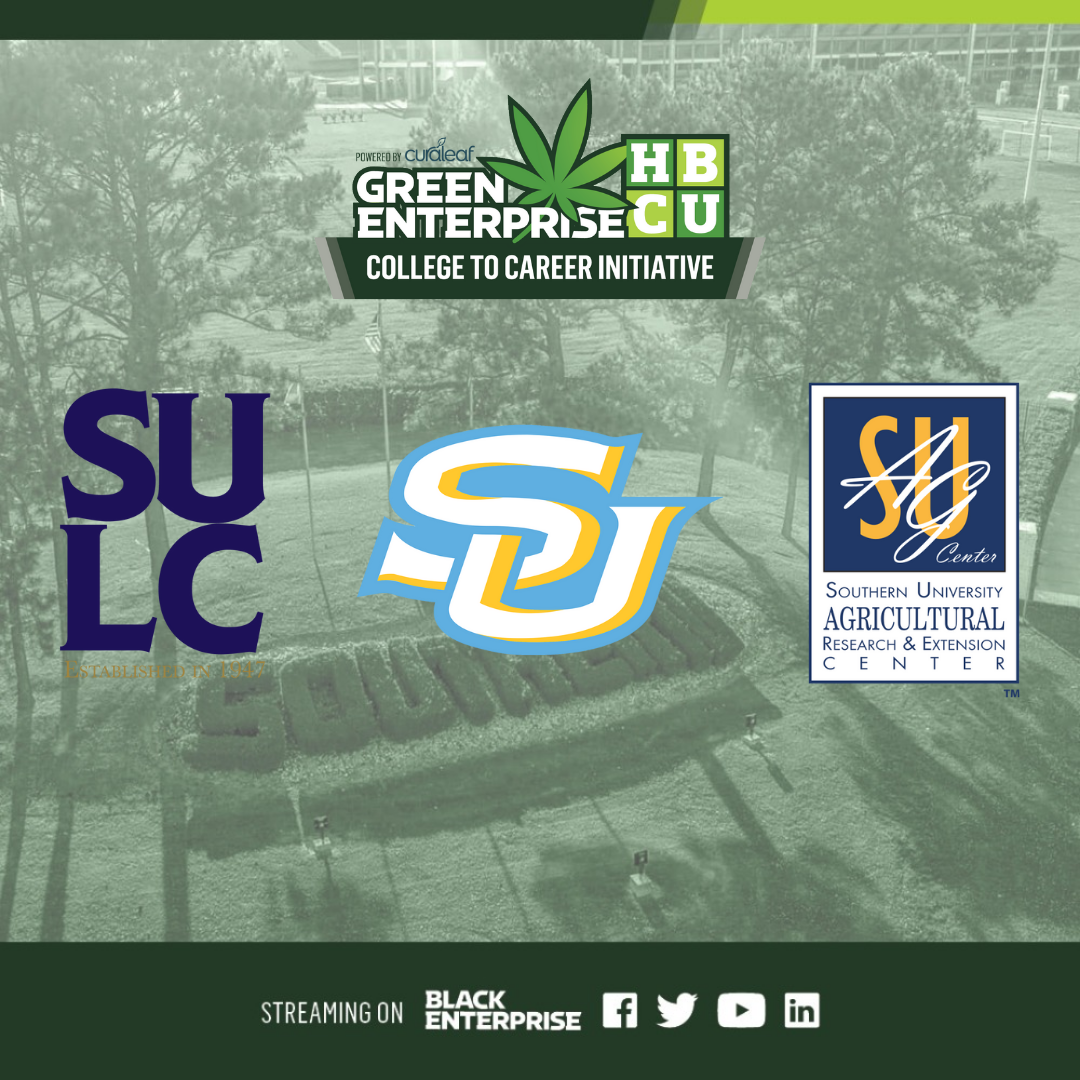 Southern University's Baton Rouge landmass is the first stop for Green Enterprise's College to Career initiative tour. Green Enterprise, produced and operated by Digital Venture Partners, former NBA player Chris Webber's Players Only Holdings, and Black Enterprise. The series of on-campus events will bring together entrepreneurs, state officials and thought leaders to discuss solutions to create a point of entry in the emerging cannabis industry, as well as meaningful pathways to success.
The events, content and programming will take place throughout the remainder of 2022, and feature a combination of conversations and lectures covering a wide range of topics, from entrepreneurship to cannabis marketing to building an inclusive industry, beginning in partnership with the Southern University System, the only system of Historically Black Colleges and Universities in the nation. Participating campuses are the Southern University Agricultural Research and Extension Center, which holds one of only two licenses to grow medical marijuana in Louisiana; Southern University Law Center; and Southern University and A&M College. The inaugural event takes place on February 18-19, at the Southern University Law Center.
"As part of our valued partnership with Ilera Holistic Healthcare, Southern became the first HBCU to launch a medicinal marijuana line of products," said Ray L. Belton, president of the Southern University System and chancellor of Southern University and A&M College. "We are pleased to join with Green Enterprise in expanding the field of opportunities for others in this innovative space that will spark important dialogue and provide access to invaluable resources and networking."
The presenting sponsor, Curaleaf, will facilitate special conversations, initiatives, and leave-behinds to begin in-earnest partnerships between cannabis operators and HBCUs, fostering an effective talent pipeline into the industry.
"The Southern University Law Center is proud to host this Cannabis Symposium that will help provide training and education to a diverse group of students and community members about an important emerging field that has numerous opportunities pertaining to law and policy in a growing and transformative industry," said John K. Pierre, chancellor of Southern University Law Center.
The initiative's official education partner, Cresco Labs through its SEED™ initiative will present cannabis programming tailored to communities disproportionally impacted by the War on Drugs. These efforts are designed to help individuals develop the skills needed to strategically and successfully enter the cannabis industry. SEED™ builds collaborative relationships with colleges and universities to prepare students for careers in the growing cannabis industry.
"The Southern University Agricultural Research and Extension Center is pleased to be a part of the Green Enterprise Inaugural College to Career Initiative," said Orlando F. McMeans, chancellor-dean of the Southern University Ag Center and the College of Agriculture. "As one of two licenses holders in Louisiana to grow medical marijuana, it is our goal to continue to provide education and resources to the community about the cannabis and industrial hemp industries."
Key topics such as social impact and entrepreneurship, as well as, economics and investing, will be covered. The full schedule is available at GreenEnterpriseHBCU.live:
Some topics to be covered during the initiative include:
A Look at Cannabis in the Deep South
A National Overview of Cannabis
Creating Opportunities for Diversity in Cannabis
Careers in the Emerging Industry
Black Farming and Agriculture in Cannabis
A Look Back at the 2018 Farm Bill and Industrial Hemp
Dispensary Ownership: A Different Entrepreneur
The Crossover: How to Enter the Cannabis Industry
My Family, Myself and Cannabis
A Cannabis Marketing Conversation
Cannabis and Social Media: Dos and Don'ts
Raising Capital for Your Cannabis Startup
The Deconstructing Prohibition: A War on Us
For more information on attending the upcoming events, please visit https://www.greenenterpriseHBCU.live/.
COVID-19 Protocols
Southern University continues its mask mandate across all campuses. Attendees must also show proof of full COVID-19 vaccination or a negative result from a PCR test taken within 72 hours before coming to campus.