Southern University music department presents 'From Mozart to Motown'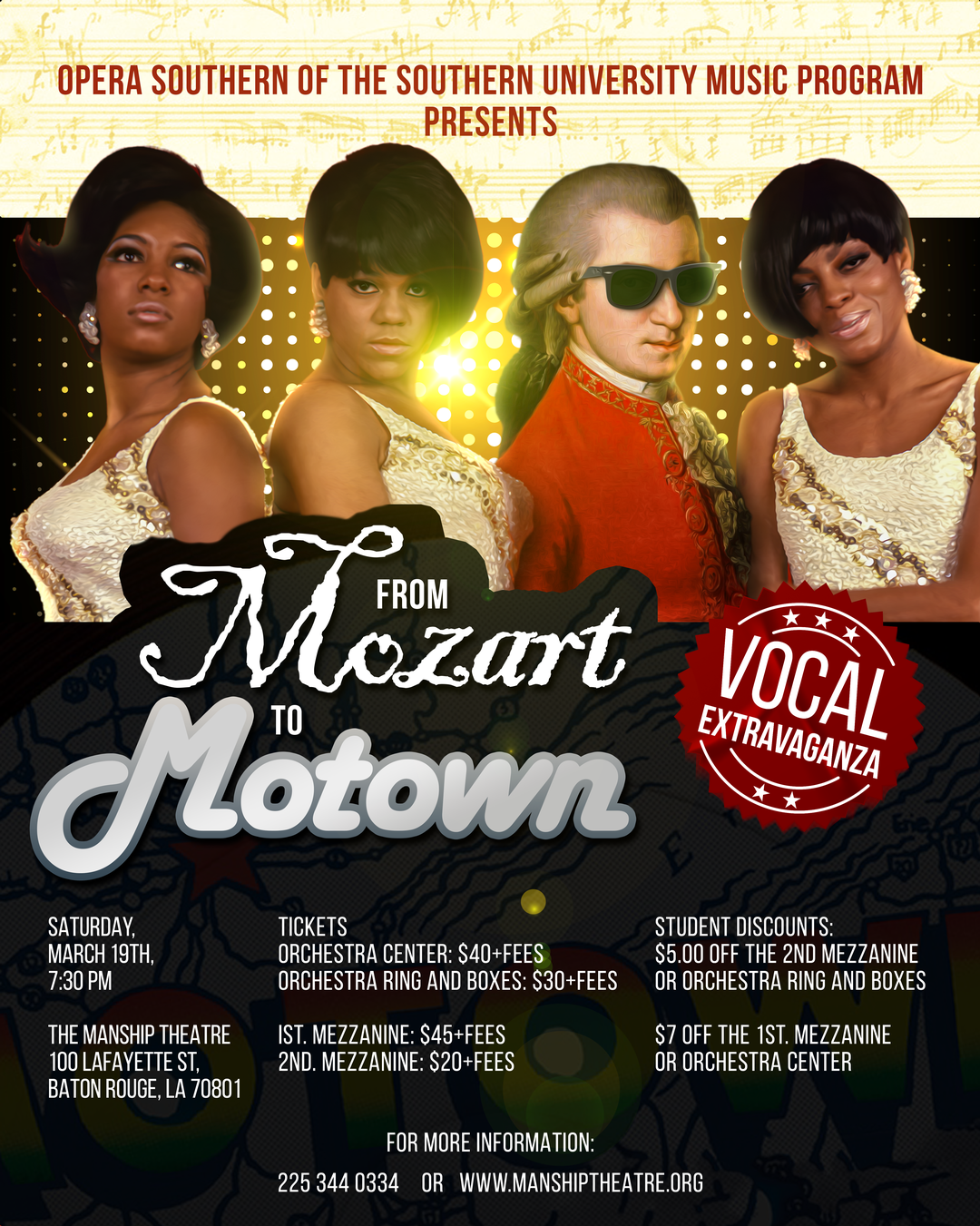 Opera Southern will present the second installment of "From Mozart to Motown: A Vocal Extravaganza" on Saturday, March 19 at 7:30 p.m. at the Manship Theatre in Baton Rouge.
Richard Hobson, professor of voice and opera at Southern University, created the "potpourri of vocal music spanning four centuries featuring well-known songs from Mozart to The Temptations." Bringing the production to life are students from Southern, Louisiana State University and Southeastern Louisiana University, as well as alumni and community artists.
The Southern University Jazz Ensemble will provide instrumental accompaniment, which includes jazz, blues, gospel, Broadway, opera and hip-hop. The ensemble, led by Harry Anderson and Herman Jackson, includes percussionist and composer Charles Lloyd Jr., and pianists Laurence Herbert and Hoza Reddit.
Masks are welcomed but not required in the Manship Theatre spaces. All patrons regardless of age must have a ticket to attend performances.
Tickets range from $20-$45 plus fees. For more information go to manshiptheatre.org/show/from-mozart-to-motown-a-vocal-extravaganza.
A full list of participants is below:
Southern University Faculty:
Richard Hobson
Charles LLoyd Jr.
Herman Jackson
Harry Anderson
Patric Lavergne
Laurence Herbert
Southern University Students
Nicholas Lockett
Keondre Anthony
Shekinah McCurty
Deterrius Johnson
Keena Pilllette
Richard Johnson
Kendall Jones
Cornelius Cherry
LSU Students
David Baker
Anna Safko
Southern University Alumni
Hozaa Reditt
Marcella Ratcliff
Nealie Greely
Joshua Staes
Ryan Alexander
Community
Crystal Brady
Alesi Ngemi
Lauren Honea
Valencia Pleasant
Ryan Blanchfield
Dedrian Hogan
Alfred Harper