Southern University partners with Columbia University to enhance student and faculty resources, opportunities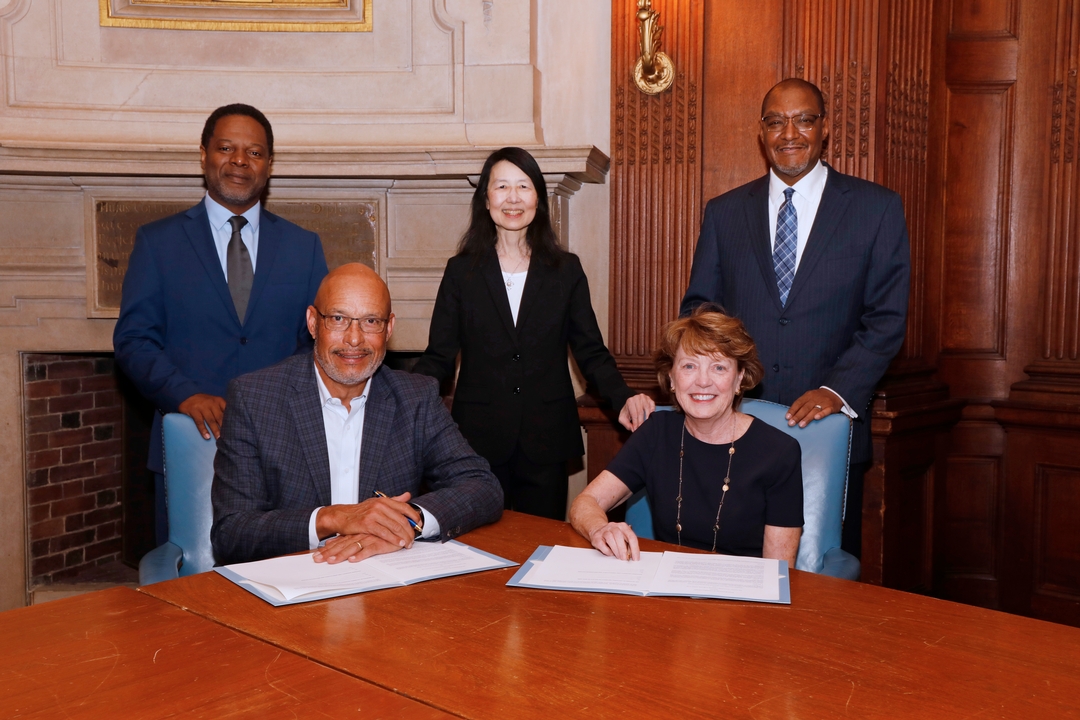 From Columbia.edu

In a ceremony Tuesday at Columbia University, leadership of Columbia and Southern University and A&M College, one of the nation's Historically Black Colleges and Universities, signed a memorandum of understanding to formalize a new partnership that will facilitate faculty research collaborations; exchange and experiential learning programs for students, postdoctoral researchers, and faculty; and innovation and economic development initiatives.
Ambitious Partnership for Both Institutions
"At this pivotal moment for HBCUs, when federal agencies have carved out funding for underserved institutions, we have extraordinary opportunities to leverage," said Dennis J. Shields, the President of the Southern University System and Chancellor of Southern University and Agricultural & Mechanical (A&M) College. "The intellectual capital and resources that a university like Columbia has, teamed up with an under-resourced but intellectually strong institution like Southern, could open new doors for faculty and students while creating a long-lasting impact on higher education."

Shields co-signed the agreement with Columbia University leaders Mary C. Boyce, Provost and Professor of Mechanical Engineering, Jeannette Wing, Executive Vice President for Research and Professor of Computer Science, and Dennis Mitchell, Executive Vice President for University Life, Senior Vice Provost for Faculty Advancement, and Professor of Dental Medicine at CUIMC.
New Research Opportunities for Faculty
A delegation of ten Southern faculty accompanied President Shields to participate in a two-day series of visits and meetings with faculty and administrators across Columbia to explore areas of mutual interest and develop concrete steps to advance the partnership. Faculty from at least seven Columbia schools and two University-wide institutes are actively exploring opportunities to work together.

"Collaboration is key to scholarly excellence, and by bringing diverse talent and expertise together, we create new opportunities for innovative and original research," said Boyce. "The enthusiasm this partnership has already generated among Columbia faculty is exciting and I am looking forward to seeing where it takes us."
Stronger Ties with HBCUs
Although many Columbia units and faculty engage with their counterparts at HBCUs, this is the first University-wide partnership encompassing a broad range of activities. Initial discussions about the joint venture began in 2022, just as a new HBCU Partnering Task Force was convened by Wing and Mitchell. The task force, charged with examining ongoing efforts and developing strategies to ensure partnerships are collaborative, mutually beneficial, and long-lasting, generated ideas that shaped the agreement now in place.
Pathway Programs to Diversify Academia
Pathway programs for students will be a major focus of the partnership, encouraging promising Southern University undergraduates to apply to Columbia PhD programs for graduate studies, where they will be co-mentored by both Columbia and Southern faculty before returning to Southern for tenure-track positions. This effort will bring more diverse talent to Columbia's graduate programs and help Southern University develop tomorrow's research faculty.
"We are looking forward to the open exchange of faculty and students across our campuses, said Mitchell. "By enhancing the diversity of Columbia graduate programs, and ultimately the professoriate, we are making a long-term investment in inclusive excellence that reaches far beyond our two institutions."
Michael Stubblefield, Vice Chancellor for Research at Southern University, also noted the partnership's long-term benefits. "This collaboration will inject our faculty and students in new spaces in education and research before bringing them home to train our new student-scholars. Today's students will be the ones to address global issues ranging from environmental sustainability, to economic and community development, and more. We are excited to be working with Columbia University in addressing the many grand challenges that are impacting our communities globally."
A New Model for Future Partnerships
In this new partnership, Wing sees a roadmap for further collaboration.

"I hope that this Southern-Columbia partnership will not just lay the groundwork for a deep and long-term relationship between our two universities, but also be a model for others where parties build on complementary strengths," said Wing. "I look forward to the programs Southern and Columbia will put together to cultivate new talent who will advance the frontiers of research."