Honors Students Association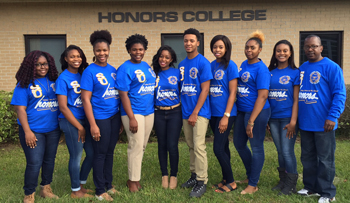 HONORS STUDENTS ASSOCIATION
THE ORGANIZATION
The Honors Students Association offers our honors students the opportunity to do community service, hold leadership positions, and sponsor social events with the Honors College Community. We invite all of our honors students to join HSA in bettering the community while developing meaningful connections and friendships with like-minded scholar in the Honors College.
Honors students in HSA will connect with other scholars who are also striving for academic and personal excellence and enhancing their leadership and intellectual qualities within the Honors community.
THE GOALS OF THE HSA
The main objective of the organization is for its members to be heavily involved in and support the Southern University Dolores Margaret Richard Spikes Honors College. The goals of this organization are:
1. For each member to earn a minimum of 3.0 GPA for each semester
2. To encourage, support, and motivate each other in the successful completion of the Honors College with an honors degree
3. For each member to earn membership in the National Honors Society of his/her discipline
4. To provide social, civic and scholastic activities for its members
5. To function as a unit of scholastic achievers who seek to motivate the Honors College student body as a whole to academic success
HSA OFFICERS
2015-2016
PRESIDENT: Kiana Edison
1ST VICE PRESIDENT: Paula Marie Mensah
2ND VICE PRESIDENT: Kelvin Wells, Jr.
RECORDING SECRETARY: Ashley Torres
TREASURER: Andre Spears
CHAPLAIN: Keva Powell
SERGEANT-AT-ARMS: Kendall Richard
PARLIMENTARIAN: Jocelyn Hill
SOCIAL MEDIA: Cathy McCloud
FRESHMAN CLASS REPRESENTATIVE: Jonalyn Fair
SOPHOMORE CLASS REPRESENTATIVE: Darrian Dupree
JUNIOR CLASS REPRESENTATIVE: Makaila Mitchell
SENIOR CLASS REPRESENTATIVE: EBONY LEBLANC
MISS HONORS STUDENTS ASSOCIATION: Diarra James
MR. HONORS STUDENTS ASSOCIATION: Andre Spears
HSA ADVISOR: Dr. Diola Bagayoko
HAS Co-Advisor: Mr. Eric G. Pugh

UPCOMING EVENTS
CONTACT INFORMATION
For more information about upcoming meetings, please feel free to contact Mr. Eric G. Pugh at eric_pugh@subr.edu.