SU System to co-host 1st HBCU Summit for affordable online learning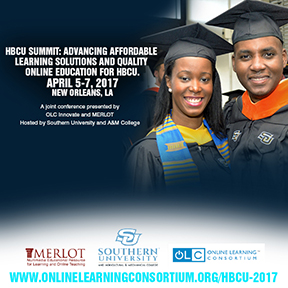 Ray Belton

Chancellor-President of Southern University

Moustapha Diak

Southern University, Baton Rouge
Southern University and A&M College System is set to co-host with California State University and MERLOT, the HBCU Affordable Learning Summit at the Online Learning Consortium Innovate Conference, April 5-7, 2017, in New Orleans at the Sheraton New Orleans Hotel.
This is the first summit for historically black colleges and universities on Affordable Learning and Quality Online program.
Moustapha Diack, professor and chair of the SU Doctoral Program in Science/Mathematics Education and director-MERLOT Africa Network is the chair of the forum focusing on "Innovations in Blended and Online Learning."
Innovations in Blended and Online Learning reflects the importance of transforming campuses from "brick and mortar" institutions to universities "without walls" by improving access and making higher education more affordable for more students enrolled in historically black colleges and universities (HBCUs) in the United States and Higher Education Institutions in Africa (HEIA) stated Ray L. Belton, chancellor-president of Southern University.
"We know that creative and emerging technology and trends will continue to greatly impact online learning, and we understand that engaging in inventive discussion and effective strategies to help universities successfully enlarge reach and scope in this regard, is a priority," said Belton.
In 2016 Southern University System launched the Open Online Library for Education enabling SU System faculty to conveniently and successfully choose high quality no-cost and low-cost course materials for designing and delivering online courses and online programs, and benefitted students' learning by having immediate and reliable access to high quality no-cost course materials for their courses. The Open Online Library evolved under the leadership of Diack. (For more information on the Open Online Library for Education visit www.suol4ed.org )
Now Diack is eager to connect all HBCUs with the ability to have affordable online learning resources for HBCU students.
Research claims HBCUs are still lagging behind their national counterparts in the adoption of online learning stated Diack. In an effort to dispel this report, Diack says "HBCUs have a lot to share and leveraging affordable learning solution for developing quality online programs at a lower cost could be an avenue for growing programs, increasing college access and success for minority students."
"It is critical to have a national forum enabling these institutions (HBCUs) sharing similar goals, challenges and interests, to network, and share best practices related to their communities and build eLearning capacity," said Diack.
Members of the Summit Steering Committee include faculty and leadership from diverse HBCU institutions including: the Southern University System, Xavier University, Dillard University, Grambling State University, Prairie View A&M University, Hampton University, Norfolk State University and Bethune Cookman University. Other members of the Committee include leadership from University Central Florida, Tulane University, California State University and Senegalese Virtual University, higher education institutions from Africa.

The keynote speakers include Robbie Melton, associate vice chancellor of mobilization and emerging technology for Tennessee Board of Regents; and Robert Blaine, dean of undergraduate studies and cyber learning at Jackson State University.
"We are delighted to welcome these two internationally renowned figures of online learning innovations as keynote speakers and ambassadors of the 2017 Summit," said Diack.
Summit leadership ambassadors were appointed to promote the event at the national and international levels. These ambassadors include: Ray Belton, chancellor-president of SUBR; Pr. Marie Teuw Niane, ministry for Higher Education and Research, Republic of Senegal, West Africa; M. Christopher Brown, exective vice-provost for Academic Affairs and Provost, SUBR; Robbie Melton, associate vice chancellor of Mobilzation Emerging Technology; Pr. Lamine Gueye, president and rector of University of Bambey, Senegal, West Africa; Gabriel Fagbeyiro, associate vice president for Information Technology and Chief Information Officer, Robert Blaine, associate provost and vice president for Academic and Student Affairs, dean of Undergraduate Study for Cyber Learning, Jackson State University; and Robert Ford, CEO of DRF Industries, LLC.

The HBCU Summit is designed to provide a professional forum for practitioners and campus leadership from HBCUs in the United States and partnering HEIA to leverage current innovative technologies. The goal is to focus on increasing college access and success through the use of affordable learning solutions and delivering quality online programs.
For more information on the conference visit http://www.suol4ed.org/HBCU_summit_2017.html
To register for the conference visit www.onlinelearningconsortium.org/innovate/