Alice Almira Boley Hall
Alice Almira Boley Hall
Alice Almira Boley Hall, which is a six-story co-ed residential facility, housing upper class students in single rooms with four students per suite; a shared bath; and communal living area.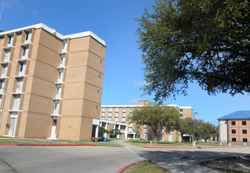 Measurements are approximate and drawings are not to scale
Room Dimension: 16'9" x 7'
Window dimensions: 2'4" x 7'
Central Air-Condition System
Suite Concept
Private Living Area with Bath
Study Area
Laundry Facilities
Computer Laboratory
Vending Room

Alice Almira Boley was an instructor at Southern University, 1916 - 1942 and Principal of the Southern University Laboratory School, 1942 - 1958. She rendered forty-two years of service at Southern University.