Spring graduates receive advice on life's 'marathon' from 'Queen Sugar' actor Omar J. Dorsey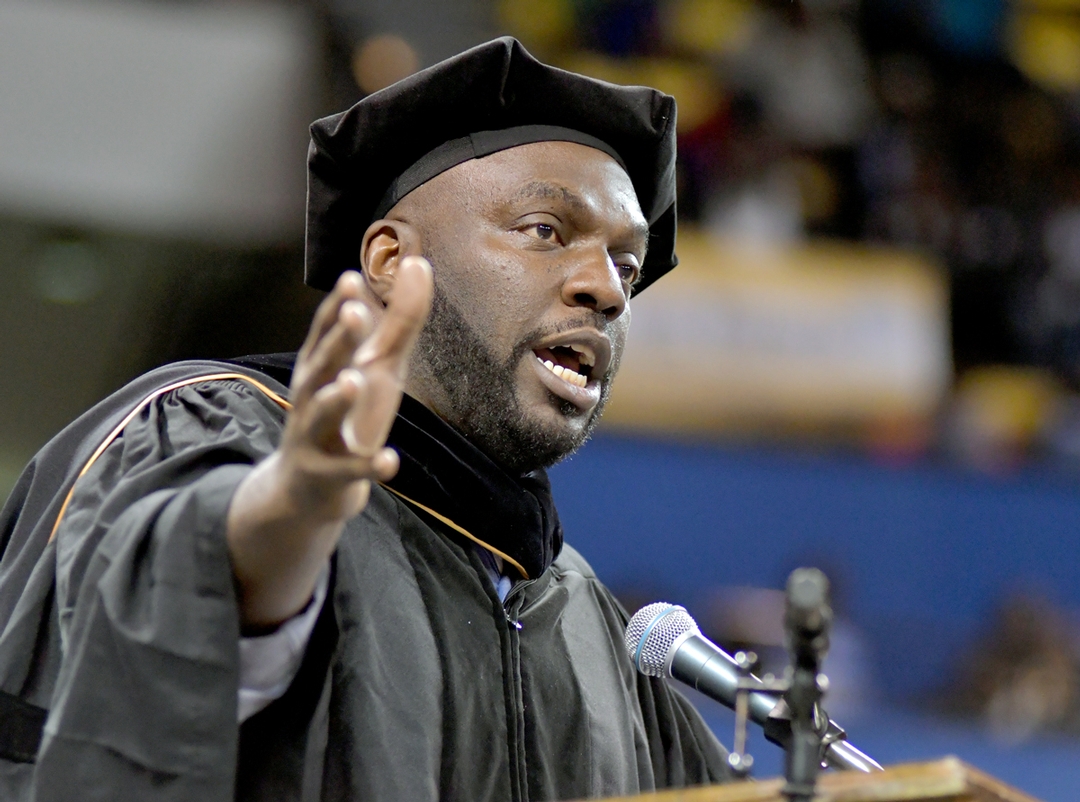 After turning their respective tassels, nearly 600 graduates walked across the coveted stage in the F.G. Clark Activity Center to receive their degrees. Chief student marshal Chacity Simmons led fellow graduates to receive bachelor's, master's and doctoral degrees in several disciplines, as well as commissions to the U.S. Armed Forces. The newest alumni heard from the critically acclaimed actor Omar J. Dorsey.
"Today, metaphorically, is your finish line," Dorsey said. "When you walk across this stage today, this is your platform and that degree is your gold medal."
Dorsey, who plays "Hollywood" on critically acclaimed "Queen Sugar," a drama created by award-winning director Ava DuVernay that airs on the Oprah Winfrey Network. A theatre graduate of Georgia State University told the graduates to not rush through the phases of their journey.
"Consider this college journey when you started," he said. "Consider the people you started with. Some are not here today. Some gave up. Some needed more time. Others had their reasons. But, in a marathon, it's about going at your own pace and finishing at your time."
Dorsey reflected on his own career — which includes roles in "Django Unchained" and "Selma" — encouraged graduates to continue to have patience, live in their own lane and understand their timing.
"If you're running in lane two, you shouldn't be worried about what's happening in lane four," he said. "Don't waste energy in your 20s trying to discern someone else's timing. Don't feel bad if you don't get that job, you don't get into that graduate school or law school. Don't feel bad that relationship didn't work out, or you didn't get that audition. It doesn't matter nor will it matter in the end of the marathon of life."
The Honorable Lionel L. Joseph was awarded an honorary doctorate degree. Joseph graduated from Southern University in 1972 with a B.S. degree and from Southeastern Louisiana University in 1974 with his master's degree. He served on the Independence Board of Aldermen for 24 years and currently serves on the Tangipahoa Parish Council representing District 3. He is a lifetime member of Southern University alumni associations.
Dozens of alumni were celebrated for their 50th, or "golden," anniversary. Donning gold caps and gowns, the special guests sat in golden chairs near the 2019 graduates.
As tradition has it, graduates took the Southern University Alumni Federation pledge, promising to remain committed to the university's progress.
The ceremony can be viewed in its entirety at http://bit.ly/2WAaJ6v.