Southern School of Nursing to hold Recognition, Awards ceremony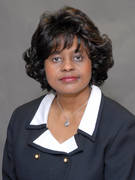 Southern University's School of Nursing will hold its' Fall Pinning Ceremony at 6 p.m., Thursday, Dec. 10, in the auditorium of the J. K. Haynes School of Nursing Building.
Fifty-two undergraduate students will be recognized for earning degrees from the School of Nursing.
Dr. Cynthia Bienemy, associate professor in Southern's School of Nursing, will deliver the keynote address.
Bienemy has worked with the School of Nursing for over 15 years.  In May, she was awarded the "Helen Johnson Creemens Excellence in Teaching Award" by the Baton Rouge District Nurses Association (BRDNA).
The award is named in honor of the late nursing educator Helen Johnson Creemens, wife of retired journalist and newscaster, Carleton Creemens. Carleton Creemens established the award to honor his wife's love for nursing and her career as a nursing educator.
Bienemy received her baccalaureate degree in nursing from Southeastern Louisiana University, a Masters in Nursing from McNeese State University in Adult Health and Illness - Cardiovascular Nursing and a Ph.D in Nursing from Southern's School of Nursing.
For more information about Southern's School of Nursing, call 225.771.3266.