EPA announces nearly $800K to Southern University for pollution prevention project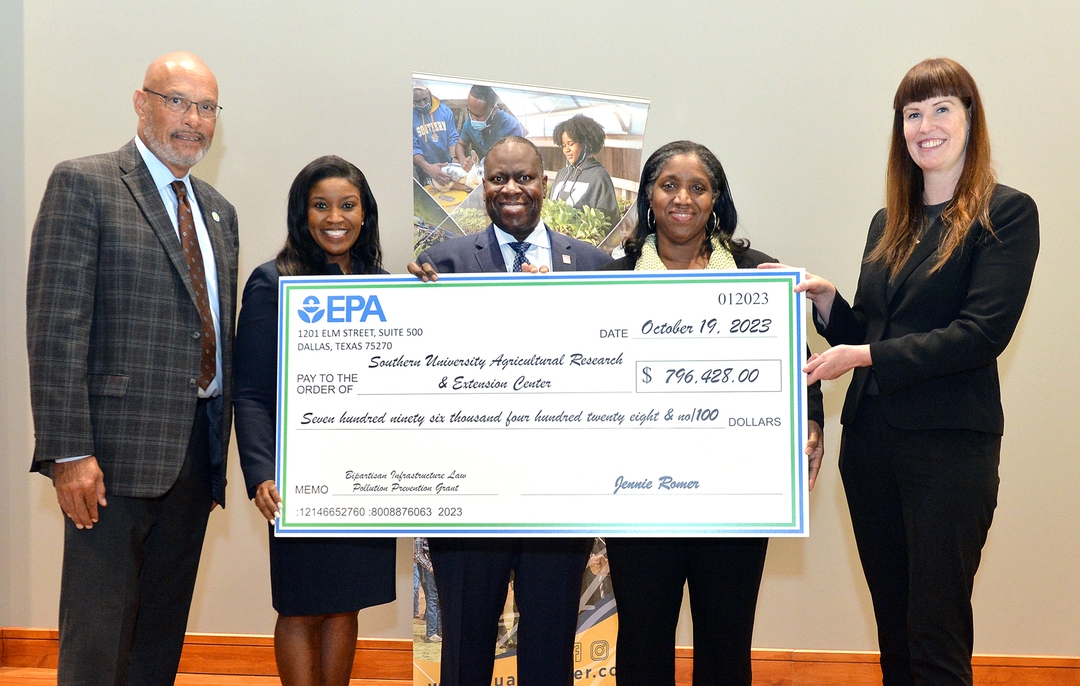 From the U.S. Environmental Protection Agency
The U.S. Environmental Protection Agency (EPA) on Oct. 19 announced Southern University in Baton Rouge, Louisiana, is selected for a nearly $800,000 pollution prevention grant. Nationwide, 24 recipients were selected for $16 million in grants through the historic Bipartisan Infrastructure Law, part of the Biden-Harris Administration's Investing in America agenda. Southern University's grant will fund a project to reduce water pollution from industrial facilities.

"EPA values the partnership of Southern University in working to bring the benefits of pollution reduction to all communities, especially those like East Baton Rouge and New Orleans East that are historically overburdened and underinvested," said Regional Administrator Dr. Earthea Nance. "The Southern University team designed a project that will leverage EPA programs like Safer Choice and help mitigate the air and water pollution that these communities experience."
"The Southern University Ag Center is excited to be the only Historically Black College and University (HBCU) to receive the U.S. Environmental Protection Agency's Pollution Prevention grant in the category of Environmental Justice in Communities," said Dr. Orlando F. McMeans, Chancellor-Dean of the Southern University Ag Center and the College of Ag. "This grant will assist the Ag Center in ensuring that underinvested communities have access to clean water and air through educating manufacturers on solutions to reduce hazardous substances that are released in the waters of East Baton Rouge and New Orleans East".
"This is great news for Louisianians who have endured environmental injustice for far too long. All Americans – no matter where they live – deserve to breathe clean air, drink safe water, and live in a healthy environment. That's why I worked so hard to craft the Bipartisan Infrastructure Law and am proud to see underserved communities access this critical funding and technical assistance to improve public health at the local level. As the Member for Region 7 of the Regional Leadership Council, I will continue to work closely with the Biden-Harris Administration to ensure these transformative environmental protection policies and programs reach every American in every community in our region," said Congressman Troy A. Carter, Sr. (LA-02).

The grant selectees include a diverse set of projects that will tackle pollution prevention at the community level. Southern University plans to partner with Louisiana State University and local community leaders to conduct workshops and onsite water quality assessments to find ways to reduce contaminated discharges to local aquifers, including through EPA's Safer Choice program. Their work will be focused in East Baton Rouge and New Orleans East, two areas suffering from underinvestment. The project will also include outreach to local communities to identify and track pollution prevention strategies.

EPA's Pollution Prevention Grant Program advances President Biden's Justice40 Initiative, which aims to deliver 40 percent of the overall benefits of certain federal investments to disadvantaged communities that are marginalized by underinvestment and overburdened by pollution.

Ensuring greater availability and use of safer and more sustainable products can reduce harmful chemical exposures and their human health and the environmental impacts in disadvantaged communities and create a more sustainable and accessible marketplace. These efforts will continue to benefit businesses and communities across the nation by capturing what works and what can be adjusted in other communities. Recipients will share successful practices that are new or not widely known, as well as lessons learned, so that future businesses and communities can continue to innovate.

These grants will be fully funded upon being awarded. Individual grant awards may range from $100,000 to $800,000 for state- and city-level projects, or up to $1.2 million for multi-state projects over the funding period. EPA anticipates awarding the grants once all legal and administrative requirements are satisfied. The list of selections and the proposed summaries of proposed grantee projects can be found on EPA's Pollution Prevention website.

Connect with the Environmental Protection Agency Region 6 on Facebook, Twitter, or visit our homepage.