Governor Edwards offers well-wishes, continued support to Southern at first System Board meeting of the year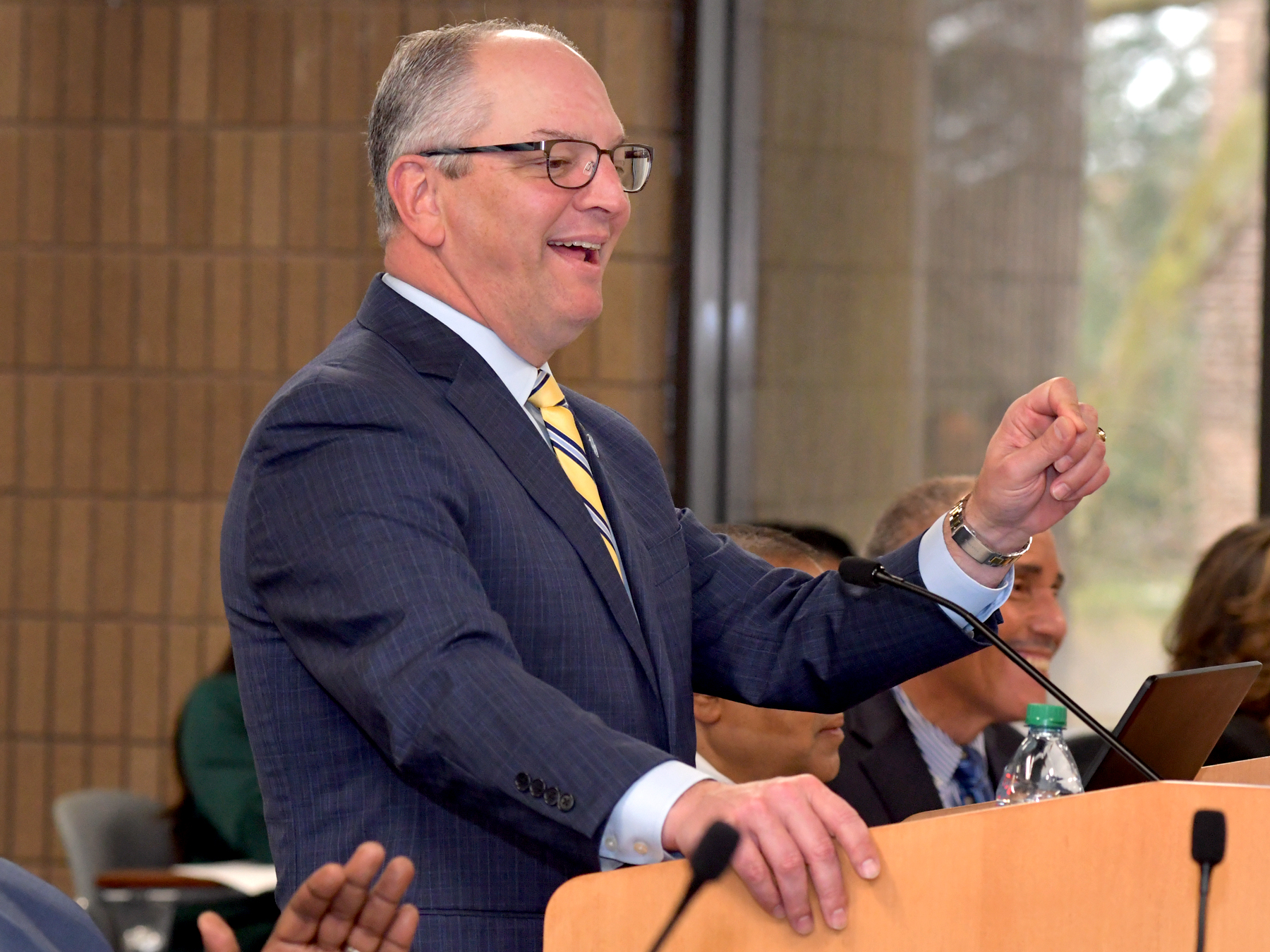 Governor Edwards offers well-wishes, continued support to Southern at first System Board meeting of the year
The Southern University System Board of Supervisors today held its first meeting of the new year in Baton Rouge. After Board Chairman Domoine Rutledge and Board Vice Chairman Samuel Tolbert were sworn in for their respective second terms, Gov. John Bel Edwards offered his continued support to the Southern University System's five campuses — Southern University Baton Rouge, Southern University at New Orleans, Southern University Shreveport, Southern University Law Center and Southern University Agricultural Research and Extension Center.
Noting a stabilized state budget and other progress for higher education after years of cuts and uncertainty, Edwards also acknowledged that, "we still have some challenges."
"We will continue to work on them (challenges)," Edwards said. "I'll make it my mission to work every day to ensure that we can say this again four years later: We are stronger. We are better. We are fairer."
Edwards also gave an update on two major construction projects on the Baton Rouge campus. The bridge construction and drainage management plan at the back of the campus are slated to continue with an end date slated for December of this year. Renovations to the academic building, Fisher Hall, will commence this year, with a $6.5M commitment.
Edwards praised Southern for consistently producing well-rounded professionals that are part of the workforce in the state and beyond while reflecting on his personal experience.
"While I am not an alumnus, I feel like I'm a product of SU," he said. "Half of teachers who taught me were educated at SU. It's the people you've educated who gave me the opportunities to do the things that I do. This is why it is important more than ever to invest in all levels of education."
Also present was State Rep. Barbara Carpenter, who is dean of international education and director of international education at Southern University Baton Rouge. The Board thanked her for her continued service in the Legislature on behalf of Southern and other higher education institutions in Louisiana.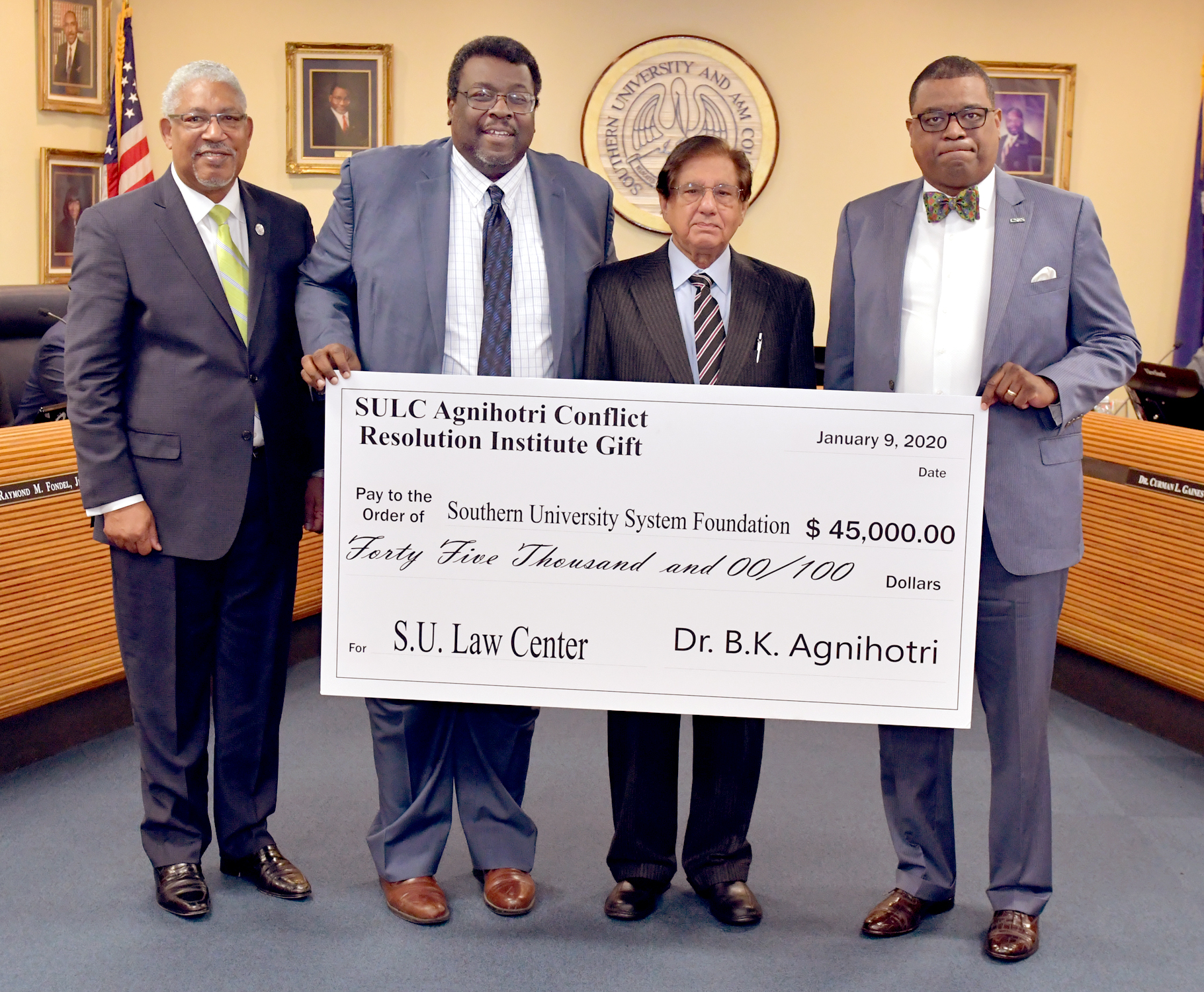 Bhishma K. Agnihotri, Southern University Law Center chancellor emeritus, presented the Southern University System Foundation with a gift of $45,000 on behalf of the Law Center's
Agnihotri Conflict Resolution Institute. Agnihotri served as chancellor of the Law Center for 27 years before becoming the ambassador-at-large for the Indian government in 2001.
Agnihotri, who was chancellor when Board chairman Rutledge was a student, remembered that Rutledge referred to him as a "global citizen."
"I have been true to what you said," Agnihotri said to Rutledge from the podium. "We are all together."
Agnihotri also praised current Law Center Chancellor John Pierre for ensuring that the institution has international interests and outreach.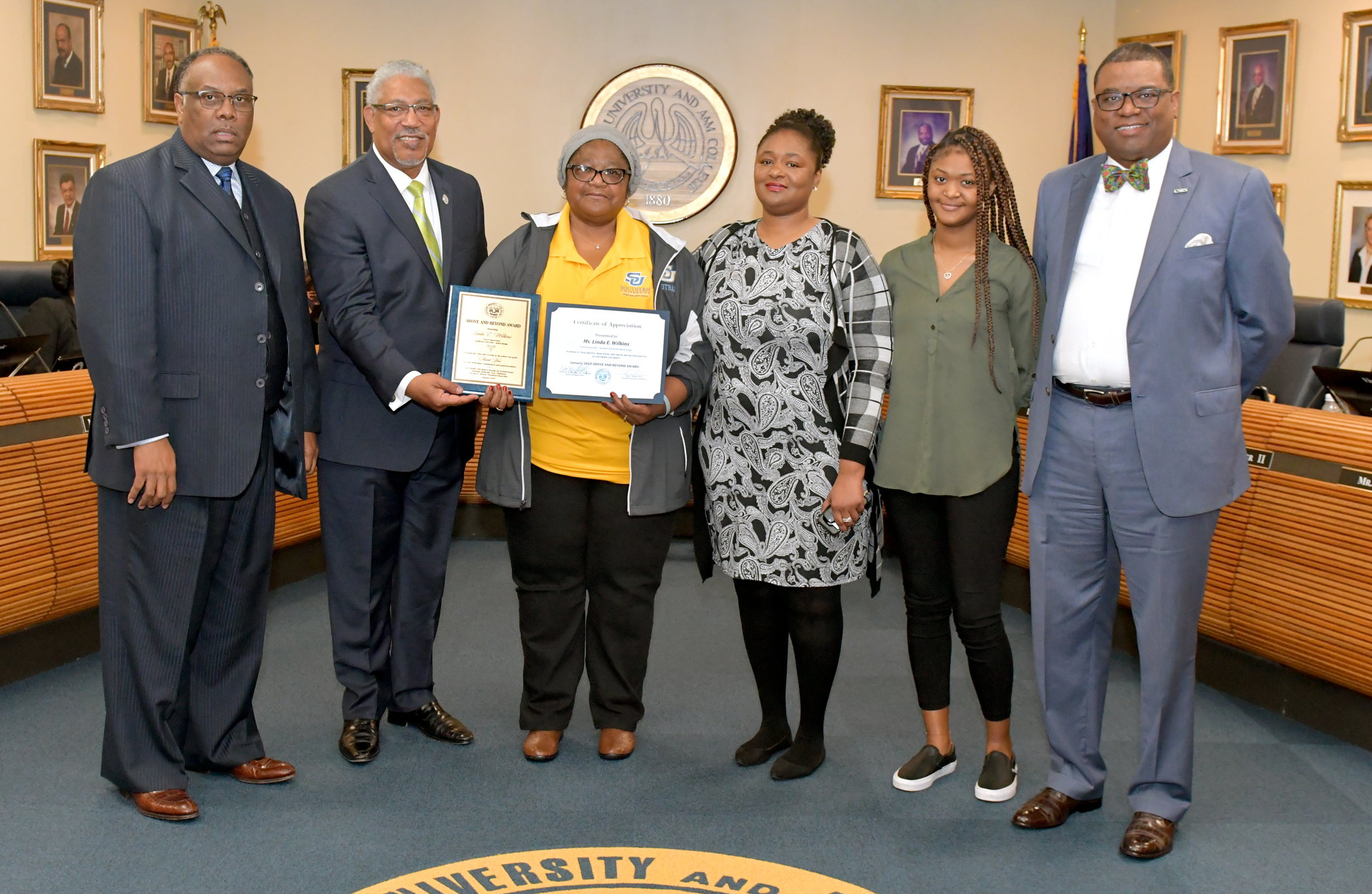 This month's Southern University System Board of Supervisors Above and Beyond Award went to Linda Wilkins. She is the travel supervisor for Southern University Baton Rouge.
The Board and President-Chancellor Ray Belton recognized the Southern University Baton Rouge football team for their back-to-back wins in the Bayou Classic and being named the western division's champions of the Southwestern Athletic Conference. Also receiving accolades were the Southern University "Human Jukebox" Marching Band and Dancing Dolls, who were acclaimed participants in the Rose Parade on New Year's Day.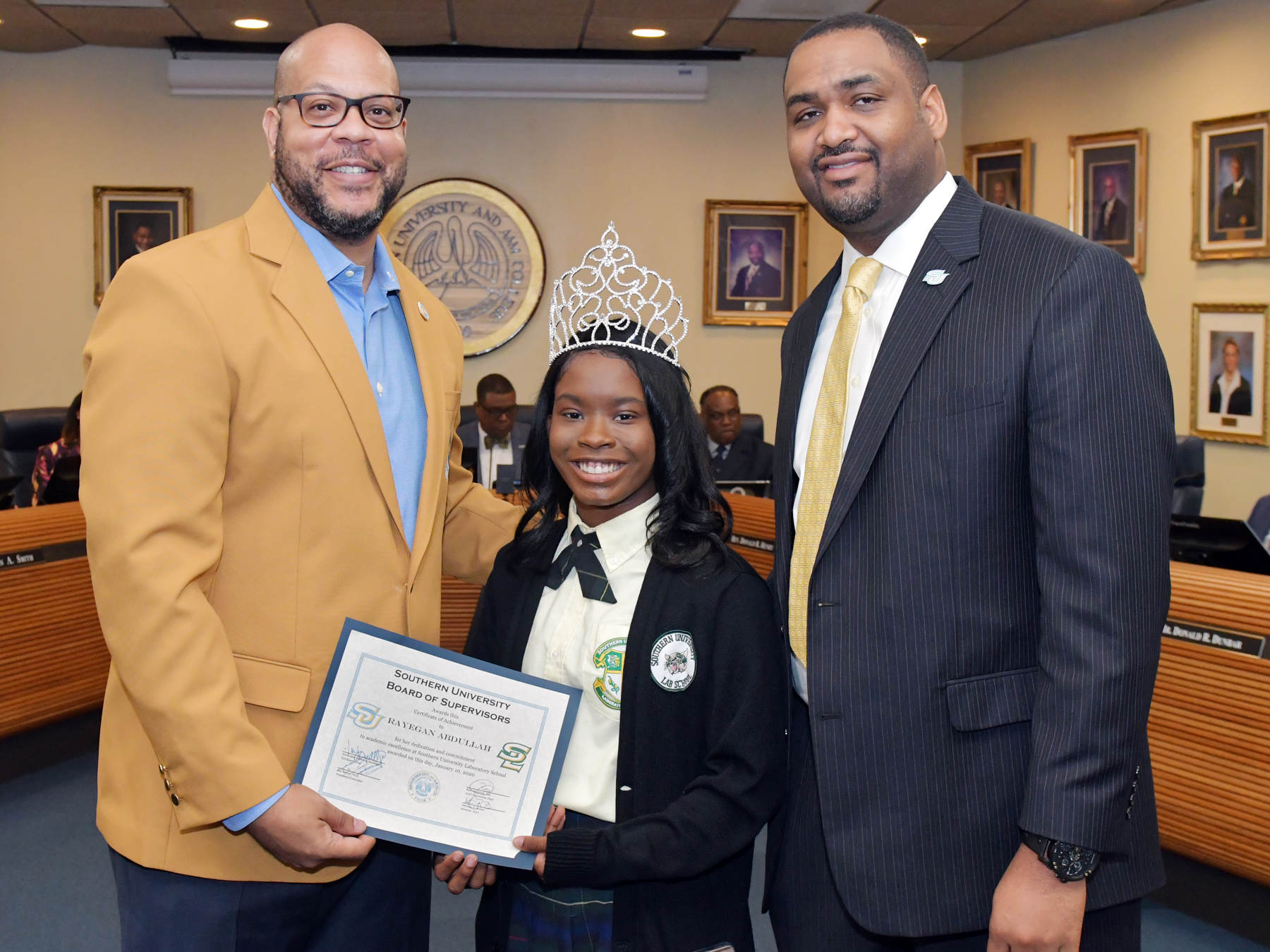 The pledge of allegience was led by Rayegan Abduallah, Southern University Laboratory School senior and Miss Southern Lab
Click here for other Board news and campus updates.