McMeans testifies during U.S. House Agriculture Committee hearing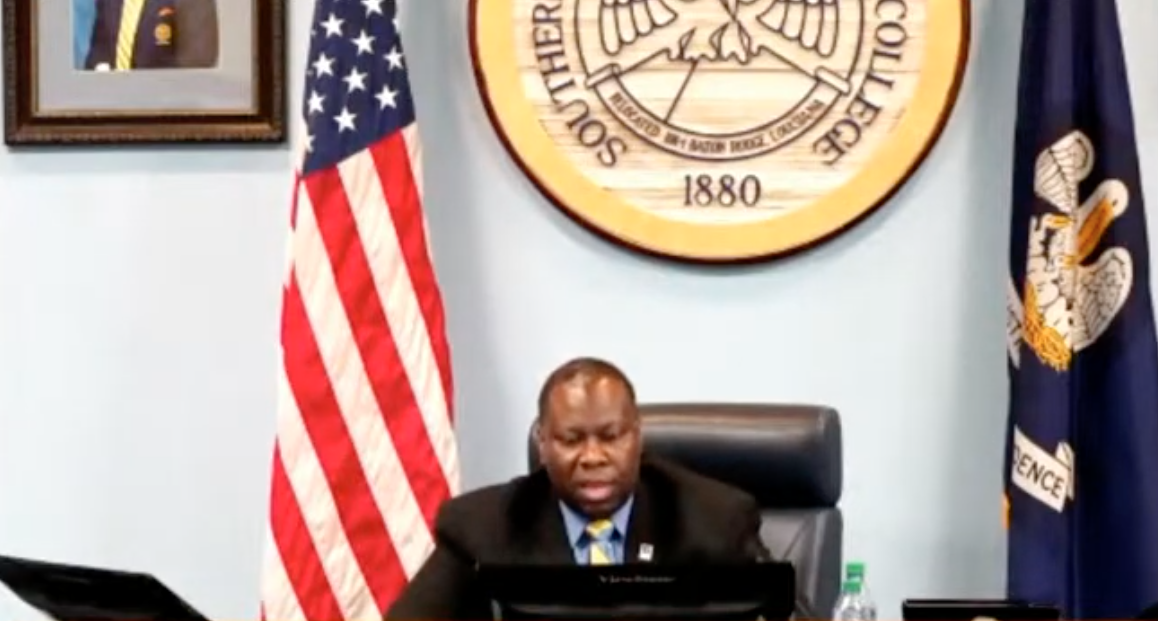 Chancellor-Dean Orlando McMeans of the Southern University Agricultural Research and Extension Center on Wednesday participated in the U.S. House Agriculture Committee's hearing on 1890 Land Grant Universities.
The hearing, "1890 Land Grant Institutions: Investing for Agricultural Resiliency, Equity, and Global Impact," focused primarily on seeking solutions to continue better supporting the 1890 Universities, addressing historic inequalities in federal support, and ensuring the universities' continued success. 1890 University leaders are working with Congress on including HBCU infrastructure improvements in whatever package emerges this year.
"I say with confidence the 1890s are an indispensable resource," McMeans said. "It is projected that the world's population will continue to grow and will reach nearly 10 billion by 2050. We have to feed these people. The 1890 scholarship program is an investment in human capital for the food and agriculture industries.Supporting federal USDA capacity funding in an investment in addressing issues related to COVID-19, climate change and socially disadvantaged farmers. Investing in and supporting 1890s in an investment in not only the food security and sustainability of the U.S., but globally as well."
Other witness participants will Makola Abdullah, chair of the 1890 Council of Presidents and president of Virginia State University; Paul Jones, vice chair of the 1890 Council of Presidents and president of Fort Valley State University; Heidi Anderson, president of the University of Maryland Eastern Shore; and Tony Allen, president of Delaware State University.
Also as part of the hearing, several university presidents offered recorded appreciation of the committee and highlighted their respective campuses.
On behalf of our students, faculty, staff, alumni and communities, I would like to thank Chairman David Scott and members of Congress for your support of our 1890 Universities," said Ray L. Belton, president of the Southern University System and chancellor of Southern University and A&M College. "The investments in agriculture, scholarships and more have been critical for us as we maintain our first-class academic programs and community outreach. We are honored to be named as one of four Centers of Excellence, where we will address diet-related health disparities in African-Americans through nutrition research, teaching and extension. Again, thank you for your commitment to our institutions and to our great nation."
The 1890 land-grant institutions are Historically Black Colleges and Universities that were established under the Second Morrill Act of 1890. The National Institute of Food and Agriculture's 1890 land-grant institutions programs are intended to strengthen research, extension and teaching in the food and agricultural sciences by building the institutional capacities of the 1890 Institutions.
Thanks to the efforts of various members of the Committee, the 2018 Farm Bill included mandatory funding for scholarships to 1890 institutions, established six Centers of Excellence to be led by 1890 universities, and corrected an inequity in the carryover of extension funds from year to year.
The 1890 land-grant system consists of the following 19 universities: Alabama A&M, Alcorn State University, Central State University, Delaware State University, Florida A&M University, Fort Valley State University, Kentucky State University, Langston University, Lincoln University, North Carolina A&T State University, Prairie View A&M University, South Carolina State University, Southern University, Tennessee State University, Tuskegee University, University of Arkansas Pine Bluff, University of Maryland Eastern Shore, Virginia State University and West Virginia State University.
A live stream of the hearing is available here on YouTube.

All additional information on this hearing can be found here.