Southern alumnus, physician among group of nationally recognized clinical scholars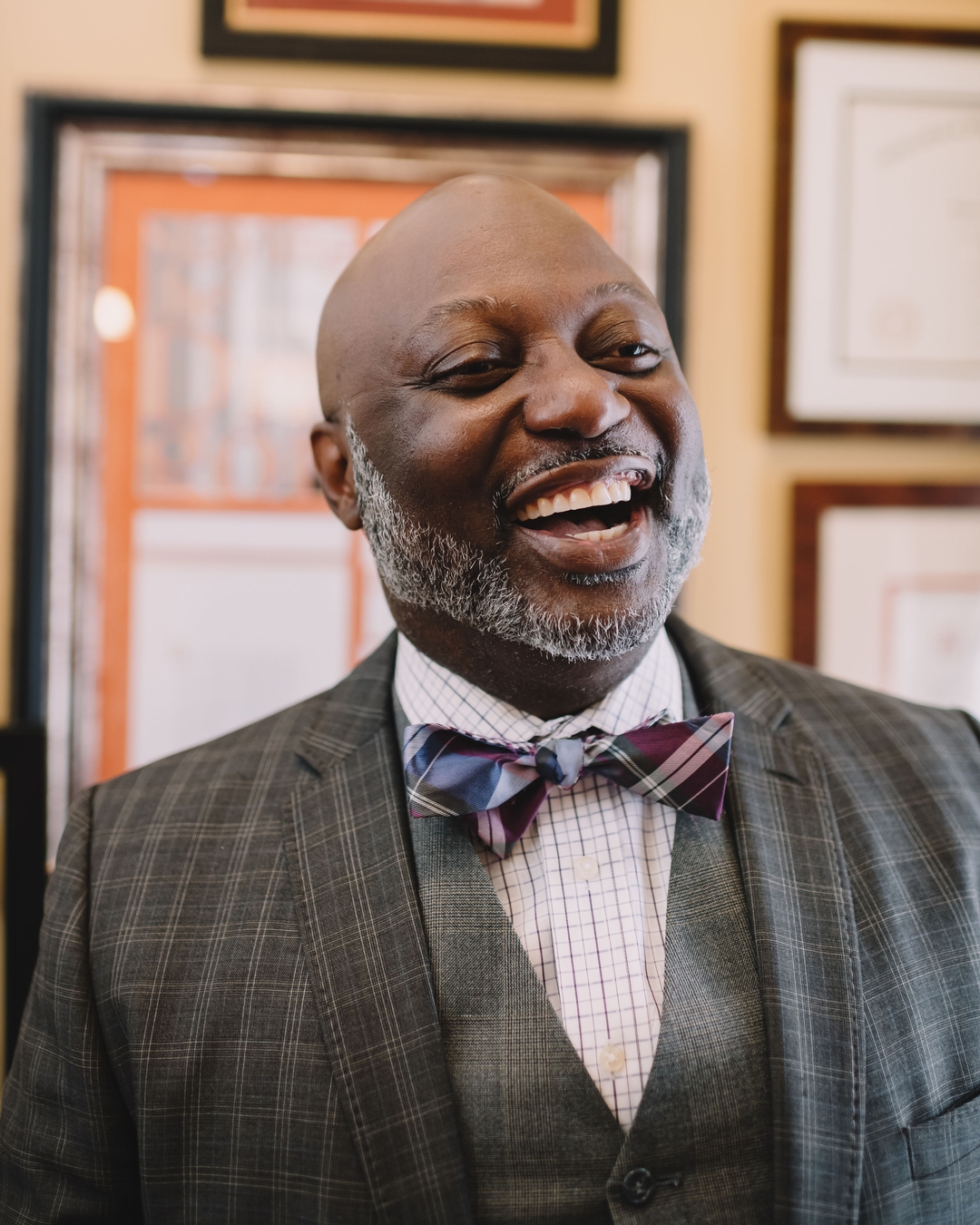 NEWS RELEASE
Team of New Orleans health care professionals named 2020 Robert Wood Johnson Foundation Clinical Scholars
Mayor Cantrell hosts press conference announcing award and team

NEW ORLEANS, La. — At the beginning of October, Mayor Latoya Cantrell hosted a press conference at New Orleans City Hall for emPOWER NOLA, a distinguished group of New Orleans health care professionals named, yesterday, as members of the newest cohort of Clinical Scholars by the Robert Wood Johnson Foundation (RWJF), the nation's largest philanthropy dedicated solely to health issues.
"I want to congratulate Team emPOWER NOLA, the 2020 Robert Wood Johnson Foundation Clinical Scholars New Orleans Cohort, on receiving this grant. When we design a New Orleans that truly puts children's interests first, we create a New Orleans that shows love to all of her people," said Mayor Cantrell. "We are excited to support this work with our Office of Youth & Families. I want to thank all of the valuable community and health partners for their hard work on this vital issue, especially Dr. Maurice Sholas for his thoughtful leadership."
Team emPOWER NOLA, Dr. Maurice Sholas, Dr. Lauren Teverbaugh, Dr. Arnold James, and Master Social Worker Rhonda M. Jackson, make up RWJF's Cohort 5 whose proposed project, "Training Community Leadership of Naturally Occurring Social Networks to Improve Access of Children Suffering from Trauma to Mental Health Services," prioritizes working with New Orleans youth that have lived through profoundly traumatic events. The cohort seeks to develop interventions that heal and partnerships that promote trauma-informed spaces to treat and support children living with trauma. For this effort, RWJF awarded a three-year $432,000 grant to emPOWER NOLA, to design and implement the project.
"We have a vibrant and historic community in New Orleans. It is entertaining and artful in some ways, but it is essential to the wellbeing of our citizens. We are proud to bring these resources that empower our community to protect and elevate its most precious commodity – our youth," said Dr. Maurice Sholas, who came up with the idea for the project, assembled the team and serves as project director. The grant award is being directed through his LLC, Sholas Medical Consulting.
Research conducted by the Institute of Women and Ethnic Studies as cited by a task force for the City of New Orleans, surveyed 5,000 youth between 2012 and 2018. It found a startling prevalence of youth living through severely traumatic events. One in 5 had witnessed a murder; one in 3 witnessed domestic violence; four in 10 had seen someone shot, stabbed or beaten; and, more than half had someone close to them murdered. The existing institutions to treat and support children living with trauma are fragmented. Strongly cohesive naturally occurring social networks (NOSN), that have decades of history in the various communities of Orleans Parish, serve a strong healing purpose for people historically disenfranchised from traditional mental health and social supports.
Dr. Lauren Teverbaugh of Tulane University School of Medicine, who will provide clinical direction for the project, said, "This seminal study quantifies the profoundly traumatic experiences many of our city's youth endure. These adversities experienced during childhood have long and enduring effects. Our children are brilliant, brave, and resilient. They are also hurting. We owe it to our children and to our community to be able to recognize and address their hurt in ways that allow them to grow to their fullest capacity."
"Hurt people hurt people. To break the cycle of trauma and abuse, it is necessary to address emotional issues as early as possible," said psychologist Dr. Arnold James, who will serve as community liaison between the team and NOSN entities. "Childhood is the best place to start recovery for the best quality of life possible."
The New Orleans City Council adopted resolution No. R-18-344, authored by members Jason Williams, Helena Moreno, and Jay H. Banks on August 9, 2018. It called for the New Orleans Children and Youth Planning Board (CYPB) to create the Childhood Trauma Task Force, which was chaired by the Reverend Dr. Torin T. Sanders and Dr. Denese Shervington, to develop a comprehensive plan to reduce the occurrence and impact of trauma on children and families within the city of New Orleans. The 212 page report they generated was published in January 2020, and entitled – "Called to Care: Promoting Compassionate Healing for our Children." Recommendation #4 of that publication called to increase awareness, knowledge and skills of the clinical and peer workforce caring for children dealing with trauma, while recommendation #6 called for providing childhood trauma awareness training to businesses, non-profits and community organizations.
"A critical part of fostering a healthier New Orleans and making our next 300 years our best yet involves identifying and treating the trauma our kids and families have experienced," said Councilman Jason Williams. "That's why I authored legislation tasking experts in youth trauma and infant mental health with producing a roadmap to inform policy and financial investments."
With the project being directly consistent with the mayoral report, the team proposes to increase the cultural competence of New Orleans' fragmented mental health treatment network and empower communities to be more effective at accessing resources to support their children by partnering with NOSN organizations, including social aid and pleasure clubs as well as charter school system mental health professionals. Through this approach, the emPOWER NOLA project team is poised to address the two recommendations via the ingenuity of local talent – who are culture bearers themselves – with the structure and reach of the Clinical Scholars Program.
"Having healthy and whole kids in every way is important, not just now, but for the future of our city," said Rhonda M. Jackson, a master social worker who will handle school liaison responsibilities. "This project honors the importance of our culture, the proverbial "village" and mental health professionals, so that our youth can get the best support to be their best and reach their full potential."
Combined, Team emPOWER NOLA has a solid 85 years of progressive healthcare training. Dr. Sholas is a Harvard-trained physician specializing in pediatric rehabilitation and a subject matter expert on children with special health care needs. He also holds a Ph.D. in neuroscience and has served as Senior Medical Director for multiple children's hospitals. Dr. Sholas, a Baton Rouge native, earned his undergraduate degree from Southern University's flagship campus with Cum Laude distinction in biology, with an emphasis in Spanish. With over 20 years of experience, he is the principal for Sholas Medical Consulting, LLC and works with individual practitioners, hospitals and health care agencies to solve operational challenges.
Dr. Lauren Teverbaugh arrived in New Orleans in 2012, after earning her medical degree at the University of Illinois at Chicago. She completed her residency training in pediatrics, general psychiatry, and child psychiatry at Tulane University and subsequently joined the faculty as an assistant professor of psychiatry and pediatrics. She is supervisor of clinical services provided by trainees in Jefferson and Orleans parishes' school-based health clinics, and pediatric psychiatrist at JeffCare (Jefferson Parish Human Services Authority) and Children's Hospital New Orleans. Dr. Teverbaugh is a native of Greater Detroit, MI, and graduated with distinction from the University of Michigan with a Bachelor of Arts, dual major in Psychology and Afro-American and African Studies.
Dr. Arnold James is a native of Columbia, SC and has practiced clinical psychology in New Orleans for nearly 30 years. He received his Doctor of Philosophy in Clinical Psychology, Master of Public Health and bachelor's in Psychology from the University of South Carolina. His training also includes post-doctoral studies in psychoanalytic psychotherapy as a fellow with the New Orleans – Birmingham Psychoanalytic Society. He is currently employed with the Southeastern Louisiana Veterans Health Care System. Dr. James is a highly regarded practitioner, instructor and researcher. He is a former assistant professor of psychology at Tulane University Medical Center and previously served as a visiting professor at Davidson College (NC) under the Knight Foundation Faculty Fellowship.
Ms. Rhonda M. Jackson is a master social work professional with more than 25 years of successful non-profit management, grant administration and grant maker experience. She is the Louisiana Director for Share Our Strength No Kid Hungry Campaign, where she manages the development and implementation of long-term planning to end childhood hunger. Ms. Jackson's talent and tenacity made New Orleans the first city in the country to reach the benchmark of providing school breakfast to 70 percent of its students, an increase of nearly 30 percent, and she developed a summer meals campaign which lead to a 19 percent increase in one year in the number of children receiving summer meals. Thirty-six percent of New Orleans children now receive summer meals, exceeding the national average of just 10 percent. The native New Orleanian is a graduate of Xavier University of Louisiana with a B.A. in Sociology, minor in Social Work, and Virginia Commonwealth University in Richmond, Va., where she earned her MSW with a concentration in administration, planning and policy. Ms. Jackson was also a 2010 Fellow with the Louisiana Effective Leadership Program, in partnership with Southern University's College of Business and the United States-Southern Africa Center for Leadership and Public Values at Duke University.
"The children, youth and families of New Orleans will be greatly benefited by this work. The New Orleans Children and Youth Planning Board is excited that the Clinical Scholars are taking on two of the key recommendations in the CYPB Called to Care Report, as the recommendations were crafted with hopes that others would use them to build collective actions," said CYPB Executive Director Karen Evans. "Clearly, that is what the Clinical Scholars will do and CYPB is eager to support their efforts and outcomes."
"The emPOWER NOLA team is ready for this unique challenge. As the co-chair of the Childhood Trauma Task Force, I am delighted to see our recommendations become real and I am hopeful that this project will impact the lives of children and families," said Dr. Torin Sanders, pastor of the The Sixth Street Baptist Church and a licensed clinical social worker.
About emPOWER NOLA
The mission of emPOWER NOLA is to empower formal and informal community leaders, and help them gain the tools to identify children in need and suffering from community and personal traumas, and to create and promote access to culturally competent care. Improved mental health for the current generation of children is not just morally essential, it is critical to the continued existence of the rich culture of the city. We are committed to equity in the culture of health in New Orleans, because that is required to nourish the community and its many unique customs and traditions.
About the Robert Wood Johnson Foundation Clinical Scholars Program
Clinical Scholars is a leadership opportunity for practitioners from diverse fields of health care. Interdisciplinary teams of health care providers collaborate to tackle complex health problems in their communities and build a Culture of Health nationwide. Over the course of a three-year program, teams will receive funding up to maximum of $525,000 for a five-person team; design and implement a real-world project; receive evidence-based and equity-centered training in leadership tools, policy, evaluation, community engagement, and other topics from national experts; participate in semi-annual week-long onsite trainings; reinforced by distance based learning and executive coaching that allows them to say in their jobs and participate from the home communities; and become part of a national network of leaders spanning sectors and disciplines in health care and beyond. The program is based at The University of North Carolina at Chapel Hill.