Harold Carmichael makes long-awaited entry to Pro Football Hall of Fame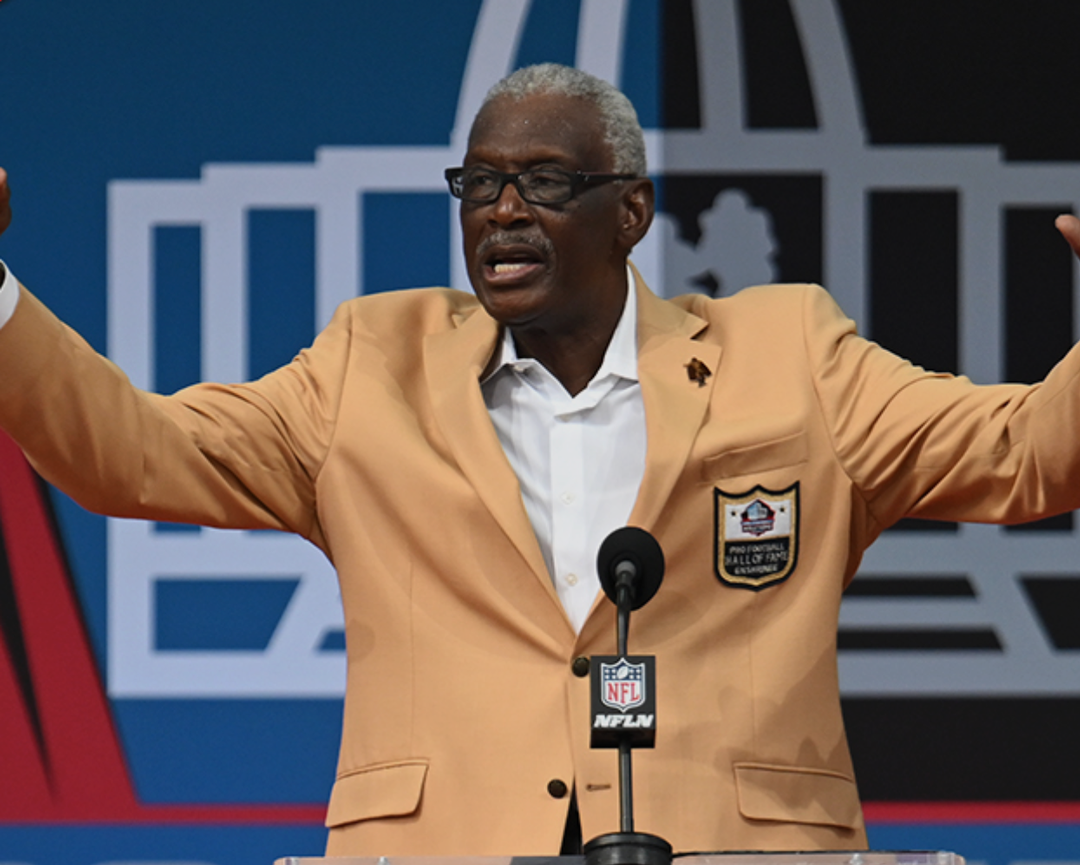 On Saturday, Aug. 7, Southern University alumnus and former Jaguar Football player Harold Carmichael was officially enshrined in the Pro Football Hall of Fame. Carmichael, who played for the Philadelphia Eagles and Dallas Cowboys, is part of the 2020 class, whose ceremony was postponed that year due to COVID-19.
Click here for Carmichael's enshrinement speech.
More from Southern University Athletics
Harold Carmichael was a walk-on at Southern University and became a tri-sport athlete. He used his 6'8" height to play on the basketball team as a center, and threw the javelin and discus for the track and field team. In football, he shifted to playing wide receiver, where he was a four year starter, although he never led the team in receptions. He received All-conference honors as a senior. He was a teammate of Mel Blount.
In 1970 Harold Carmichael was an All SWAC selection and was drafted the 161st pick overall in the seventh round of the 1971 NFL draft to the Philadelphia Eagles. Carmichael played both tight-end and receiver positions in the NFL. As a rookie, he was converted into a tight end, starting in 6 out of the 9 games and leading the team's tight ends with 20 receptions (fourth on the team). Then the next season he was moved back to receiver with his 6'8' frame terrorized the opposing teams defensive backs during his stellar NFL career.
He ended his professional career with 590 receptions for 8,985 yards with 79 career touchdown catches, along with 64 rushing yards on nine carries. He currently ranks 25th all-time in career touchdown receptions and he was 7th all-time at the time of his retirement. His career catches ranked fifth all-time when he retired. Carmichael retired as the Eagles' all-time leader in pass receptions, receiving yards and receiving touchdowns.
In 1989, he was inducted into the Louisiana Sports Hall of Fame. In 2004, Carmichael was inducted into the Florida Sports Hall of Fame. In 2012, Harold was inducted into the Southwest Athletic Conference Hall of Fame. In 2018, he was inducted into the Black College Football Hall of Fame.
Carmichael will join fellow Southern University Jaguars Mel Blount and Aeneas Williams in the Pro Football Hall of Fame.
Accomplishments
All-SWAC (1970)
SWAC Hall of Fame (2012)
Louisiana Sports Hall of Fame (1989)
Florida Sports Hall of Fame (2004)
Black College Football Hall of Fame (2018)
4x Pro Bowl (1973,1978, 1979, 1980)
NFL Man of the Year (1980)
3x Second-team All-Pro (1973, 1979, 1980)
NFL receiving yards leader (1973)
NFL receptions leader (1973)
NFL 1970's All-Decade Team
Eagles Hall of Fame
Philadelphia Eagles 75th Anniversary Team