Southern University and Entergy announce $2 Million Engineering Education Initiative
Governor Edwards announces $2 million match for facilities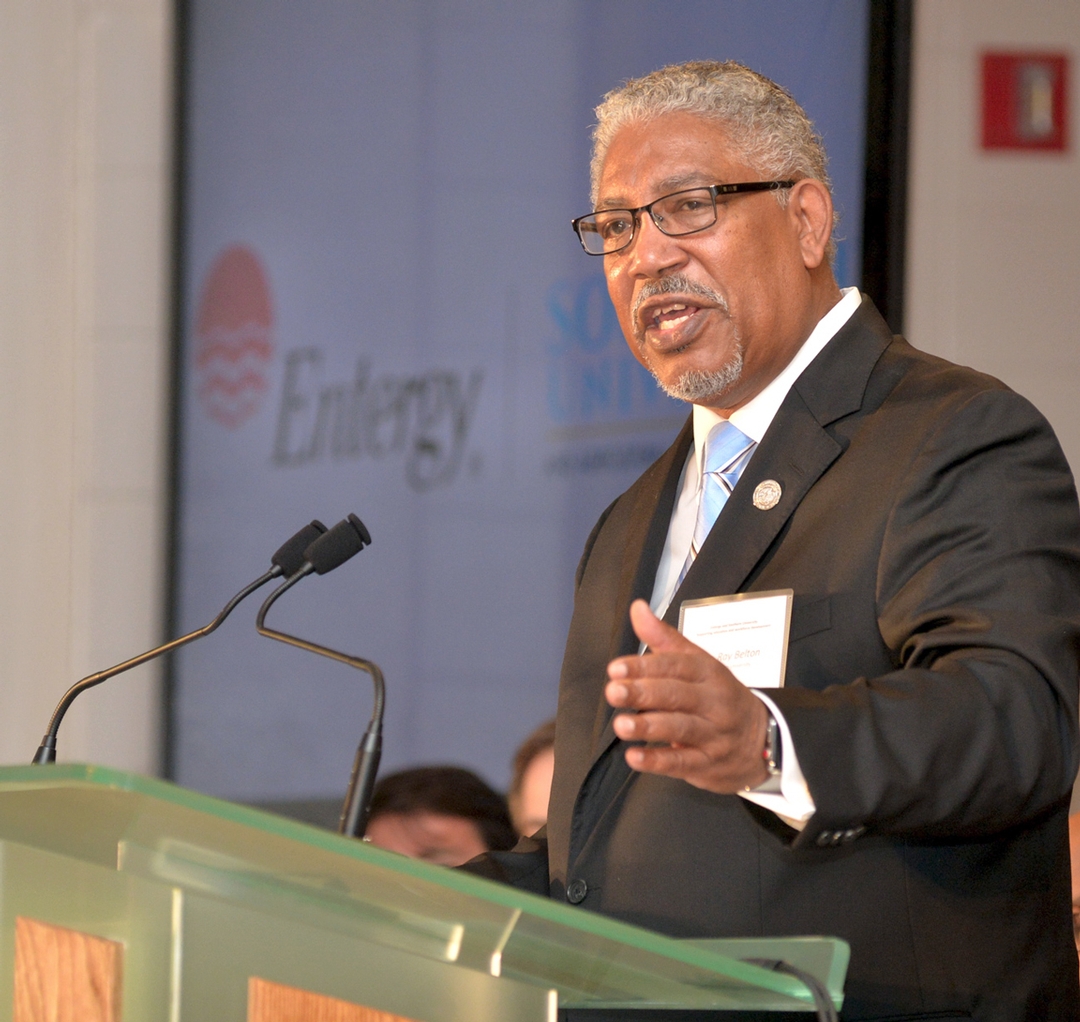 Entergy has partnered with Southern University to further support their mutual commitment to developing engineering talent for the future. A $2 million grant to Southern University from Entergy and the Entergy Charitable Foundation will support classroom and lab infrastructure improvements, as well as curriculum and faculty professional development for the university's engineering program. During today's grant press conference, Gov. John Bel Edwards announced a $2 million match.
This multi-year initiative will focus on enhancing Southern's engineering curriculum and staff development as well as state of the art improvements to labs and classrooms to enable students to obtain hands-on experience. In addition, the grant will also fund the creation of internship and mentoring programs to enhance and strengthen the relationship between Entergy and Southern University.
"As a national leader in educating minority and women engineers and STEM professionals, Southern University is an ideal partner for Entergy to continue to build on our investments in growing a diverse workforce," said Leo Denault, Entergy chairman and chief executive officer. "Entergy has a long history of working with universities within the Gulf South to develop the professional and technical employees that can support the continued economic development across the region as well as Entergy's internal long-term workforce needs."
Entergy has an extensive track record of supporting the communities it serves, and the company believes that reinvesting in these cities and neighborhoods will enhance the quality of life for everyone. Entergy also works to attract talented, diverse employees through its college recruiting efforts and relationships with minority professional organizations. Having contributed more than $2.3 million over the past five years to historically black colleges and universities in the company's service territory, Entergy hopes to continue to play a key role in keeping talented graduates employed in our region.
"When we invest in our students, we are investing in their future and the future of Louisiana," said Gov. John Bel Edwards. "As career opportunities continue to grow in the STEM fields, it is necessary that we prepare our students to meet the needs of employers and be competitive in the global market, which is exactly what Southern University is doing while also ensuring African-American students receive the high quality education necessary for developing a diverse workforce. The long standing partnership between Entergy and Southern University is a successful blueprint for both industry and higher education."
"Our ongoing partnership with Southern University is an example of how industries and universities can work together to advance common goals," said Phillip May, president and CEO of Entergy Louisiana. "Entergy Louisiana's diverse and talented workforce includes some of the best and brightest engineers. We are committed to supporting programs that will help develop and enhance the next generation of engineering innovators."
"Southern University is one of the top producers of African-American engineers in the state of Louisiana and beyond," said Ray L. Belton, Southern University System president. "This partnership with Entergy will ensure that we not only continue this great legacy, but that we also expand opportunities so that students are poised to make valuable contributions to our global society through STEM disciplines."
Take a look at today's event gallery here.