Student Spotlight: Award-winning graduate student balances nursing career, studies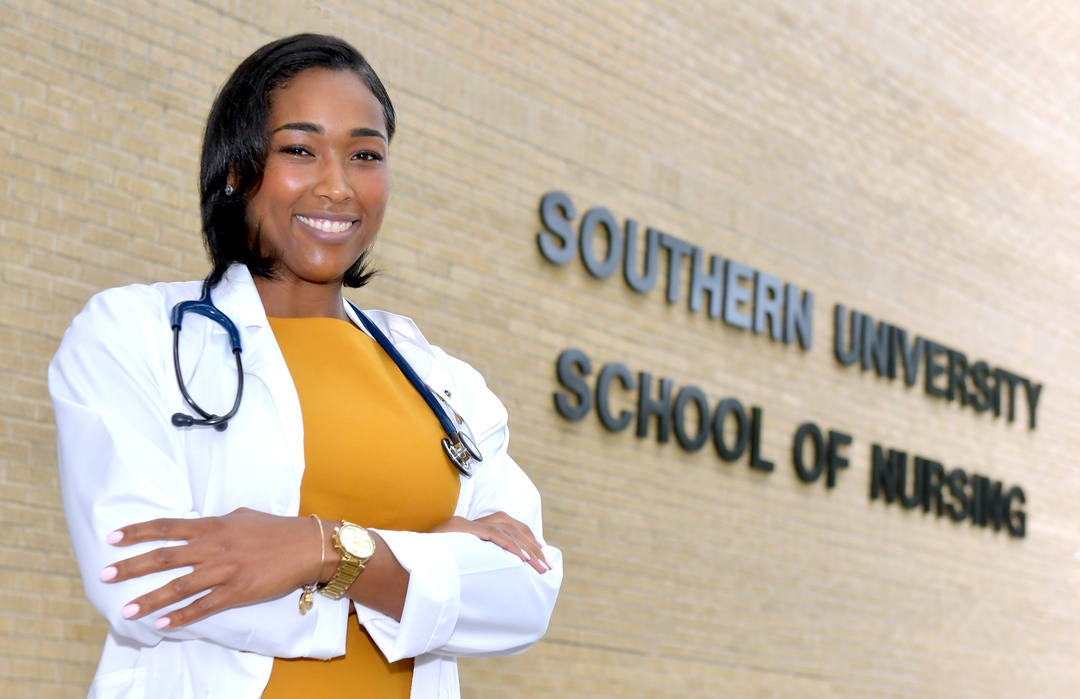 Award-winning graduate student balances nursing career, studies
Jimanesha Carmouche made the decision to not only put her nursing degree to use but also her empathetic and caring personality. For the past nine years, the oncology nurse and Southern University nursing graduate student has cared for many patients at the most vulnerable times of their lives. Her work and dedication have not gone unnoticed by her peers, as she recently received scholarships from statewide and national professional organizations.
"The possibilities are endless and opportunity is knocking at the door every waking day," said Carmouche, a Breaux Bridge, Louisiana native. "The only person who can stop you from being great is you! You have to decide for yourself to be that maverick and keep pressing."
Carmouche was recently one of only two students in the state to receive a Louisiana Association of Nurse Practitioners Foundation RN to NP Scholarship. She was also the recipient of scholarships awarded by the Oncology Nursing Foundation and Southern's 20 for 20 Scholarship Foundation.
Carmouche, who received her bachelor's degree in nursing from the University of Louisiana-Lafayette, said she is grateful that she was admitted into Southern's nursing program for her graduate studies.
"Southern University has the top graduate nursing program in the state," she said. "Their MSN students pass boards at 100 percent, so it was only right that I pursue my coursework at the best school in Louisiana. I still have my acceptance letter on the fridge because it means that much to me."
A recognized leader in her field, Carmouche is an an active student member of the Louisiana Association of Nurse Practitioners and former president and social media chair of the South-Central Louisiana Chapter of the Oncology Nursing Society. She is currently employed as at University Hospitals and Clinics in Lafayette, Louisiana. Certified as an oncology nurse, she is also chemotherapy/biotherapy certified and a certified breast cancer nurse.
Carmouche is also recognized by the faculty and administration in her program. Sandra Brown, dean of the College of Nursing and Allied Health, nominated her for the Louisiana Association Nurse Practitioners Student Nurse of the Year award.
"She (Carmouche) truly is the 'whole package' as it relates to astuteness, role model for her peers, excellent interpersonal communication and written skills, and professionalism," Brown said. "She is on the forefront on becoming a great nurse practitioner whose contributions to the profession will be immeasurable."
Carmouche, who balances both a challenging career and graduate studies, has some words of advice to anyone pursuing a career path.
"You have to decide for yourself to be that maverick and keep pressing forward in order to reach the pinnacle of your dreams," she said. "I never thought I would be in graduate school pursing a master's degree in nursing with the opportunity to be a family nurse practitioner but here I am."